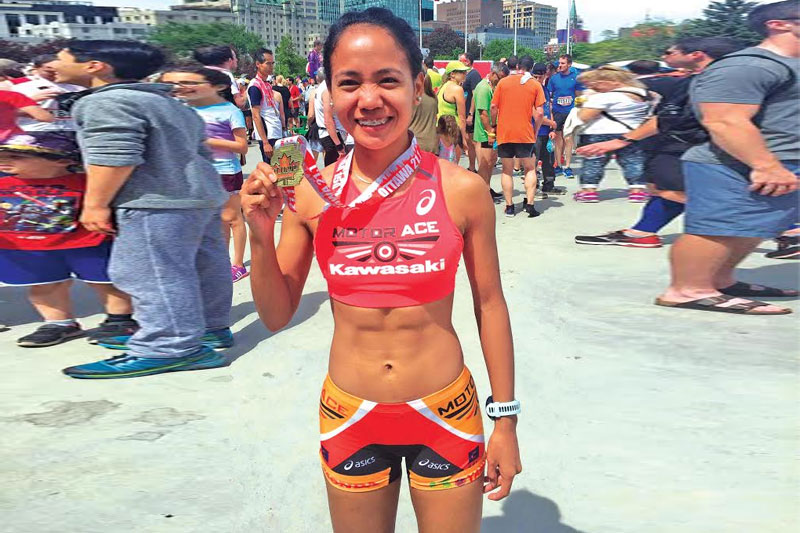 Tabal plans to break own record in her hometown
(The Freeman) - November 10, 2017 - 4:00pm
CEBU, Philippines — Cebuana long distance running star Mary Joy Tabal hopes to break her own record before her hometown crowd in the 41st edition of the National Milo Marathon, which will be stage for the first time here in the Queen City of the South on December 3.
"That is my right now. I want to defend my title and hopefully to break my National Milo Marathon record," said Tabal who currently training at the Tuscany Training Center in Italy.
Tabal, who etched her name in stone as the first Filipina athlete to compete in an Olympic marathon event in Rio de Janiero, Brazil last year, made an impression anew by defending her crown for the fourth straight year in record-breaking fashion last December in Iloilo City.
"It would be more exciting as I will run in my hometown. It's been a while since I race in the streets of Cebu," said the Southeast Asian Games gold medalist.
Tabal became the first ever Cebuana national record-holder in marathon after with her time of 2:48:00 shattering the old record of Jhoan Banayag (2:48:16). Last year, Tabal broke her own record with her personal best of 2:47:49.
The 27-year-old also said that the Milo Marathon played an important role in her journey as a successful athlete.
"Milo Marathon has played an important role to being me right now. It's where I started as a long distance runner so as always, I am grateful that I have this chance to defend my title and I'm excited to do it. I am also thankful to MotorAce for sending me back here sa Tuscany to train," she added.
Tabal's stint in the Milo Marathon is also part of her preparation for a bigger challenge and that is the Asian Games next year.
Meanwhile, Milo Marathon Cebu leg head organizer Ricky Ballesteros sees the staging of the 41st edition of the finals as a historic event.
"This is going to be a historic event for Cebu. This is the first time that we will hold the National finals and the first time for Mary Joy to defend her title in her hometown. Cebuanos will have a chance to show their support for Mary Joy," said Ballesteros. (FREEMAN)