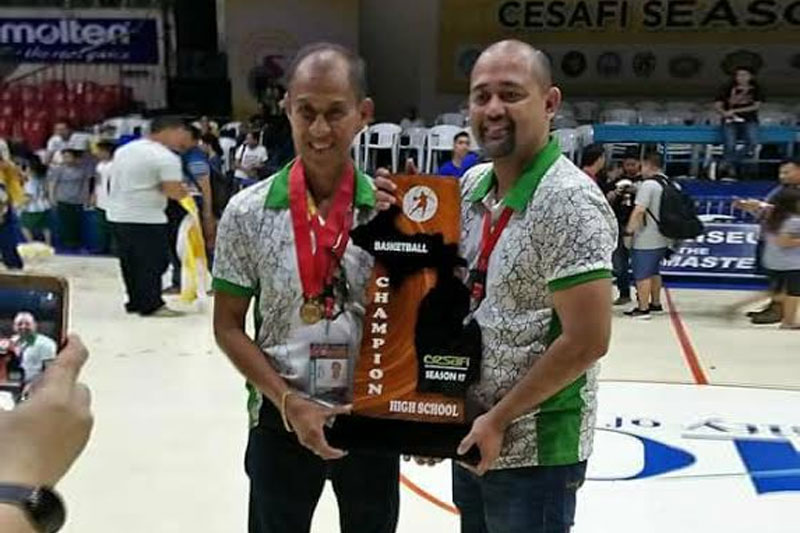 Coaches Jun Pepito (L) and Gerald Ylaya of the UV Baby Lancers share a unique bond with characters of champions for two decades now.
Jun Pepito, Ylaya share unique bond with character of champs
CEBU, Philippines — Theirs is a unique bond that blossomed two decades ago.
Back then, Gerald Ylaya was a rising star in the high school division, the heart and soul of the University of the Visayas (UV) Baby Lancers in the Cebu Amateur Athletic Association (CAAA) that is now known as the Cebu Schools Athletic Foundation, Inc. (CESAFI).
As a hardcourt disciple trying to carve his own niche in Cebu's premiere inter-school cage league, Ylaya was under the guidance of coach Delfin 'Jun' Pepito, Jr.
Knowing the task that he carry on his shoulders, Ylaya gamely rises to the challenge, delivering back-to-back championships for the Baby Lancers in the 1997 and 1998 CAAA seasons. In those ocassions, he bagged the Most Valuable Player honors.
Nineteen years have passed, they were together again in a very peculiar manner. First on the opposing sides of the bench that as fate would have it, they even clashed head-on in a title match.
The confrontation between the great coach and one of his brightest students happened last summer in the 1st Cebu Province Under-21 Inter-Cities and Municipalities Developmental Basketball Tournament.
Pepito, calling the shots for the Consolacion Sarok Weavers, and Ylaya, at the helm of the star-studded Mandaue City squad, battled it out for the North Division title.
Both fighting with pride and a point to prove, their best-of-thee series went to its full route with Pepito and his Sarok Weavers coming out victorious in the end.
"Team Mandaue's Governor's Cup loss to Consolacion Sarok Weavers was devastating not only to us players and coaching staff but also to the Mandauehanons, which made it really painful. Our standing spoke for itself, 10-0. Our team was branded as a team of CESAFI players. Our only loss was at the hands of the Sarok Weavers," said Ylaya.
Though pained by the defeat, Ylaya has no hard feelings to his master, more so that he has learned a lot of lessons out of it.
"It was a head on collission with no less than my very own mentor, coach Pepito. My wife found it interesting how I would find a way to get around the very person who taught me what I know and how coach Pepito would come up with the things he hasn't taught me. It was an emotional win when we brought the game back home to Mandaue, but an even more painful loss," said Ylaya.
"We feel the sting up until now. But was this pain that fostered our brotherhood. We still hang out of season just to catch up and the game against the Sarok Weavers was a great honor," added the combo guard during his prime. " I had to learn the hard way about focusing on the goal and not to underestimate any opponent. The strength of each player does not assure the outcome of the game. A lot of factors should be considered."
Pepito, on the other hand, faltered in his quest for the crown after they crumbled in the hands of the Minglanilla Archangels in the grand finals.
They may be losers in that particular moment but in the end they emerged as champions on a much bigger stage with a higher prestige.
This time as comrades at the Baby Lancers bench, making their triumph extra special.
Pepito, with Ylaya as his chief lieutenant, commandeered the Baby Lancers to their first CESAFI title in six years after dethroning four-time champions Sacred Heart School-Ateneo de Cebu (SHS-AdC) Magis Eagles. They finished the season undefeated in 11 games.
It was a sweet comeback for Pepito at the UV bench after being relegated to a mere consultant last season.
"The championship was indeed a team effort. Not one superstar won but the team. It was a relief and exciting to be assisting coach Pepito. I soaked everything I see and learn from him. The coaching staff shared opinions and had each other's back every game," said Ylaya.
The feeling is mutual. Pepito has nothing but words of praise for Ylaya.
"I always admired his work ethic ever since. Gerald is not only hard working, he plays with a heart and bring out the best in him each game," said Pepito. "And I'm very proud and happy that he carried that positive attitude now that he's already a coach. The players learn from him and he's a very good motivator."Walking down memory lane, Ylaya now looks at Pepito with greater admiration and an even deeper sense of respect.
"It was in 1998 when coach pepito and I last held the champion's trophy. That time I was Baby Lancer. Who would've thought that I'd stand side by side as his assistant. It was truly the Lord's blessing to come home to UV," ended Ylaya. (FREEMAN)