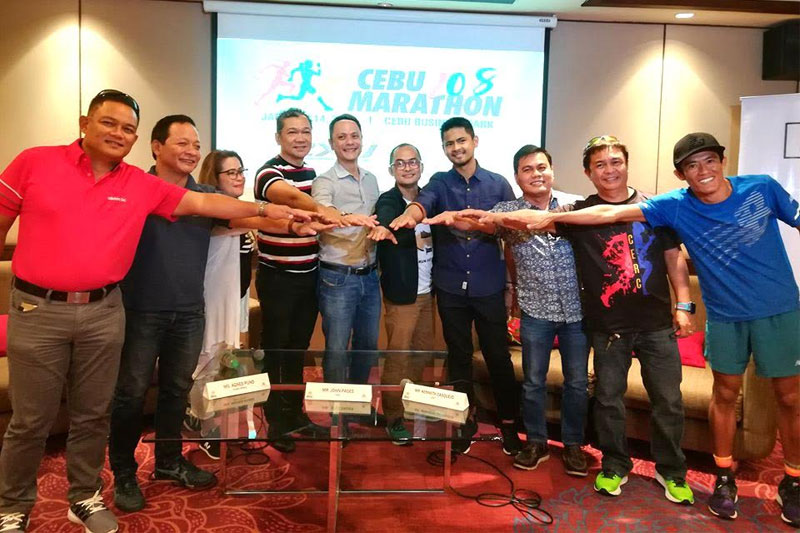 From left. Cebu Province Sports Commissioner Nimrod NL Quiñones, Cebu City Councilor Joel Garganera, Agnes Puno of Planet Sports, Cebu City Councilor Gerry Guardo, Cebu Executive Running Club's John Pages, Kenneth Casquejo and Meyrick Jacalan, Atty. Ramil Abing of Cebu Provincial Sports Commission, Joel Juares and New Balance Ambassador Noel Tillor pose during a press launch for the 2018 Cebu City Marathon yesterday at the Cebu Marriott Hotel. Gloreitta T. Lariosa
Bigger, better Cebu City Marathon set
(The Freeman) - October 17, 2017 - 4:00pm
CEBU, Philippines — Over 5,000 runners are expected to converge for one of the biggest running events in the country- the 11th Cebu City Marathon-on January 14 next year starting and finishing at the Phase 3 of Cebu Business Park.
Cebu Executive Runners Club informed that there are already close to 3,000 participants from around the country and the world who have already signed up.
Countries that have the most registrants are from Taiwan with 12, Malaysia with 10 and United States and Japan with six.
"This event started with a group of running friends from the Cebu Executive Runners Club and way back we have seen the potential of the city to organize a full 42K marathon event and that's how the dream began. We are very proud that up to now it has become one of the top events in Cebu and also rated as one of the top marathons in the whole country," said John Pages of CERC.
"We have a lot of changes this year and we're proud to bring back the all-Bisaya group with the CERC and Iconic Sports organizing the event. This is a clamor for the running community to bring back the organizing to the local people and this event carries a big responsibility because it represents the city," Pages added.
The run will be having a new route at the South Road Property that will pass through the tunnel that is something the runners should look forward to.
Meanwhile, Cebu City Government and the Cebu Provincial Sports Commission announced their full support to the run.
"We are here to express our support to one of the most prestigious runs in Cebu. This kind of sport attracts sports tourism and we saw it as an opportunity to promote the city," said Cebu City Councilor Gerry Guardo.
The race will once again feature four categories – the 42K full marathon, 21K half marathon, 10K and 5K fun run.
Registration fees are pegged at P750 for 5K, P950 for 10K, P1,400 for 21K and P1,800 for 42K.
There are two ways to register – online through www.race.ph or on-site at the New Balance Experience Store in Ayala Center Cebu.
The run is for the benefit of the grassroots program of the Cebu City Sports Commission.(FREEMAN)