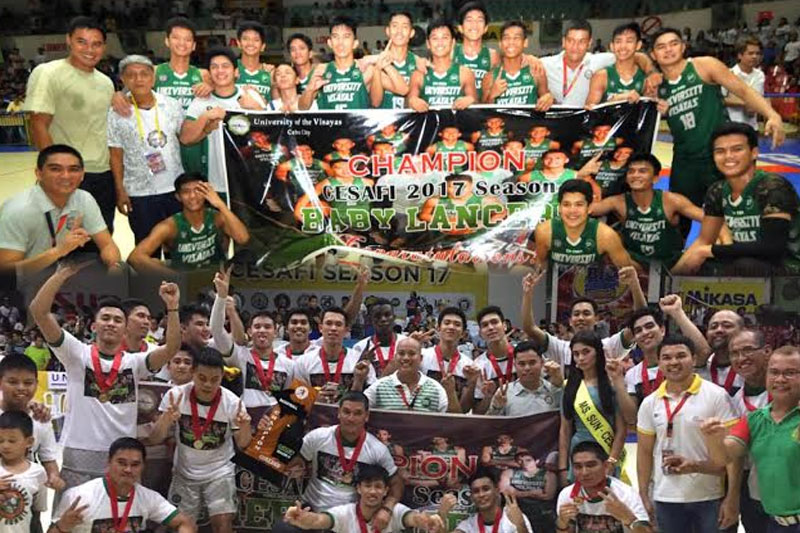 Golden double. The UV Lancers whoop it up after winning both the college and high school titles for their first double championship in CESAFI Basketball since 2007. Paul Jun E. Rosaroso
CEBU, Philippines — On the very same day when the 17th Cebu Schools Athletic Foundation, Inc. (CESAFI) basketball season kicked off, University of the Visayas (UV) Basketball team manager Gerald Anthony 'Samsam ' Gullas, Jr. issued a marching order to his Lancers what was made public through his Facebook page.
"GOALS: Double championship for UV. A championship for both our Baby and Green Lancers. That's the goal every season but unfortunately we haven't got a double championship since 10 years ago in 2007!!" read part of Gullas' FB post last August 5 wherein he also egged on their fans and the whole Visayanian community to rally behind the Lancers in their quest to achieve such a lofty goal.
Like good soldiers, the Lancers diligently carried out the task at hand.
On Sunday afternoon before a sizable crowd at the Cebu Coliseum, the Lancers accomplished their mission with flying colors.
With everything on the lines, the Lancers rammed past the University of Cebu (UC) Webmasters, 69-56, in the deciding game of their best-of-three finals series to retain their collegiate basketball crown and satiate UV's longing for a double championship this season.
Four days earlier, the Baby Lancers dethroned four-time champions Sacred Heart School-Ateneo de Cebu (SHS-AdC) Magis Eagles to end their six-year title drought.
Pulling off a twinkill is nothing new for the Lancers.
As a matter of fact, they swept the high school and college titles in the league's inaugural season in 2001. Two years later, they scored another double in a golden reign that lasted until 2005.
What makes their most recent triumph sweeter and extra special is that it took them a decade to accomplish the feat again.
"We're very happy to be able to do this. 10 years in the making. We have to savor it while it lasts," said Gullas, who is also a lawmaker representing Cebu's First District. "Hats off to my boys, they worked hard since summer and they truly deserve this championship."
Lancers head coach Gary Cortes said the daunting challenge hurled at them has truly put an extra load on the already heavy weight they carry on their shoulders.
On the same breath though, it brings out the best in them.
"Winning a double championship is the dream of the UV management. We just tried our best to produce the best result," said Cortes, who bagged his second crown in just his first three years as Lancers chief strategist.
With a dozen championship trophies tucked under their belt since the league's inception 17 years ago, the Lancers further galvanized their status as the kingpins of Cebu amateur hoopdom.
As they enjoy every whiff of fresh air while standing on top of the basketball world, Cortes want his Lancers to plant their feet firmly on decent grounds.
Along with his congratulatory message for his players for a job well done, that would be his sage advice for them in the face of sweeping success they attained.
"My message for the team is to stay humble, and hungry for more championship," said Cortes. "As a good servant, we'll just wait for whatever the management wants us for our next task." (FREEMAN)