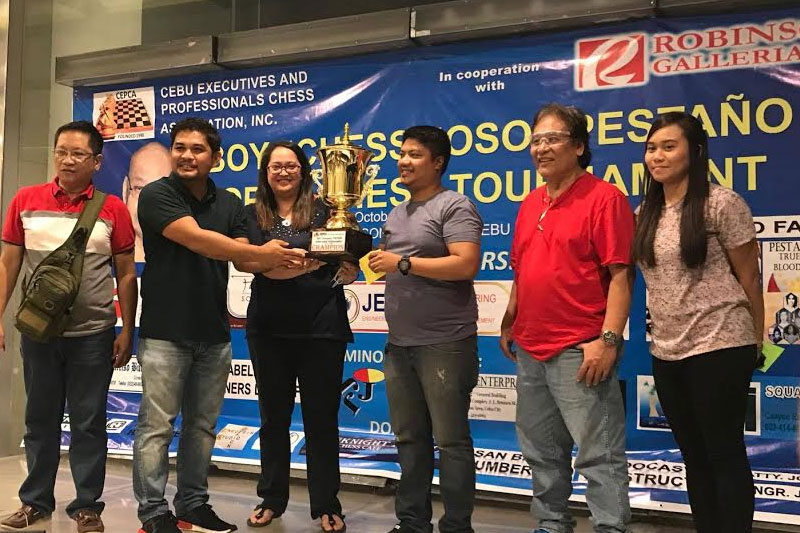 Edsel Montoya (third from right) is all smiles after receiving his championship trophy and cash prize during the awarding ceremony of the 27th CEPCA Anniversary Tournament-Boy 'Chessmoso' Pestaño Open Chess Memorial Cup last Sunday night at the Knight Attack Chess Cafe in Robinsons Galleria Cebu. Montoya is joined by, from left, Ruel Hortelano, CEPCA President Engr. Jerry Maratas, Zara Pestaño, Jun Olis and Darianne Froze Vales.
Montoya tops CEPCA-Boy Pestaño Memorial chessfest
(The Freeman) - October 9, 2017 - 4:00pm
CEBU, Philippines — Edsel Montoya settled for a draw with Rommel Ganzon in the final round, but it did not derail his road towards championship glory in the 27th Cebu Executives and Professionals Chess Association (CEPCA) Anniversary Tournament billed as "Boy 'Chessmoso' Pestaño Open Chess Memorial Cup" over the weekend at the Knight Attack Chess Cafe in Robinsons Galleria Cebu.
After nine rounds of action in the two-day tilt backed up by Celjem Construction & Development Corp., JEMAR Engineering Services, PNPA Buklod-Diwa Class of 2001, Phillips Sanctuary and the Pestaño family, Montoya tallied the best output of 8.0 points to bag the title that goes along with a P10,000 bountry.
Ganzon finished with 7.5 points in a tie with Joel Pacuribot and National Master Elwin Retanal but Pacuribot, who edged Michael Joseph Pagaran in his last assignment, went on to claim the P7,000 second prize courtesy of a higher tiebreak points. Ganzon was third followed by Retanal.
FIDE Master Anthony Makinano, Mario Mangubat, Brylle Arellano and Adrian Basil Basilgo occupied the fourth to eight sports with 7.0 points each, while International Master Kim Steven Yap, Dennis Navales, NM Arnold Cadiz and Carlos Moreno III rounded up the top 12 finishers.
Mangubat and Moreno got an added bonus for emerging as the top seniors players (55-above) together with Rodrigo Alejandre, while the top performers among Cepcans were Cadiz, NM Rogelio Enriquez, Ruel Hortelano and Jose Atillo.
The top kiddes were Jave Mareck Peteros, John Lester Belano, and John Aaron Resma, while the best lady players were Rowena Padro, Crystal Lynne Jumao-as, and Jasia Dorog.
Participated in by 114 pawnpushers, the event was being held by CEPCA as a tribute to their late founder Engr. Francisco "Boy" Pestaño. (FREEMAN)