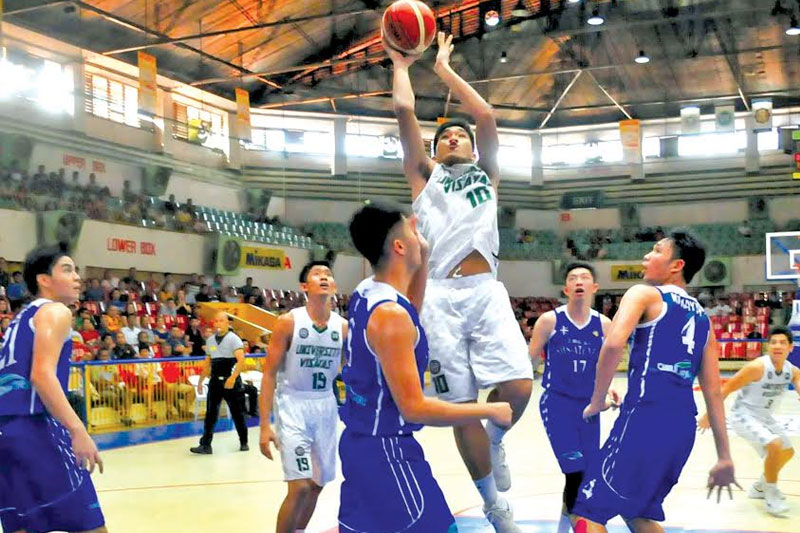 The SHS-Ateneo Magis Eagles and the UV Baby Lancers will relight the fire of their old rivalry as Game 1 of the best-of-three juniors division finals of the 17th Cebu Schools Athletic Foundation, Inc. (CESAFI) men's basketball tournament takes place today at the Cebu Coliseum. Paul Jun E. Rosaroso
Magis Eagles, Baby Lancers renew old rivalry in CESAFI
CEBU, Philippines — They will collide in the finals for only the first time in four years, but it cannot be denied that there's a brewing animosity between the four-time defending champion Sacred Heart School-Ateneo de Cebu (SHS-AdC) Magis Eagles and the University of the Visayas (UV) Baby Lancers with each passing of the year.
As a matter of fact, their previous games are always filled with tension. Emotions ran high and at times, controversy broke out every time they clash on the hardcourt.
That is but normal though for top-level teams fighting not only for pride and bragging rights but also for the legacy of their schools they are duty-bound to protect.
Today, the Magis Eagles and the Baby Lancers will relit the fire of their old rivalry as Game 1 of the best-of-three juniors division finals of the 17th Cebu Schools Athletic Foundation, Inc. (CESAFI) men's basketball tournament takes place at the Cebu Coliseum.
Game time is set at 6:45 pm, right after the knockout battle for third place in the collegiate division between the University of San Jose-Recoletos (USJ-R) Jaguars and the University of San Carlos (USC) Warriors at 5:15 pm.
The Baby Lancers are coming off a three-week rest. They haven't played after earning an outright championship berth for completing a 9-0 sweep in the elimination round last September 18. Whether it will work to their advantage or not will be known on how they will deal with the Magis Eagles.
Going into their head-on collission, the Baby Lancers enjoy a slight psychological advantage for having dealt SHS-Ateneo's lone defeat this season.
But the UV bantams must be extra careful because during their August 21 duel, they lost an 18-point lead before grinding through a precarious 61-58 win over the spirited Magis Eagles.
As they try to end their six-year title drought, the Baby Lancers must draw big games from their top guns in Biern Laurente, Justin Jake Rosete, Jim Paul Amistoso, Jhiey Paraldo, Froiland Maglasang, and Joshua Yerro.
They can also rely on the likes of Jearolan Omandac, Gabriel Cometa, Mike Parilla, Mar Leandro Actub, Roosvelt Jelianggao, and Prince Jaspher Tano.
On the other hand, the Magis Eagles may have lost All-Star guard Andrew Velasco to injury but they still have a solid lineup and remain a strong force to reckon with.
Led by former MVP Jed Colonia and versatile slotman Christian Manaytay, the Magis Eagles can also count on flashy guard Franz Diaz, sharp-shooting Patrick Yu, Alex Visser, Justin Javelosa, Koko Tudles, Benedict Yu, Andre Chua and Michael Cutamora to carry out their mission of extending the dynasty they built to five straight years. (FREEMAN)