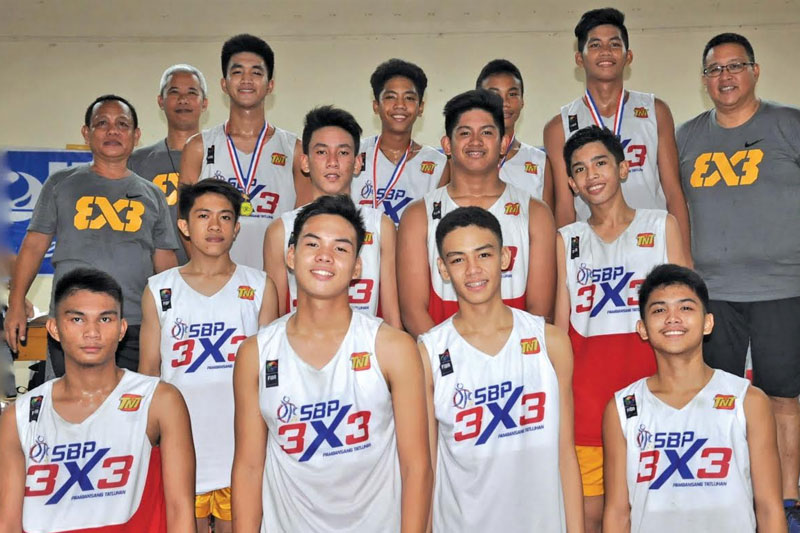 The top performing teams in the boys division led by UV (champion) followed by Warriors Witness (2nd Place) and Don Bosco (3rd Place).
UV, Abellana top SBP U15 3X3 anew
CEBU, Philippines — The University of the Visayas and Abellana National School proved once again that they are the kings and queens of 3X3 basketball as they ruled the SBP Under 15 3X3 Pambansang Tatluhan Regional Finals over the weekend at the Sisters of Mary School Boystown in Minglanilla.
UV-A defeated Team Warriors Witness, 15-8, in the finals to win the boys division title, while Abellana-A halted Compre-A, 18-10, to win the girls division championship.
Both teams went undefeated throughout the tournament. UV swept its group in the classification round, going 5-0, then breezed through the Round of 16, quarterfinals and semifinals.
They were just as dominant in the championship game, jumping to a 4-1 lead to start the game. The threat from the USC-based Warriors Witness side came from the two-point area as they cut the lad to only one twice at 4-3, then 6-5. But it was all UV from that point until the end of the game as Samuel Melicor Jr. and Steve Nash Enriquez combined to put the game out of reach with an 8-1 blast for a 14-6 lead with two minutes left in the game.
Franzel Dave Basalo, who got UV going early, led the team with six points while Melicor and Enriquez had five and four points, respectively. John Pio Ornopia led the Warriors Witness with five points. They earned P3,000 for their second place finish. Don Bosco salvaged third place and won P2,000 after beating Warriors Mission, 19-10.
It was the same story in the girls division finals as Darliene Ragasajo, who also played on the Under 17 3X3 champion team, dominated with 10n points and put the game away early. The Abellana defense also shut down Compre-A in what was a rematch of the Under 17 finals played last April. Melody Empasis backed Ragasajo with four points as Florence Jil Talas added three. Shen Camay led Compre-A with five points as Chinnsai Demana added three.
In the battle for third place, Abellana-C defeated Compre-B, 11-6. Abellana-A swept its first round games with a 5-0 record, before cruising through the quarterfinals and semifinals. Compre-A didn't go home empty-handed as they won P3,000, while Abellana-C won P2,000.
Both UV and Abellana won P10,000 and a ticket to the national finals which will be played at the Robinson's Place in Manila October 27 to 28. This SBP 3X3 Under 15 Pambansang Tatluhan is the second major 3X3 tournament for the age-group/grassroots segment for the year. The first was the Under 17 3X3 tournament last April which the UV boys and Abellana girls teams also won. UV placed second in the national finals. Central Visayas is now looking to improve on this finish and take both national titles. (FREEMAN)