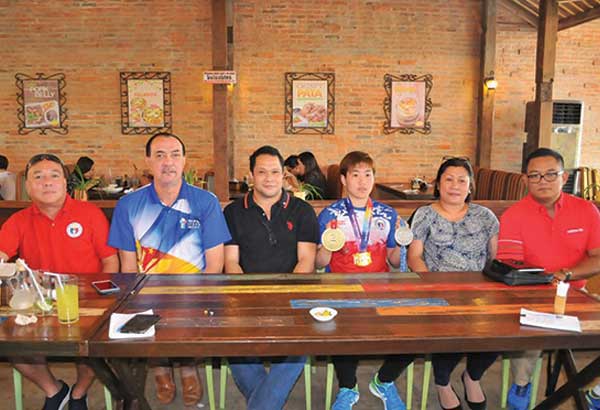 From left, PSC-7 Executive Director Boobi Kintanar, Philippine Sports Commissioner Ramon Fernandez, PJF President Dave Carter, Filipino-Japanese judo champion Kiyomi Watanabe and her mother Irene Sarausad and Cebu City Sports Commissioner Nimrod NL Quiñones pose during a press conference at Kan-anan restaurant in Robinsons Galleria Cebu. PAUL JUN E. ROSAROSO
Watanabe eyes golden treble
(The Freeman) - August 12, 2017 - 4:00pm
Champion judoka with a heart of gold
CEBU, Philippines - Confident but humble, Filipino-Japanese judo champion Kiyomi Watanabe is primed and ready to deliver a third straight gold medal for the Philippines in the 29th Southeast Asian (SEA) Games on August 19-30 in Kuala Lumpur, Malaysia.
"I will do my best. I will go for the gold," said the back-to-back SEAG gold medallist in a press conference yesterday at Kan-anan restaurant in Robinsons Galleria Cebu. She will see action in the women's -63kg weight class.
The event was also graced by Philippine Sports Commissioner Ramon Fernandez, PSC-7 Executive Director Boobi Kintanar, Philippine Judo Federation, Inc. President Dave Carter, and Cebu Province Sports Commissioner Nimrod NL Quiñones.
Unable to speak fluent Cebuano and English, Watanabe had her very supportive mother Irene Sarausad, who hails from Toledo City, as spokesperson.
Irene shared her daughter had been training religiously for months in an attempt for a golden treble in the biennial sports conclave.
"Target namo is gold gyud," said Irene, adding that her daughter is proud to represent the country once again in the what is considered as Southeast Asia's Olympics.
On his end, Carter is highly confident that the 20-year-old Watanabe would achieve that goal.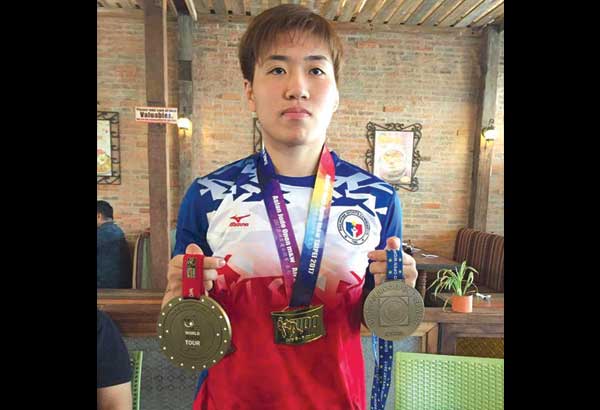 Filipino-Japanese judo champion Kiyomi Watanabe proudly shows the medals she won in major international competitions. She is eyeing for a third consecutive gold medal for the Philippines in the 29th SEA Games this August 19-30 in Kuala Lumpur, Malaysia. PAUL JUN E. ROSAROSO
"She's confident towards achieving her third gold. She mentioned (in a previous interview in Manila) that the thing that gave her confidence is that she is ranked 27th in the world," said Carter.
"Nobody in Southeast Asia has ranked that far. Malayo ang narating ni Kiyomi and we are very confident that she can do it, she will make the third gold."
Watanabe has been reaping medals in various international competitions. Her most notable achievement was winning bronze in the IJF Grand Slam Paris 2017, becoming the first ever judoka from a Southeast Asian country to medal in the prestigious competition that is part of the IJF Grand Prix series.
She also bagged gold medal in the Asian Open in Taipei and claimed a silver in Oberwart European Continental Open in Austria.
At this stage of her career, Watanabe got a major boost after the Philippine Sports Commission vowed to help her reach her Olympic dreams.
"Wherever she wants to go to compete in any parts of the world, we will support her," said Fernandez. "It's because of her attitude and focus sa iyang goal, that's why we have committed to support her all the way from SEA Games to Asian Games hangtod na Tokyo 2020 Olympics and sa Paris Olympics."
On top of her shining achievements, Watanabe is also a champion judoka with a heart of gold.
Together with her mother and Fernandez, they donated books in Dampas Elementary School and gave wheelchairs during their visit in Tagbilaran City, Bohol just last Friday.
In fact, Watanabe was honored by the Sportswriters Association of Cebu with the Orlando C. Sanchez Memorial Award three years ago for her being a socially responsible athlete, said Quiñones, who had been helping out Watanabe in her quest to bring honor for Phl together with PJF Vice President Atty. Vicente Fernandez II.
According to Irene, the young Watanabe has scholars that she supports to go to school but she refused to share further details about her noble deeds.
After her Malaysia stint, Watanabe will head to Budapest, Hungary for the World Judo Championships.
"Ang dream gyud niya is the medal sa Olympics. Any color basta maka-medal siya," said Irene.
The road may not be easy but with Watanabe's focus and good attitude coupled with PSC's support, nothing is impossible.
"Everybody must do their best. Disiplina lang gyud and continuous practice lang," said Watanabe when asked for message to her fellow young athletes.