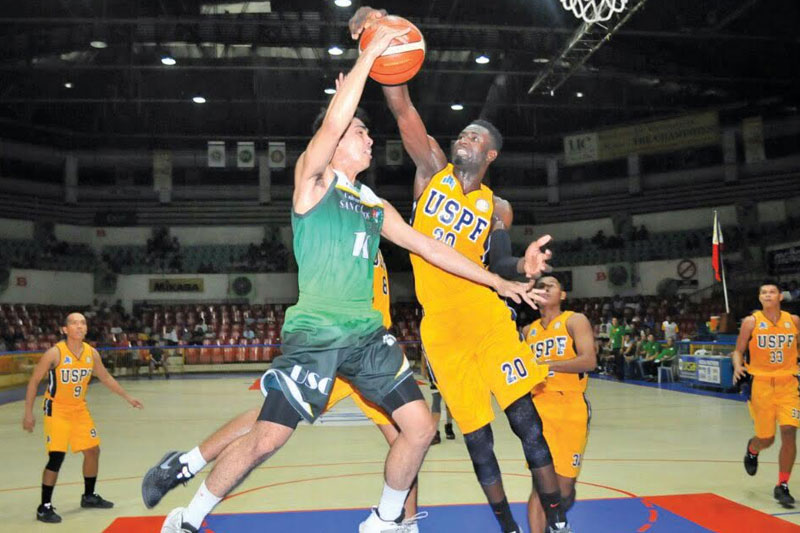 Rich Managor of USPF blocks a shot by Lucky Ecarma of USC during their CESAFI collegiate basketball match last night at the Cebu Coliseum. The Warriors won, 83-57. Paul Jun E. Rosaroso
Warriors hammer Panthers for 2-0 start in CESAFI hoop
(The Freeman) - August 10, 2017 - 4:00pm
CEBU, Philippines - The University of San Carlos (USC) Warriors rolled to their second straight victory with a one-sided 83-57 beating of the University of Southern Philippines Foundation (USPF) Panthers in the 17th Cebu Schools Athletic Foundation, Inc. (CESAFI) basketball season last night at the Cebu Coliseum.
Riding on the crest of their morale-boosting 78-74 upset of defending champions University of the Visayas (UV) Green Lancers, the Warriors were a dominant figure from the get go, never looking back after taking an early 23-15 edge.
On top by 14 at the break, 40-26, the Warriors got even fiercer, detonating a devastating 28-9 bomb to wipe out the Panthers, 68-35, going into the final 10 minutes.
Since then, the outcome was beyond question for Warriors, who have so far downed two of the only three teams with foreign imports this season to establish themselves as a strong title contender like they used to in the past three years.
John Saycon was the lone double-digit scorer with 11 points for the Warriors but their great team effort was highly evident as all of USC's players hit the scoring chart.
The Warriors thus took the temporary lead in the collegiate division with a clean 2-0 slate.
EJ Villarta finished with 13 points but the 6-foot-9 Nigerian tower Rich Managor was a monumental bust scoring only a matchstick for the Panthers, who couldn't follow-up their 82-72 win over the Cebu Institute of Technology-University (CIT-U) Wildcats in what could be their best ever start.
In the juniors battle, the University of San Jose-Recoletos (USJ-R) Baby Jaguars kicked off their campaign with a masterful 96-66 demolition of the Cebu Eastern College (CEC) Dragons.
John Kirk Gonzaga unloaded 15 of his 22 points in the second half where the Baby Jaguars brought the heaviest damage on the hapless Dragons while Elmer Echavez chipped in with 18 points in the wire-The Baby Jaguars were in full command from the onset and were never seriously threatened after cruising to a 47-33 advantage at halftime.
The Dragons could only pull within 12, 44-56, as the wards of coach Edito Salacut quickly restored a 71-55 lead after three quarters, then launched a blistering 22-6 attack bomb in the final period to obliterate the Dragons, 94-61, with only 35 seconds left to play. (FREEMAN)