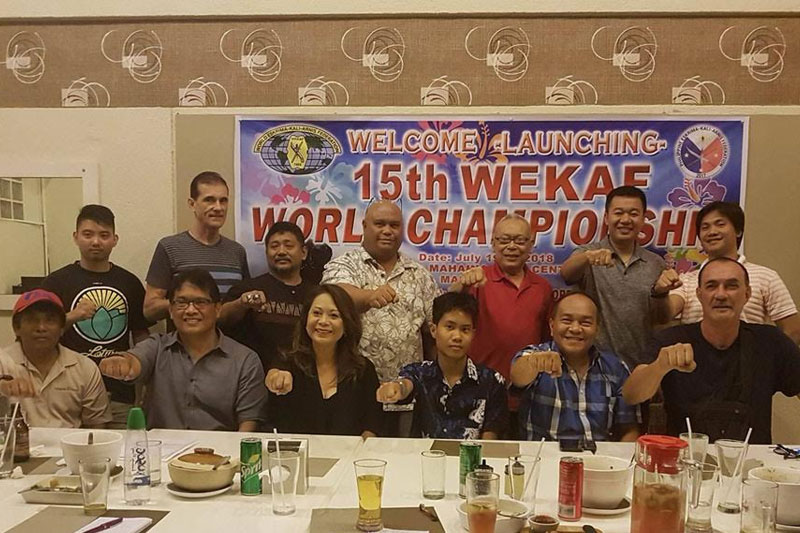 Supreme Grandmaster Diony Cañete (standing third from right), PEKAF Executive Vice President Master Gerald Cañete (standing second from right) and WEKAF-Hawaii officials led by their President Robert Garcia (seated left), Vice President James Reponte and Executive Secretary David Cordero lead the formal launching of the 15th WEKAF Championships last Thursday night at Boosog Restaurant. They are joined by PSC Commissioner Ramon Fernandez, CCSC Commissioner Allan Delantar and Fil-Am Courier publisher Mary Llanos-Cordero.
15th WEKAF Championships launched
CEBU, Philippines - The World Eskrima Kali Arnis Federation-Hawaii has vowed to come up with a meaningful and a one-of-a-kind hosting of the 15th WEKAF Championships slated on July 19-23 next year at the Lahaina Civic Center in Maui, Hawaii.
Making sure that no stone will be left unturned insofar as their preparations are concerned, the top officials of WEKAF-Hawaii led by their President Grandmaster Robert Garcia, Vice President James Reponte and Executive Secretary David Cordero came in full force to Cebu to grace the event's formal launching last Thursday night at Boosog Restaurant.
Others present were WEKAF Chairman emeritus Supreme Grandmaster Diony Cañete, ODL (Order of Datu Lapu-Lapu), WEKAF Executive Director Master Gerald Cañete, Philippine Sports Commissioner Ramon Fernandez, Cebu City Sports Commissioner Allan Delantar and Scott Slezak, who brought Doce Pares to the shores of Hawaii way back in 1992.
Garcia, a four-time WEKAF champion, said they are proud of their Filipino heritage that is why they felt a deep sense of gladness after being given the honor to stage the biggest and most prestigious arnis tournament in the world.
"We're very to host the 15th WEKAF Championships," said Garcia. "We will not only make the event bigger, we also want to promote the Filipino martial arts and educate the people of Hawaii about it."
Cordero, who is also the chairman of the organizing council, said their hosting of the five-day tilt that is expected to draw the best and brightest eskrimadors from both hemispheres of the globe bodes well with their mission and vision that is to promote friendship, goodwill and unity with the other islands in the Pacific region through FMA (Filipino martial art) tournaments.
"We wanted to showcase eksrima in Hawaii," said Cordero, who was with his wife Mary Llanos-Cordero, publisher of the Fil-Am Courier, Hawaii's leading Filipino publication. "We came here in 2016 and hoping to get it (hosting). Now we're looking forward to it. We're working very hard to put it together."
"We're hoping to work with the Philippine Sports Commission and the Cebu City Sports Commission to make the event a success," he added.
This early, Cordero is already assured of that with no less than Fernandez and Delantar assuring their all-out support to the biennial sports conclave that is expected to draw hundreds of stick-fighters from over 40 countries across six continents.
"I wouldn't be surprised is this WEKAF event is well participated just like what I've witnessed last year," said Fernandez, who was the guest of honor during the 14th WEKAF Championships a year ago at J Centre Mall. "Rest assured the PSC's support to our Filipino arnisadors who will be taking part in this event next year."
"Cebu City wil support by sending delegates to the WEKAF event," said Delantar.
Unlike in the past wherein the Philippines is sending only a few fighters due to budgetary contraints they usually encounter once the tournament is held abroad, SGM Cañete looks forward to a well-represented Phl contingent now that they have the support of the goverment through the Philippine Eskrima Kali Arnis Federation (PEKAF).
Under the flagship of Senator Juan Miguel 'Migz' Zubiri as its founding president and Master Gerald Cañete as executive vice president, PEKAF is officially recognized by the PSC as the country's National Sports Association (NSA) for arnis.
"We will send our best players in Hawaii," said SGM Cañete. "With the moral and financial support of the government, I think we can send as many fighters possible especially those who can qualify. That would increase our chances of winning the overall championship even on foreign land, something that we haven't achieved since 1996 in the United States." (FREEMAN)