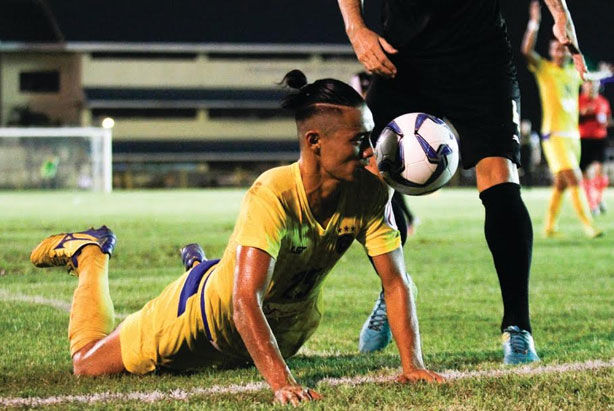 Shu Sasaki (L) of Global Cebu dives for the ball against Manuel Herrera Lopez of Ceres Negros during their PFL match last night at the Cebu City Sports Center. Global Cebu won, 1-0. JAY Rommel C. Labra
Rousing home debut for Global Cebu
CEBU, Philippines - Global Cebu FC made its home debut a memorable one after it pulled off a vengeful 1-0 win over Ceres Negros FC in the 2017 Philippine Football League (PFL) at the Cebu City Sports Center last night.
The visiting Ceres Negros of Serbian head coach Risto Vidakovic, who earlier described the playing field in bad shape and dangerous to the players, started aggressively but Global Cebu obviously does not want to disappoint its very supportive Cebuano followers.
Egged on by the cheers of 5,000-plus fans, Global Cebu attacked and took command of the first half. The tide of the matched further titled in their favor after Ceres Negros goal keeper Ronald Muller was sent out of the game after being issued a red card.
Striking more attempts on the initial half plus several saves from team captain Patrick Philip Deyto, Global Cebu finally scored to the delight of fans.
From Sasaki Shu at the corner, the ball bounced to Jerry Barbaso, then to Amani Manuel Aguinaldo before it was followed up by Matthew James Hartmann at the right flank for Global Cebu's first goal, three minutes before halftime including the two-minute added time.
Louie Michael Casas, one of the former "Carmen Boys" of the M.Lhuillier Sports Development Foundation (MLSDF) who replaced Muller, was not able to anticipate Hartmann's shot to yield a 1-0 advantage for the host at the break.
Ceres Negros' day went even rougher when Vidakovic was also thrown out of the game after being slapped with a red card for resenting the calls of the referees.
Ceres tried to turn the tables around, making more than 10 attempts in the final half but none went in.
Global Cebu's skipper-goalie Patrick Deyto lived up to the expectations as survived until the end despite suffering an injury.
Of course, the extra effort made by Deyto's teammates especially Wesley Dos Santos, who led the defensive front for Global Cebu, was also highly laudable.
Misagh Bahadoran also deserved special mention after he replaced Paul Maulders at the start of the eight-minute added time despite having an injury just to make sure that Ceres Negros will not be able to bounce back just like in their first encounter earlier this month.
Global Cebu hopes to get the same support from the Cebuanos when they tackle the Stallions Laguna FC on July 9 still at 7 pm at the CCSC. (FREEMAN)