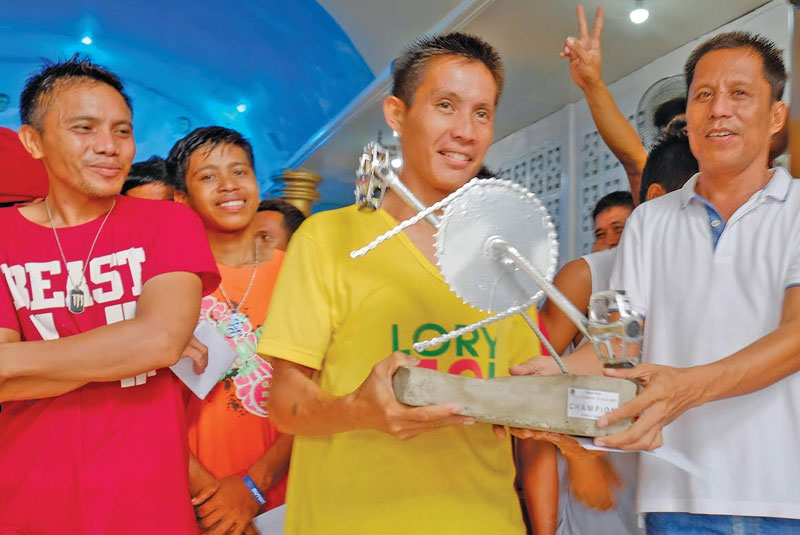 Felix Cari-Cari of Casay, Dalaguete receives a unique champion's trophy from Poblacion, Argao Barangay Chairman Dario P. Canada after winning the 2017 Fighter Wine Suba Lumba-Sikad recently.
Cari-Cari bridesmaid no more in Argao 'lumba-sikad'
(The Freeman) - June 19, 2017 - 4:00pm
CEBU, Philippines - The last came first as two-time first runner-up Felix Cari-Cari of Casay, Dalaguete conquered the odds to finally emerge as champion in the 18-39 years old category of the '2017 Fighter Wine-Suba Lumba-Sikad recently in Argao town south of Cebu.
The 29-year-old Cari-Cari encountered a chain malfunction 120 meters away from the starting line during the 500-meter time trial, placing him last in the pole position for the final race with a time of two minuntes and .07 seconds. Two-time champion Odon Ensalada from Balatik, Dalaguete got the fastest time with 1min. and 8.45 seconds.
Trisikad drivers from Argao and Dalaguete competed in the annual unique race on the fiesta vesper of Sitio Suba's patron San Antonio de Padua.
The participants took part in the 500m time-trial race between a pair of riders to determine their pole position for the final race, a format adopted from the Formula 1 Grand Prix due to the narrow streets of Sitio Suba in Barangay Poblacion. The final race circuit course passes by the national highway (N. Bacalso Ave.) up to the seaside road five times, covering a total of 7.5 kilometers.
In the five-lap final race, Ensalada dominated the first four laps. On the second lap, he broke away from the peloton mounting almost a 100m lead, while Cari-Cari joined the peloton composed of defending champion Vincent Vladimir Gapuzan, 30, of Langtad, Argao, newcomer Anacleto Belarma of Poblacion, Dalaguete and Marvin Saragena of Poblacion, Argao.
As it was a holiday, a crowd larger than last year cheered the racers but many were shocked on the final lap as Ensalada was nowhere on sight in the last curve to the finish line. Ensalada, broke his bike chain as he tried to pump it up despite his huge lead in the last 400m.
Determined not to let history repeat itself, Cari-Cari was within striking distance behind the new leaders, Gapuzan and Belarma. On the last forty meters, he then made his move by overtaking Belarma to battle it out with Gapuzan in the final sprint. The same as last year, only one second separated the two riders, but this time Cari-Cari crossed the finish line first clocking 14 mins. and 23sec. to finally grab the elusive champion's trophy.
Gapuzan clocked 14mins. and 24sec. for second place while Belarma placed third with a time of 14mins. and 43sec. Michael Lovitos of Tikoy, Argao wound up fourth at 16mins. and 28sec. and Ensalada, who pushed his trisikad to the finish line, managed to salvage fifth place.
Uy Masuy Wine Factory Inc., the makers of Fighter Wine, Fighter Wine Fifty, Red Falcon Mallorca and Siok Tong Redlion, once again shouldered the prizes for this year's event. (FREEMAN)