Brutal revenge by Ateneo
October 15, 2016 | 12:00am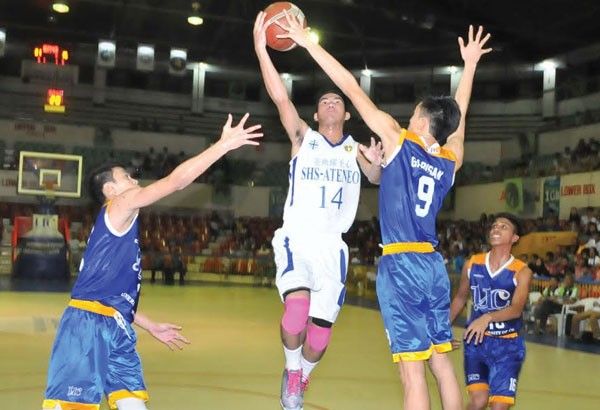 CEBU, Philippines - Three-time defending champions Sacred Heart School-Ateneo Magis Eagles have finally figured out the only team that frustrated them not only once but twice this season.
And they made it known to everyone in style, delivering a devastating win that is more of making a statement rather than exacting vengeance at their former tormentors.
With their offensive guns on fire and their defense in full swing all throughout the game, the Magis Eagles went on to annihilate the University of Cebu Junior Webmasters, 69-45, to take a 1-0 head start in the best-of-three juniors division finals of the 16th Cebu Schools Athletic Foundation, Inc. men's basketball tournament last night at the Cebu Coliseum.
Eroll Pastor scored 16 points, Andrew Velasco had 15 and Jed Colonia added a dozen markers for the Magis Eagles, who did not only snap out of their two-game jinx over the Junior Webmasters but also move in the threshold of completing a historic grand slam.
The Magis Eagles could achieve that landmark feat with another win but they must brace for a possible counter-attack by UC in Game 2 this Sunday.
The Magis Eagles simply outclassed, outfoxed and outhustled the Junior Webmasters in all departments, giving their disorganized foes a taste of their power and might.
After closing the first quarter with a 21-6 edge, the Magis Eagles soared even fiercer on the way to mount a seemingly insurmountable 29-point lead, 53-24, with only three minutes left in the third period.
Perhaps to save face, the Junior Webmasters tried hard to fight back but could only pull within 16 points, 38-54, as the Magis Eagles quickly went back to work to seal the 24-point blowout.
UC's resiliency was hardly felt, their big fighting hearts have somehow stopped beating literally, their pressure defense was nowhere in sight and their once high level of intensity plummeted to its lowest point.
In the end, no UC player could even hit double figures, with their heart-and-soul Gelmart Umpad a monumental bust finishing with only five points.
Simply put, the Junior Webmasters were ironically at their worst when the Magis Eagles were at their best. (FREEMAN)