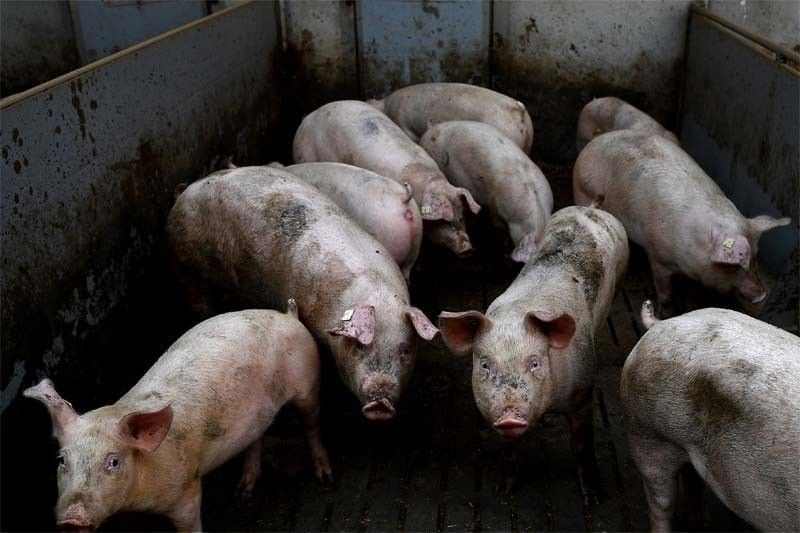 Agriculture chief William Dar said 14 out of the 20 blood samples sent to the United Kingdom tested positive for the disease. Seven areas in Rizal and Bulacan —just outside the capital — have been affected by ASF.
File
African swine fever now in Phl
CEBU, Philippines — The Department of Agriculture has confirmed that African swine fever caused deaths of pigs in some parts of the Philippines, becoming the latest Asian nation to be affected by the highly contagious viral disease.
In a press briefing, Agriculture chief William Dar said 14 out of the 20 blood samples sent to the United Kingdom tested positive for the disease. Seven areas in Rizal and Bulacan —just outside the capital — have been affected by ASF.
The agency is waiting for the result of a separate test, which will determine the strain and virulence of the disease.
The DA is verifying reports of possible ASF cases in other areas but stressed the country is not in an epidemic stage yet.
ASF is a highly contagious viral disease of domestic and wild pigs that has no cure and no vaccine. Mortality rates are as high as 100 percent.
According to the World Organization for Animal Health, ASF can be transmitted through direct contact with infected pigs, ingestion of contaminated materials such as food waste, feed or garbage, or contaminated fomites or biological vectors.
Historically, there have been reported outbreaks in Africa and parts of Europe, South Africa and the Carribean. More recently, the disease has been reported in countries across Africa, Asia and Europe.
Not a public health risk
ASF is a contagious viral disease impacting only pigs, not humans, making it unlikely to cause alarm among health officials.
"ASF is not a risk to human health," the international organization said on its website.
Before the announcement that ASF is present in several areas in the country, Dar, along with Health Secretary Francisco Duque III and hog industry stakeholders had a boodle fight for breakfast to show that pork is safe to eat.
"We hope the public will understand, as we have shown today during the boodle fight, it is safe [to eat pork]," Dar said.
Dar assured the public that measures are in place to contain the disease.
The public is advised to buy meat that bears the stamp of the National Meat Inspection Service. Those coming from abroad should refrain from bringing home pork products from affected countries.
"Pork and pork products are safe to eat," Dar and Department of Health Secretary Francisco Duque said a latest joint declaration.
Dar stressed that as long as the hogs passed through the proper process of slaughtering and preparation, the public should not fear eating pork.
Cebu situation
In Cebu, Governor Gwendolyn Garcia said efforts will be doubled to ensure pork and pork-related products from ASF-stricken countries and areas in the Philippines will not enter Cebu.
She said Executive Orders 13, 13-A, and 14 will be enforced strictly.
"I am asking the ASF Task Force to remain on full guard and the public for full support," Garcia said yesterday.
In EO 14, Garcia said there is a need to protect the swine industry in the Province of Cebu considering that it will affect more than 670,000 households in its 44 local government units valued more than P10 billion.
The governor, who already ordered the temporary ban on the transportation of pork and pork related food products in Cebu ports and at the Mactan Cebu International Airport for 100 days, scheduled an emergency meeting of the ASF Task Force today.
The Department of Agriculture has said that while the disease does not pose any hazard or risk to humans, it is very infectious among pigs and can spread easily from one farm to another if not managed properly.
"Hence, we will strengthen our collaboration with industry stakeholders, LGUs and other partners to protect our animal population against emerging diseases, and ensure safe meat and meat products for pork-loving Filipinos," the order said.
Concern for hog industry
While ASF is not known to harm humans, the viral disease can cause major economic loss to the country's P260-billion swine industry. The Philippines currently has more than 12 million hogs in its inventory.
Last month, Economic Planning Secretary Ernesto Pernia said the possible entry of ASF is among the risks to inflation this year.
The Agriculture department said it has received P25-million fund to prevent further spread of the disease. The agency is expecting an additional P82-million fund.
Financial and livelihood assistance has been given to affected hog raisers. The Cabinet also approved the creation of a National Task Force on Swine Disease.
Philippine authorities earlier instituted a ban on imports coming from China, Mongolia, Vietnam, Cambodia, Hong Kong, North Korea, Laos, Russia, Ukraine, Czech Republic, Moldova, South Africa, Zambia, Hungary, Bulgaria, Belgium, Latvia, Poland, Germany and Romania. - Philippine Star