City deploys rescue equipment ahead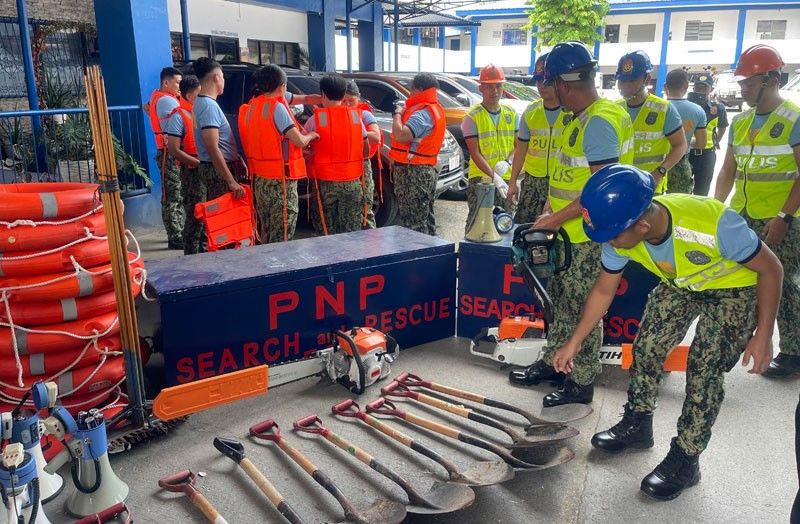 CEBU, Philippines — Anticipating a heavy downpour that may trigger flashfloods and landslides due to the incoming typhoon Mawar, the Cebu City Disaster Risk reduction and Management Office (CCDRRMO) has reactivated its emergency operations center and pre-positioned its rescue equipment in strategic locations starting yesterday.
Cebu City has also declared a blue alert status effective yesterday afternoon to ensure all disaster preparations are in place.
CCDRRMO chief Harold Alcontin said they do not want to be complacent even if the typhoon is forecast not to make a landfall and will not have a direct effect to Cebu City. Alcontin said their emergency operations center will be on a 24-hour monitoring.
The city government, through the Local School Board, has also prepared the schools in case these are needed for evacuation.
"Kasagarang nga weather agencies, niingon pa saka siya (typhoon Mawar)…but dako lang gyud siya unya higupon sad niya (southwesterly wind flow) maong naa say uwan…Mao nay atong gipreparahan," Alcontin said.
Although floodwaters now easily subside in most areas in the city, Alcontin said they still do not want to be complacent.
However, the Philippine Atmospheric Geophysical and Astronomical Services Administration's latest forecast show that Mawar has been downgraded to typhoon category from super typhoon.
"Yes downgraded na ang super typhoon Mawar to typhoon this morning. Pero adunay posibilidad nga inig sulod niya sa Pilipinas mahimo siyang super typhoon due to re-intensification kay napa siya sa kadagatan ug may posibilidad nga makakuha siya og fuel," said PAGASA-Visayas chief Al Quiblat.
Quiblat said Mawar will be named "Betty" once it enters PAR between Friday evening and Saturday morning.
"No direct effect sa Cebu ang maong bagyo," Quiblat said.
"Dili significant ang effect sa Cebu in terms sa ulan. Ang mas significant ang hangin kay ang normal is 20 kph to 30 kph, but on Saturday and Sunday moabot ang hangin og 60 kph," Quiblat explained.
Quiblat added that there is also a possibility that a gale warning might be issued against sea travel for small sea crafts.
Meanwhile, the Department of the Interior and Local Government (DILG) instructed all its regional directors to coordinate with their respective Regional Disaster Risk Reduction and Management Councils (RDDRMCs) constantly and remind all local government units (LGUs) to prepare for the typhoon.
In an advisory, the DILG said all LGUs, especially those in areas with recent experience of extended or prolonged rain occurrences and/or landslides or floods, should continue to monitor all PAGASA weather advisories and typhoon bulletins as well as closely monitor its local thunderstorm/rainfall advisories and heavy rainfall warnings, and general flood advisories and basin flood bulletins.
LGUs and their disaster teams are also ordered to utilize HazardHunterPH to generate indicative hazard assessment reports on their respective jurisdictions.
Local DRRMCs are also directed to convene and conduct pre-disaster risk assessments for floods, flashfloods, rain-induced landslides, debris flow, and strong winds. Communities must also be continuously informed and advised of situation updates and preparations.
LGUs are also ordered to establish and strictly implement critical preparedness actions based on the Operation L!STO Protocols and DILG Memorandum Circular 2020-125 or the L!STO SA TAG-ULAN AT COVID-19: Preparedness Measures of LGUs for the Rainy Season CY 2020, prioritize supplies and equipment prepositioning for response, and implement necessary actions in the DILG Advisory issued last May 2022 on the "Preparedness Measures for Rainy Season C.Y. 2022"
Areas showing signs of landslides, such as tension cracks, seepages, tilting of trees, etc., monitor moderate slopes with thick soil overburden, and areas underlain by old landslide deposits, quarry and mining areas must be also vigilantly monitored.
Waterways such as canals and drainages are likewise ordered to be cleared while dams should be ensured stable.
Pruning of trees and vegetation and clearing of waterways such as canals and drainages are also advised and if deemed necessary, LGUs are also urged to conduct preemptive evacuation and avoid areas affected by repeated flooding and landslides, meandering rivers with hillsides/riverbank erosion, floodplains with shifting and braiding streams, coastal areas affected by storm surge, flash flood areas, river deltas with many distributary channels, etc.
DILG Secretary Benjamin "Benhur" Abalos, Jr. said he hopes to mitigate any casualties through these proactive and preventive measures.
"With the advisories given by PAGASA, we need to brace ourselves and get ready to avoid casualties and other damages expected to be brought about by this potential weather disturbance," Abalos said. — /FPL