Rama back at CH after working from home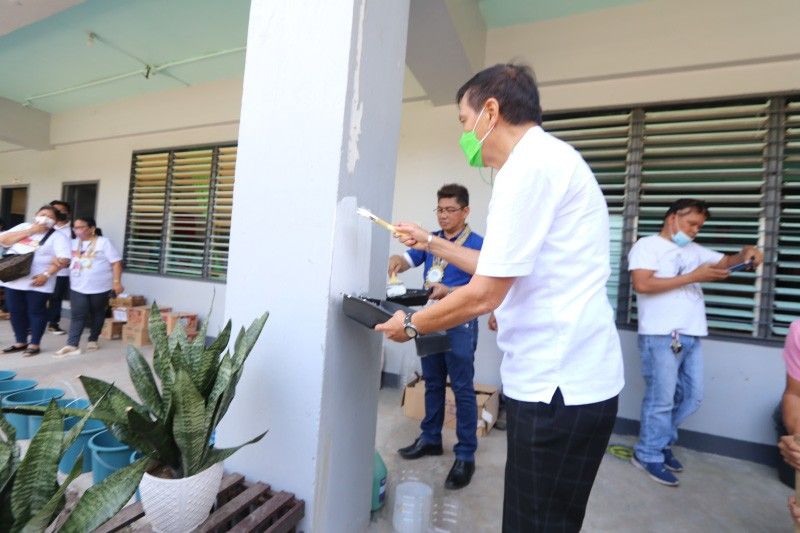 CEBU, Philippines — Cebu City Mayor Michael Rama has reported back to the City Hall after a week of working from his home due to COVID-19.
Last Tuesday, August 2, 2022, Public Information Officer Cerwin Eviota announced through a virtual press conference that Rama tested positive for COVID-19, but the good news is he was asymptomatic.
It is the first time he has contracted the virus since the start of the pandemic in 2020.
The mayor attended the City Hall's flag raising ceremony yesterday morning, and delivered a message before the City Hall workers.
He said he may be in home isolation for a week, but his duties as mayor continued.
"Just plainly look at it, it has become a forced leave for me. Pero if ihapon ninyo akong marathon Zoom, 30 ka Zoom meeting gikan sa pagka-positive asymptomatic until yesterday (Sunday)," said Rama.
Rama said while under isolation he was still able to lead other mayors who are officers of the League of Cities of the Philippines (LCP) in their courtesy call on President Ferdinand "Bongbong" Marcos, Jr. at the Malacañang.
Despite not being there in person, Rama was able to communicate with the president and the other LCP officers via Zoom video conference and inform them of his situation.
"Kataw-anon ang setup. Sa dihang ni-launch ko sa akoang presidency didto sa Malacañang, si President Bongbong Marcos maoy na-COVID. Sa dihang ako na'ng gipaadto, ang tanan elected mayors and appointed langkob sa National Executive Board, ako nasad ang na-COVID," said the mayor.
Rama thanked everyone who expressed their concern and prayed for his fast recovery.
"Pasalamat sad ko sa inyong mga pag-ampo. Kabalo ko nag-worry mo… Buhi tawon kaayo ko. Wa jud ko masakit sa tinuod, wala gyud," he said.
Last Saturday, August 6, Rama made his first public appearance during the "dance monthly Olympics" at the SM Seaside since he underwent home isolation. — JMD (FREEMAN)