Vendors revive petition to nullify Carbon modernization deal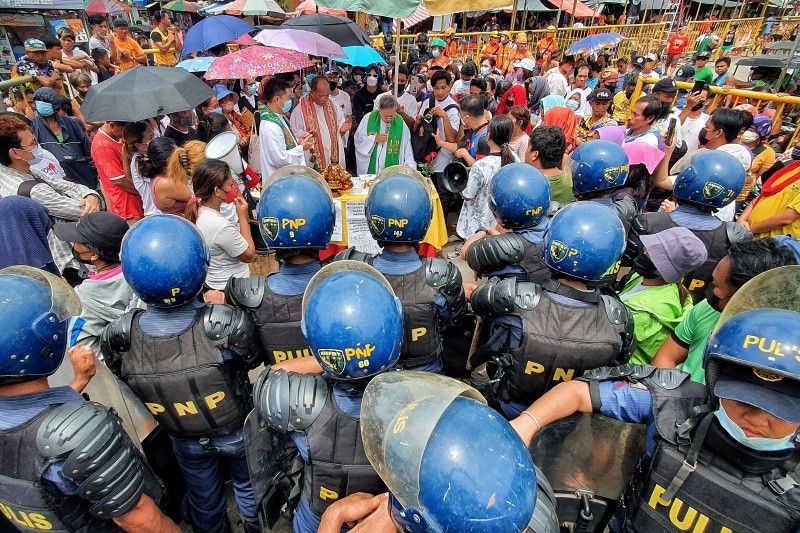 CEBU, Philippines — Sudden commotion has occurred during the continuation of the demolition of stalls of ambulant vendors between Unit 1 and 2 in Carbon Public Market.
The Carbonhanong Alyansa has revived its petition for the Cebu City government to nullify its joint venture agreement (JVA) with Megawide Construction Corporation.
According to Wine Miro, president of the ambulant vendors association, there was no proper communication nor was there a court or demolition order from the Office of the Mayor being handed to them.
"Ang amo lang unta hangyo ba is communication ba, naa unta tay sabot-sabot para dili ma-ingon ani ang sitwasyon, na-shock nalang mi deretso nga gipadad-an mi og riot police, dili man mi mga kriminal, dili man mi mga terorista, naa pay mga SWAT pwerteng daghana, asa man hustisya ani para sa mga pobre," Miro said.
The Cebu City Police Office (CCPO) sent a Crowd Dispersal Management (CDM) plus some personnel from the Special Weapon and Tactics (SWAT) to maintain peace and order in the area, according to Police Lt. Col. Wilbert Parilla, CCPO's deputy director for administration, after some vendors staged a rally supported by Cebu Archdiocesan Social Advocacies.
"Kung naa sila'y complaint base sa atoang meeting gipadalhan naman ni sila og notices unya naa na say giandam para sa ilahang mga pwesto so wala man sila mo heed mao na ang administrator mao na nag-conduct sila og clearing, mao ng nag-request ta for our presence, so wala mi labot sa unsay ilahang guba diha ang ato is peace and order," said Parilla.
Market Administrator Wendell Cenas, on the other hand, explained that the stalls of these ambulant vendors have been cleared to give way to a better one while reclaiming the original width of Calderon Street with a Market Authority resolution backing up their move.
"Pagbalik namo ni Maam Raquel since December gani then January to June wala gyuy undang amoang consultation nila, in fact katong nihinangat ang election ni try unta ta og attempt ani nga activities unya nadala nalang sad ta sa ilahang hangyo nga unya nalang gyud kuno inig ka human so karon lisod naman kaayo kay ma-delay naman ang government project," Cenas said.
The petition which started at the time of the late mayor Edgardo Labella last year, so far has 645 individuals signing up via change.org.
The petition stressed that the Carbon Market is a people's market and that "the Cebu City government can improve Carbon's charm without even selling it through a JVA (Joint Venture Agreement) with Megawide Construction Corporation."
"At the heart of this controversy, is the inhuman disregard of those who are making Carbon Market a lively place in the heart of Cebu - the local vendors, the 'kargadors', the farm-to-market sellers, and the local buyers (rich and poor). They are the tangible and intangible sectors of Carbon development, with a right to heritage and cultural claims. And they can never be outsmarted by an assurance that they are part of the development - they are more knowledgeable than any of those not living in Carbon, they have paid daily their 'arkabala' and have never seen an inch of what they paid. Development with a deliberate intention for-profit can never whitewash a place en-fleshed by people's historicity and culture, and this is the uniqueness of the carbon market," part of the petition reads.
This petition was raised again after the demolition of stalls of ambulant vendors resumed.
There are, however, also a good number of vendors who are in favor of the redevelopment project.
"Modumdum ra man gyud among customer basta lang ang imo lang ang imong batasan, pag-entertain nimo sa imong customer, bisag unsa nimo kalayo adtuon ra gyud ka, kay kami bitaw diri daghan mangita asa ilang Sonia moana ra man pud," said Sonia Uy, a fruit and vegetable vendor of Carbon Public Market, who is currently transferred at the interim market. — Decemay P. Padilla, GMR (FREEMAN)