5 fall, P860 thousand drugs seized in separate ops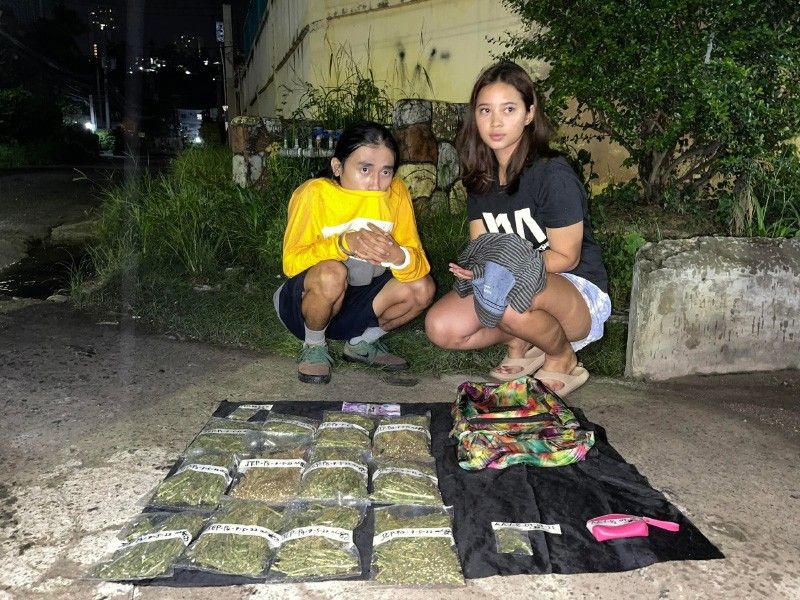 CEBU, Philippines — Around P860,000 worth of suspected marijuana and shabu was confiscated and five persons were arrested by authorities in separate anti-illegal drug operations conducted in Talisay City and Cebu City on Monday and Tuesday.
In Barangay Apas, Cebu City, at least 500 grams of dried marijuana leaves worth P60,000 were seized from a live-in couple during a buy-bust operation at Calvary Hills late Tuesday evening.
The arrested drug suspects were identified as John Edward "Ward" Diamante Patindol, 24, a virtual assistant from Calvary Hills of the same barangay, and his companion Aaliyah Ghale Ardiente Ylanan, 19, unemployed, from Carmel Drive, Barangay Talamban, Cebu City.
The operation was conducted by the elements of City Intelligence Unit (CIU), City Drug Enforcement Unit (CDEU), and Cebu City Police Office led by Police Lieutenant Colonel Allan Madrid Rosario under the direct supervision of Police Colonel Ernesto Tagle.
In an interview, Patindol said that he has been a drug courier for a year already. It started when his alleged friend from Inayawan handed him supplies of marijuana leaves to be distributed to his friend's contacts in the city.
Patindol added that he received at least half a kilo of illegal drugs every two weeks.
According to him, he received P5,000 to P10,000 for every kilo of marijuana he distributed.
Shabu
Meanwhile, over P800,000 worth of shabu was seized in other operations in Cebu City on Monday evening.
The suspect, Jojie Cuevaz Diaz, 27, a resident of Sitio Huyong-huyong, Barangay Mambaling, Cebu City, was arrested by the joint operation of the CDEU, CCPO, and PDEA. He is considered as a high-value individual (HVI).
Seized from his possession were 53 grams of suspected shabu with a standard drug value of P360,400.
Another HVI named Ronnel Ladesma Cabaron, 42, a call center agent, was arrested during a buy-bust operation in Barangay Bulacao on the same day.
He yielded 50 grams of shabu worth P340,000.
Cabaron allegedly got his supplies of shabu from a certain "Kevin," who is currently inside Cebu City Jail.
Also, a certain Arnold Selino, 19, a resident of Barangay Lagtang, Talisay City was also apprehended in a separate drug bust operation conducted in Sitio Mananga 2, Barangay Tabunok late in the evening, Monday. — Rubie Mae T. Sollano, CNU Intern; Dominic I. Dilao, Correspondent; and Romeo D. Marantal, JMD (FREEMAN)