Gwen takes oath in rites attended by Marcos, Sara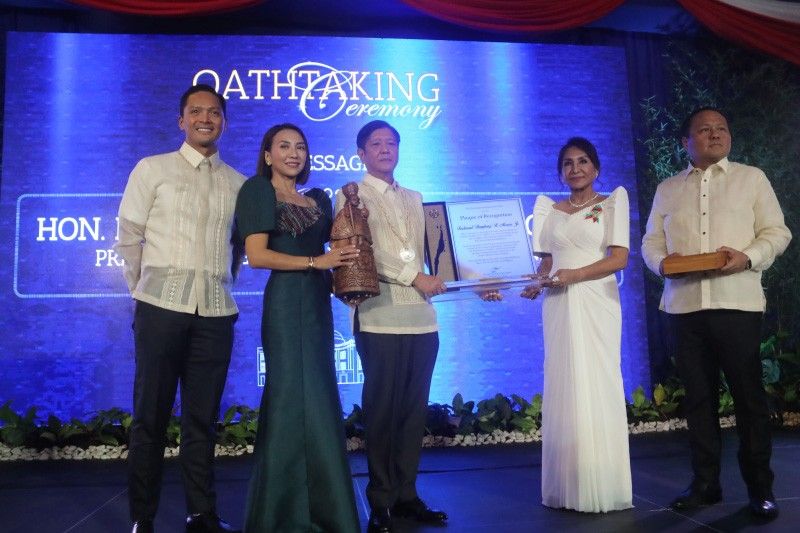 CEBU, Philippines — Cebu Governor Gwendolyn Garcia yesterday took her oath as the top official of the Province of Cebu, her fifth term so far.
Garcia was accompanied by her family during her oath-taking last night at the Marco Polo Hotel, which was also graced by president and vice president-elect Ferdinand Marcos Jr. and Sara Duterte-Carpio, respectively.
Garcia garnered 1.4 million votes during the May 9 polls, making her the first governor who amassed votes of at least a million for the first time in Cebu's history.
Associate Justice Geraldine Faith Econg administered the oath/taking of Garcia.
Aside from the governor, other local officials of the Province under the One Cebu party also took their oaths.
The event started with a mass at the hotel that was officiated by Msgr. Roberto Alesna.
One Cebu's performance
Marcos, during his speech, said that the reason for the suceess of One Cebu and of all the partymates simply because of the leadership, performance and pubic service shown to its constituents.
"Performance is the best politics," Marcos said.
He said he became a beneficiary of the success of One Cebu after Cebu delivered over a million votes for him, which he said is historic.
Marcos said he was honored to be the first Marcos who gained a huge support from Cebu.
"It has never fallen to a Marcos to win big in Cebu," Marcos said.
Marcos garnered 1.5 million votes in Cebu during the May 9 elections.
He thanked the Cebuanos and the leaders of the trust given to him. He said that the unity he and his camp have been pushing for since the start of the election will continue now that he has been given a fresh mandate.
Duterte, in her message, acknowledged the hardships and challenges faced by the local officials, especially those who have strong opponents during the May 9 elections.
Duterte said she understands that winning the election is not the easy as candidates needs mental, physical and financial preparation.
"Ang akong saad ninyong tanan mao ang akong pakigduyog sa inyo sa inyong serbisyo sa inyong mga constituents" Duterte promised to the officials.
Other Officials
Elected congress officials from Cebu who also took their oath of office were first district congresswoman-elect Rhea Gullas; 2nd district congressman-elect Edsel Galeos; 3rd district congressman Pablo John Garcia; 4th district congresswoman Janice Salimbangon; 5th district congressman Duke Frasco; 6th district congresswoman-elect Daphne Lagon; and 7th district congressman-elect Peter John Calderon.
Elected provincial board members also took an oath last night. These include board members-elect Raul Bacaltos and Yolly Daan of the first district; board members-elect Stanley Caminero and Raymund Calderon of the second district; 3rd district board members-elect John Ismael Borgonia and Victoria "Tata" Corominas - Toribio; 4th district board member-elect Kerrie Shimura; 5th district board members-elect Mike Villamor and Red Duterte; 6th district board members-elect Jude Thadeo Ouano and Glenn Anthony Soco; and 7th district board members-elect Cesar Baricuatro and Jerome Librando. – JMD (FREEMAN)