Due to alleged irregularities: Sitoy wants special poll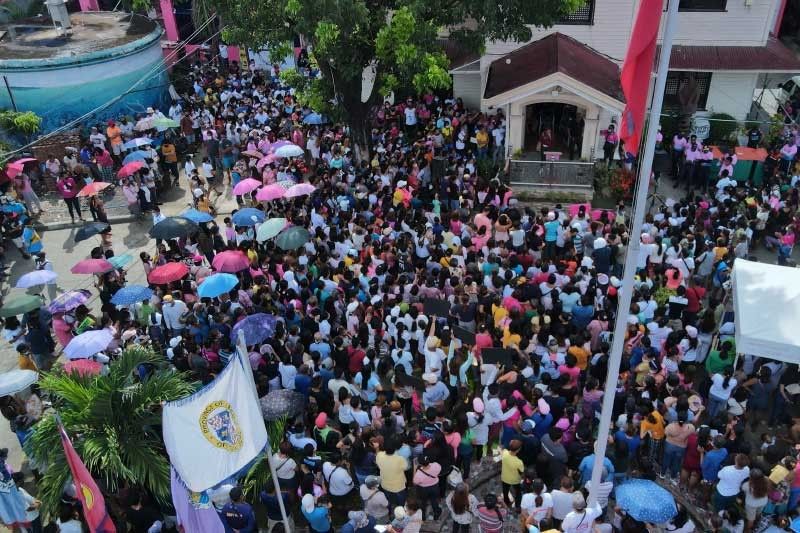 CEBU, Philippines — The camp of incumbent Cordova Mayor Mary Therese Sitoy-Cho is lobbying for a special election, alleging a failure of the May 9, 2022 polls in the town due to alleged irregularities such as vote buying.
Cho lost to businessman Cesar Suan by 4,170 votes. She got 17,052 votes while Suan got 21,222 votes.
This is the first time Suan ran for mayor but managed to disrupt a 47-year reign of the Sitoy family in Cordova.
Cho said it is "unbelievable" that Suan got over 4,000 votes more than her.
"Can you imagine nilabaw siya nako og 4,000 plus votes? To me, this is unbelievable," she said.
"Ang among call is special election kay failure of election ni siya because of the irregularities during the election day nga gibuhat sa atong kaatbang. Gigamit nila ang mga barangay officials, mga barangay employees makasulod-gawas ra sila sa polling centers… mga kandidato nga dugay kaayo mogawas sa polling areas. Even si Mayor Didoy Suan, ni-stay siya three to four hours adto sa eskwelahan. Naa pud massive vote buying," Cho alleged in an interview with The Freeman.
She added:
"Sa presinto, daghan sila (her watchers) nakit an nga mga katingalahan ug mga violations sa mga barangay officials, sa mga teachers… Naay pud uban gibutangan og tinta na daan aron dili na makabutar… naa tay witness ana."
Her camp will reportedly file the petition on Wendesday, May 18.
Early morning on May 16, Cho's supporters gathered at the town hall to show their support to the mayor. Cho advised them to remain calm and to not resort to any form of violence.
Comelec
For its part, the Commission on Elections (Comelec) advised Cho's camp to file the electoral protest before the court and not before the local Comelec.
Atty. Jerome Brillantes, acting provincial election supervisor, said the local Comelec has no jurisdiction "to resolve the issues" raised by Cho.
"We did not receive any copy of the complaint. In fact, if you have any complaint about it, the best forum to file such is the court. We have no jurisdiction, actually, to resolve any protest. Dapat sa korte gyud sila," Brillantes said.
In the case of a disqualification petition, Brillantes said the same should be filed before the Comelec En Banc.
Brillantes also said they do not see any ground to warrant a special election.
"If there is violence that halted the election (pwede ang special election) but if massive kuan diha sa kuan (Cordova), wala man. Pwerte mang peaceful nila… people were free to go out and vote… so she cannot… dili siya grounds," Brillantes said.
Suan comment
In a statement, Suan said he believes in the integrity of the electoral process.
"I believe not only in the integrity of the local elections but also to Comelec whose job is to make sure we have fair and honest elections. Lawyer Jerome Brillantes, Comelec-Cebu Acting provincial elections supervisor, already said that they found no grounds to hold special elections so I am confident that the rule of law will prevail," he said.
He also called for unity, cooperation, and healing.
"Let's work together for the betterment of Cordova. My administration will work hard to bring forth unity and cooperation among all sectors of the society. May the healing of our hearts reign so that we can all move on and learn from all these experiences," he said.
Disqualification
Eerlier, Cho filed a petition to disqualify and asked that Comelec suspend the proclamation of Suan; vice mayor-elect Victor Tago, Jr; and councilors-elect Remar Baguio, Dodong Casquejo, Jerome Lepiten, Lemuel Pogoy, Joy Wahing, Chito Bentazal, and Larenz Lagon.
A candidate for councilor, Amay Baraquia, who lost in the polls, was included in the petition but Cho's niece, Natileigh Marie Therese Sitoy, who won as councilor, was not included.
Comelec received the petition on May 9, 2022 at 11:25 p.m. but reportedly did not act on it, said Cho's legal counsel, Atty. Jessica Natad.
"Pero walay action ang Comelec sa among petition. Instead, they proclaimed Suan on May 10 alas singko sa kadlawon," Cho said.- Le Phyllis F. Antojado, JMO (FREEMAN)