Limestone rock falls, kills boy in Tabuelan
February 14, 2022 | 12:00am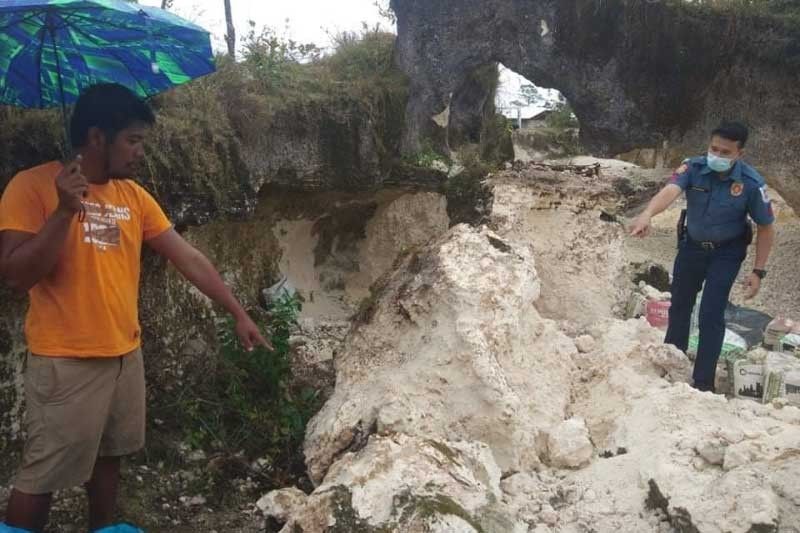 CEBU, Philippines — He was digging limestone or anapog to earn money for his family, but the industry of a 10-year-old boy instead cost him his own life.
Johnrell Bansiloy Aragon died when a boulder fell on him and two other children while they were digging crushed limestones in Sitio Atis, Brgy. Kanlunhangon, Tabuelan town, Cebu on Saturday.
The two other children — Rizalie Lumapas, 12, and Christian Lumapas, 4 — were injured, according to the report of Tabuelan Police Station.
The report from the police said that the area where the children were digging was just near their houses.
Initial investigation also revealed that the children were digging limestones to sell.
"Base sa sa pakighinabi sa mga pulis nga niresponde sa maong insidente, nahibaw-an nga ang tulo ka mga bata nangubkob og anapog para ilang i-baligya kung adunay mopalit niini," read the report of the Tabuelan police.
"Ang pagpangubkob og anapog, mao ang usa sa mga paagi niining mga bataa nga makatabang sa ilang ginikanan aron makapalit og pangunsumo sa ilang pamilya," the report read further.
However, as the children were tilling through a huge rock, they had not noticed that a huge portion the same rock had cracked and was about to fall.
Both Rizalie and Christian were rushed to the nearest hospital and are still undergoing treatment as of this writing.
In an interview, Police Staff Sergeant Jerome Millor, investigator of the case, said they are awaiting word from the children's parents whether they be pursuing an investigation into the incident.
This is also to determine if there is any other party or individual on the scene who could be also held liable for negligence.
"Wala pay niari nga ginikanan. If muari sad, willing mi mo-guide kung unsay angay buhaton basin naay mga liabilities nga ma (held liable)," he said.
He added that this is the first time that their station received a report of rock or limestone being tilled in the area.
It remains to be confirmed whether the tilling operations were duly approved by authorities. — JMD (FREEMAN)