Plane incident in Cebu airport delays flights
December 11, 2021 | 12:00am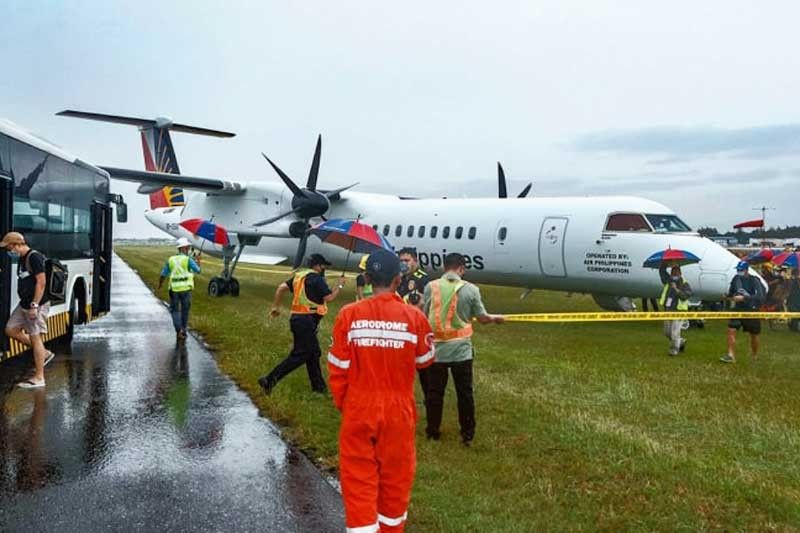 CEBU, Philippines — At least 16 arriving flights and 18 departing flights were affected when a Philippine Airlines plane skidded off the runway shortly after landing at the Mactan Cebu Airport on Friday, December 10, 2021.
No one was hurt and PAL apologized for the incident and the partial blockage of the runway that interrupted the flights.
"We affirm that safety is our top priority and that Philippine Airlines is fully cooperating with the concerned airport and aviation authorities. We apologize for the inconvenience caused by the partial blockage of the runway," the airline said in a statement.
The plane was carrying 29 passengers and four crew members – two pilots and two cabin crew members.
PAL said its operations teams assisted the passengers and would provide assistance and support as needed.
Flight PR2369 arrived in Mactan from Caticlan, Aklan at 11:39 a.m. when it skidded off the runway to a grassy portion of the area. PAL described the incident as a "runway excursion."
"We confirm that our Philippine Airlines flight PR2369 experienced a runway excursion upon arrival at Mactan Cebu International Airport in rainy weather at 11:39 AM today, after a flight from Caticlan," PAL's statement reads.
The airline's spokesperson, Cielo Villaluna, said the "the aircraft wheels veered off into the grass at the side edge of the runway."
The De Havilland Dash 8 turboprop was towed back to the runway surface after everyone on board was made to disembark to safety.
Mary Ann Dimabayao, information officer of the Mactan Cebu Airport, said all passengers and crew members were moved to Terminal 1.
"We thank airport authorities and the CAAP for spearheading the towing of the aircraft back into the runway surface," Villaluna said.
The plane is operated by PAL Express with registry number RP-C5911.
The flights affected by the incident involved those coming from and going to Manila, Cagayan, Davao, and Bacolod. — with Caecent Noot-Magsumbol, JMO (FREEMAN)