No case filed yet in Talisay collision
December 6, 2021 | 12:00am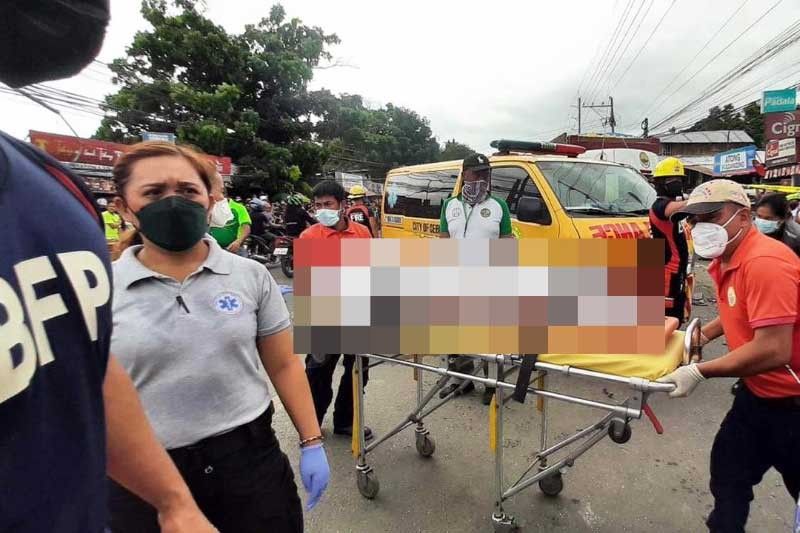 CEBU, Philippines — The Talisay City police have no intent yet of pursuing investigation on the road accident that left five individuals dead and injured 15 others in Lawaan last Friday.
Talisay City Police Station chief, Police Lt. Colonel Randy Caballes, said no family of those who died as of Sunday has signified intention to file civil suit against the company of the 10-wheeler truck that rammed into 13 other vehicles.
"Kay ang tag-iya ila naman gi-estorya ang family sa victim nga willing gyud sila moasikaso sa gastohan," Caballes told the media Sunday.
He added, they are still waiting should a member of a family of those who died will come forward to pursue investigation.
Since the death of the truck driver has cleared him of his possible criminal liabilities, Caballes said it's up to the families should they file for the civil damages against the company.
Caballes said that initial investigation has found that the accident was due to a malfunction in the truck's brake.
"Ongoing pa ang investigation, naestorya nato ang truck boy gahapon, nakuhaan nato og statement sad, unya mag (investigate) pa mi og unsa gyuy hinungdan kay base sa observation sa truck boy, ang driver iya na daw naingnan nga hapit na sila mabangga unya murag na shock ang driver, wala katunob sa brake maong nilahos-lahos lang sila," said Caballes.
The truck boy was sitting beside the driver in the passenger seat when the accident happened.
At least five were confirmed dead, including the driver, after the said truck rammed into 13 vehicles that also injured 15 others along N. Bacalso Avenue, Lawaan 3, Talisay City on December 3, 2021.
Police identified the fatalities died on the spot as Jose Wendel Cataquez, 66; Paquito San Pedro, 29; Glenn Baclay 24; an unidentified female, and the truck driver, Benchin Udtohan, who died in the hospital.
The injured persons were identified as Nelo Rublica, 35; Rey Discos, 47; Evan Magaoay Reyna, 15, and Paquito San Pedro Sr.
Caballes said their initial investigation revealed that all the vehicles involved were travelling in the same direction when suddenly Udtohan allegedly lost control on the truck he was driving. — GMR (FREEMAN)