No talking, no eating aboard PUVs amid MECQ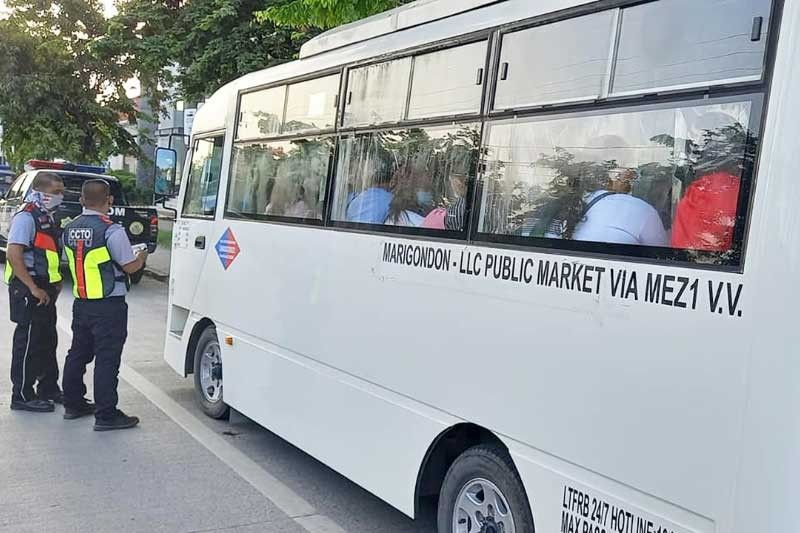 CEBU, Philippines — While public transport remains up and running under the modified enhanced community quarantine (MECQ) in Cebu City, operators and drivers need to adhere to a string of guidelines that include no talking and no eating inside the vehicle.
As agreed during the One Cebu emergency meeting Friday, July 30, inter-cities travel will remain to support the economy of the neighboring highly urbanized cities of Cebu, Lapu-Lapu, and Mandaue, as well as the municipalities in the province.
However, PUV operators, drivers, conductors and passengers must strictly abide with the revised protocols effective August 01, which include: wearing of face mask and face shield; no talking; no eating; opening of all windows and doors of PUVs, as applicable; regular disinfection of the vehicle, especially frequently touched surfaces such as but not limited to armrests, handles, etc.;
barring symptomatic passengers from boarding the PUV through individual checking of body temperature; maintaining proper physical distancing at all times; installation and maintenance of plastic barriers; no overloading or the standard 75% capacity; no standing, no double-seating/sabak, and no hooking-up/kapyot.
These protocols are applicable to public utility buses, modernized and traditional public utility jeepneys, taxis (ordinary and premium) and TNVS, authorized motorcycle taxis (Angkas and Joyride), authorized tricycles, vans-for-hire (V-Hire) and shuttle services.
But Cebu City Councilor James Anthony Cuenco, chair of the committee on transportation said, these guidelines miss out on one thing.
"Actually naa tay usa nga nataligam-an nga importante kaayo sa public transport -- dili allowed mosakay ang mga person nga 65 years old and above, and children below 18 years old," he told reporters yesterday.
Violators will be slapped with a fine of P500 or be brought to the holding area located at Labangon Gymnasium in the south or Ramos Market Gymnasium in the north.
"Kadtong madakpan, the passenger and the driver, depende kung kinsa nila ang sad-an, ihatod didto sa holding area nato didto sa north and south. They will be detained for at least 12 hours and (will be made) to pay a fine of 500 pesos," said Cuenco.
Around 600 force multipliers are being deployed to help enforce the protocols. These include bike patrollers, Citizens Protocol Enforcement Marshals, TranspoCom marshals and Task Force Kasaligan.
The revised protocols were finalized Sunday morning after a coordination meeting with the representatives from the Committee on Transportation, Emergency Operations Center, Land Transportation Office- 7, Land Transportation Franchise and Regulatory Board-7, Cebu City Transportation Office, Cebu City Police Office and other concern stakeholders.
"We met with EOC today (yesterday) and yesterday (the other day). Karong buntag didto si Councilor Joel Garganera niapil sa among meeting. Siya pod mismo nagpahimangno sa mga members sa transport cooperatives that encompass the jeepneys and the taxies, i-apil na na tanan. Giklaro na gud na namo pag-ayo ang health protocols," said Cuenco.
Proper ventilation
Aside from the adjustment in the sitting capacity for all modes of public transport, Cuenco said that all transport vehicles should also have proper ventilation.
If windows cannot be opened, the doors will have to be opened to allow better airflow, he said.
Cuenco said even taxis also need to open windows "a bit."
Allowed capacity
LTFRB-7 Director Eduardo Montealto, in his order dated July 31, 2021, stated that public transport is allowed with special permit at a reduced capacity.
The order stated that for public utility buses and public utility jeepneys, only 75 percent of the vehicle's capacity shall be allowed and passengers shall observe the "one seat apart" rule with no standing allowed
Provincial buses with only authorized persons outside residence as passengers shall be allowed provided that these are point-to-point trips.
For UV Express, a maximum of two passengers per row and one passenger on the driver's row shall be allowed, while for taxis and TNVS, a maximum of two passengers per row and one passenger on the driver's row shall be allowed.
Shuttle services shall be allowed to operate, subject to physical distancing (one seat apart).
As for air-conditioned PUVs, their windows must be opened at least two inches for proper ventilation inside.
All other modes of transportation -- privately-owned, with special permit (public utility vehicles), and/or dedicated service under government initiatives, among others -- shall strictly observe the prescribed physical distancing and sanitary measures at all times.
"After August 15, all special permits are deemed cancelled unless another extension will be issued. No special permit is tantamount to colorum operations," the order read. — with Mitchelle L. Palaubsano, Dianah Rule D. Salinguhay and Sly Anthonette E. Baseo, CNU Comm Interns, JMD (FREEMAN)