Labella: I'm alive, doing well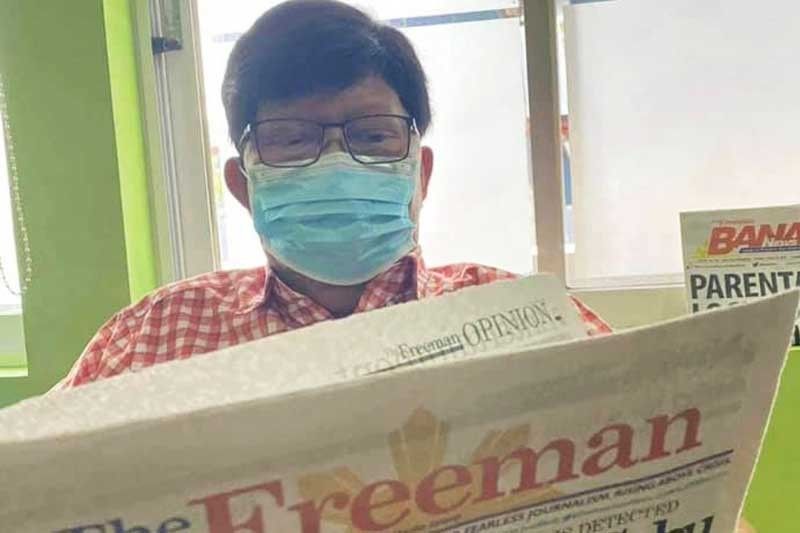 CEBU, Philippines — The incessant rumors that Cebu City Mayor Edgardo Labella has died were put to rest yesterday.
A photo posted on Labella's official Facebook page showed him holding a copy of the July 31, 2021 issues of The FREEMAN and Philippine Star, and with an issue of Banat News behind him.
It was Labella's first public appearance since going to a medical leave due to pneumonia more than two weeks ago.
"Maayong buntag! I would like to inform everyone na I'm alive and doing well. Kini tungod sa tanan mga nag ampo ug nagpadayag sa ilang pagsuporta. Daghan kaayong salamat ug mag amping kitang tanan," the captions to the photo read.
Labella is currently admitted in a private hospital in the city.
City Administrator Floro Casas, Jr. once again belied rumors that Labella has passed away, saying the mayor will possibly be discharged from the hospital next week.
Casas added there is a possibility that legal actions will be taken against those individuals who posted false information regarding the mayor's condition, but it will depend on Labella's decision.
"Dili ko ka-decide ana kay if ever unsa that would be the Mayor's decision. Amo pa na gi-discuss kang Mayor. Naa man gyud, possible na siya, everything is possible but I'm not sure lang knowing Mayor, dili lang sad nako siya unhan," said Casas.
Casas has been urging the public to pray for Labella's recovery instead of spreading false information about the mayor.
Back in January, Labella went on a three-day medical leave due to ear infection and subsequently proceeded to a work from home arrangement for over a month. He returned to City Hall in March.
On May 31, Labella took another three-day medical leave after he was admitted to the hospital for a weekend for "slight pneumonia."
Last June 9, he filed a three-week medical leave to focus on his recovery as he revealed that apart from an ear infection, he also had sepsis or blood infection.
Labella went on his fourth medical leave for the year last July 14-16, 2021 due to a "persistent cough."
His leave was extended, paving the way for Vice Mayor Michael Rama and Councilor Donaldo Hontiveros to remain as acting mayor and acting vice mayor, respectively. – JMD (FREEMAN)