Cebu City appeals quarantine status; Transportation, businesses available under MECQ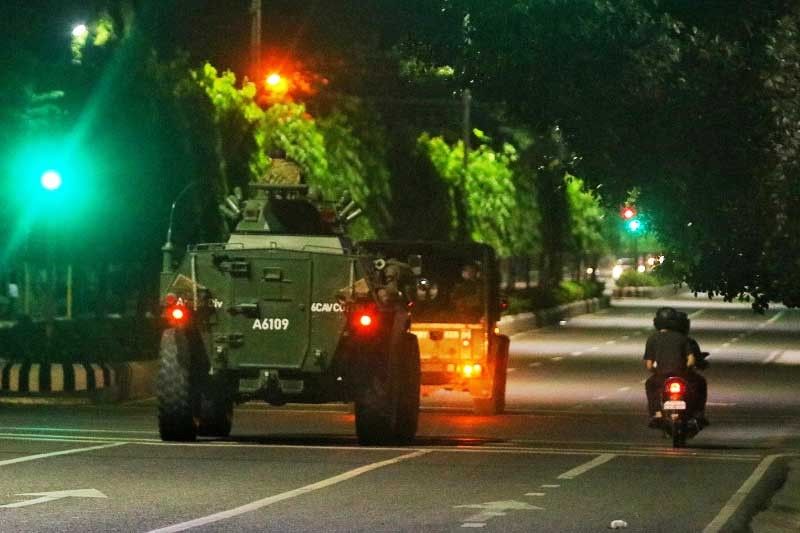 CEBU, Philippines — As Cebu City starts 15 days of being under modified enhanced community quarantine (MECQ) starting today, August 1, 2021, Acting Mayor Michael Rama has appealed to the National Inter-Agency Task Force on the Management of Emerging Infectious Diseases (NIATF-MEID), through the Regional IATF, to allow the city remain under modified general community quarantine (MGCQ).
Rama, in a letter signed on July 31, said the city government is extra mindful of striking a balance between health and economy particularly within its locality and the region.
"Being the center of trade, commerce and industry in the Visayas and Mindanao, it may not be handy to disturb its recovering economy, which supported not only the City and its constituents but the entire region outside of Luzon. The implementation of MECQ in Cebu City undoubtedly would hammer down the economy with its greatest impact on the vulnerable," Rama's letter reads.
"The City of Cebu through the Office of the Mayor, unto this Honorable Body, prays for the grant of its appeal and for the City to continue the observance of its current quarantine status under Modified General Community Quarantine," it added.
The NIATF-MIED has not responded to the request as of Saturday, July 31.
Experience
In his letter, the acting mayor said the city's experience in handing the surge of COVID-19 cases within its locality have made its constituents responsible and resilient while government and private health facilities are ready and on standby to address situations that may be brought by rapid transmission of the virus and its effect.
To bolster its existing facilities, the city is commissioning Temporary Treatment and Monitoring Facilities (TTMF) that increased its capacity to treat. These include increasing the capacity of the Cebu City Quarantine Center (CCQC) from 50 to 168 patients, converting the Department of Public Works and Highways (DPWH) donated dormitories to TTMF with a total capacity of 62 beds, and opening a COVID-19 ward at the new Cebu City Medical Center.
The City Council also passed Supplemental Budget 1 amounting to P4.4 billion where P1.5 billion is intended for pandemic related response such as P1 billion for the completion of the new CCMC building, P143 million aid to the barangays, and P280 million disaster fund.
Also included in the city's additional efforts are the hiring of 200 medical professionals to support its increased TTMF; reinforcing its contact tracing manpower with personnel and technology; issuing and enforcing of Executive Order No. 136 on July 25 which adjusted the curfew hours from 10 p.m. to 4 a.m.
"Under the current circumstances, it is submitted that the City of Cebu can better address the rising incident of COVID-19 and the economy through the continuous observance of the current quarantine status which is enhanced by the aforementioned facilities and capabilities among others. Lastly, the people of Cebu City have been in the worst and have proven to be responsible citizens of this country," Rama's letter reads further.
Movement during MECQ
As Cebu City starts with the MECQ implementation today, Rama said the public transportation can still operate but overloading will be prohibited strictly.
"There is no such thing as no movement. There will be transportation. The transportation sector should be part of the solution," said Rama in press conference Saturday.
Councilor James Anthony Cuenco said capacity in public transportation will be the same but the city will enforce 'no overloading' policy strictly.
Unlike in 2020, the city will not require a quarantine pass from residents allowed to go out during MECQ.
Rama also clarified that residents of other local government units can still enter Cebu City.
He said Cebu leaders have agreed that inter-LGU travel will be unhampered but each LGU will be "accountable on their responsibility in seeing to it that all protocols, health requirements are complied with."
Rama said there is no need to issue yet an executive order and highlighted that residents should follow the protocols.
He said the Philippine National Police (PNP) knows their marching order and "they know very well what to do."
"What I would like to reiterate, do not challenge the authority in their enforcement in defending and protecting us. Respect them, for they also have their own marching order, especially coming from yours truly," said Rama.
Lt. Colonel Wilbert Parilla, director for operations of the Cebu City Police Office, said the city will set five border control points in Barangays Banilad and Talamban, and the North Reclamation Area (NRA) in the north and Barangay Bulacao and near Il Corso Mall at the Cebu South Road Property (SRP) in the south.
Parilla said they will ensure the strict implementation of health protocols and will not require travel passes.
"So far, ang instructions sa atoa, dili sama sauna nga kinahanglan mag-check ta sa adunay mga quarantine pass. So far, ang sa atoa, more on implementation sa health protocols," he said.
Establishments
Meanwhile, Cebu City will follow the May 2021 IATF resolution on restrictions on establishments.
Among the establishments not permitted to operate are entertainment venues such as karaoke bars, concert halls, theaters, and cinemas; recreational venues such as internet cafes, billiard halls, bowling alleys, and similar venues; amusement parks or theme parks; and indoor visitor or tourist attractions, libraries, archives, museums, galleries, and cultural shows and exhibits.
Under the Department of Trade and Industry (DTI) Memorandum Circular No. 21-14, under MECQ, indoor dine-in services of food preparation establishments such as commissaries, restaurants, and eateries are not allowed.
Meanwhile, 50 percent capacity is allowed in outdoor or alfresco dine-in services of food establishments, with open air ventilation, and unenclosed spaces, including those with structures consisting of non-adjacent impermeable walls; those consisting of circular structures with 50 percent non-continuous impermeable walls; and those with ceilings, roofs, umbrellas, or canopies with no walls. – JMO (FREEMAN)