More people flock to vax sites amid Delta, no entry scares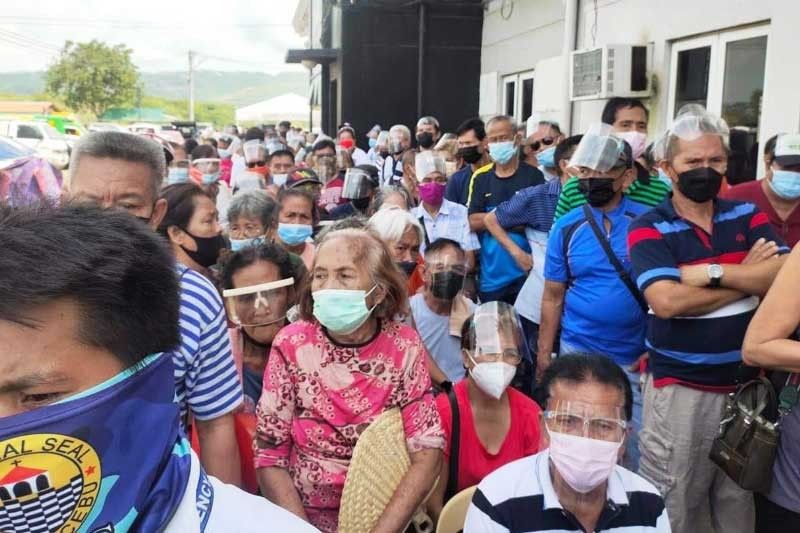 CEBU, Philippines — Fears of the highly contagious Delta variant and the no entry policy prompted more Cebuanos, even those without a prior schedule, to flock to different vaccination sites.
Although the no vaccine, no entry policy is only applicable in Lapu-Lapu City, non- Oponganons fear that their respective local government units will follow suit.
Mayor Junard Chan issued an executive order disallowing unvaccinated customers from entering several establishments in the city. Section 4 of E.O No. 2021-040 reads, "only vaccinated persons upon presentation pf their vaccination cards, shall be allowed to enter public and private markets including department stores, supermarkets, grocery and convenience store." The new rule is set to take effect on August 25.
Added to that was the news on the 32 confirmed Delta cases in Cebu.
Since the issuance of the EO, over 16,000 Lapu-Lapu City residents got vaccinated in just three days.
Chan, in a Facebook post, said a total of 6,299 people received their first and second doses yesterday alone.
"Nagpasalamat kog dako sa atong mga medical staff nga bisan anaa na tiwala sa kakapoy, namalig-on kamo sa paghatod ug serbisyo sa atoang kaigsuonang Opongaon," said Chan.
Due to throngs of people wanting to get vaccines, the city has opened two more vaccination sites in barangays Marigondon and Ibo.
The city is also expected to launch a mobile vaccination to hasten its vaccination drive.
"Let's aim to reach 70 percent vaccination rate kay di nako kaagwanta og tan-aw sa akong kaigsuonan nga nag-antos sa kagutom," He said.
The city's vaccination sites also accommodate walk-ins.
In total, 62,822 individuals got the first dose and 29,137 had the second dose in Lapu-Lapu City.
Hoping to get vaccinated, Cebu City Acting Vice Mayor Donaldo "Dondon" Hontiveros said, some people resorted to giving false information and lying about their vaccination schedule.
He said some individuals only copied the vaccination schedule text message sent to a qualified vaccine recipient and presented the text to the jab sites.
Aside from that, Hontiveros also received information that his name was used in desperation to get vaccinated.
In line with this, Hontiveros appealed to all residents of Cebu City to follow their vaccination schedules to keep all vaccination sites in order and to keep everyone safe.
So far, 159,496 individuals received their first dose of vaccines against COVID-19 and 92,907 others for the second dose.
Moreover, as of July 29, a total of 707,433 vaccine (first and second) doses have been administered across all Public and Private Sector Vaccination Centers in Cebu, according to the government's Project Balik Buhay
Most of the doses were for Cebu City (252,403).
The remaining doses were for Cebu province (212,162), Mandaue City (150,909) and Lapu-Lapu City (91,959). — Sly Anthonette Baseo, KQD (FREEMAN)