Closure of plaza, Fort pushed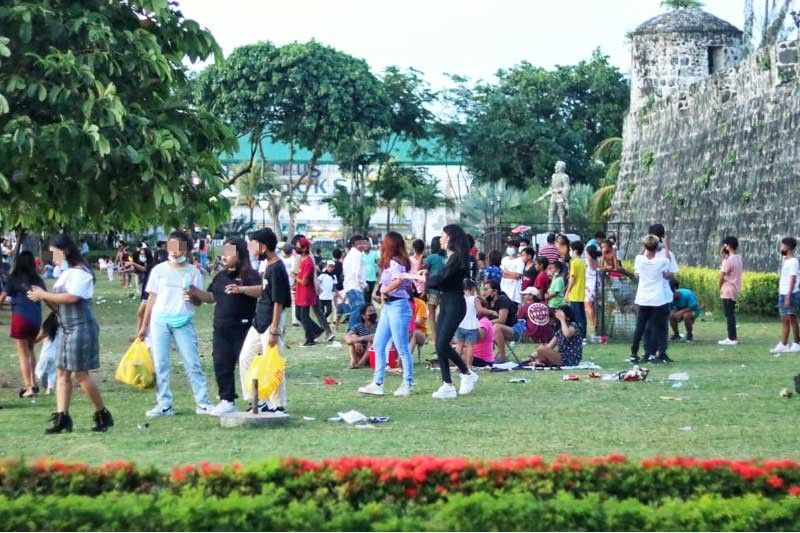 CEBU, Philippines — Authorities in Cebu City are pushing for the temporary closure of Plaza Independencia and Fort San Pedro to the public to avoid gatherings in the near future as the city battles a recent surge in coronavirus cases.
Acting Mayor Michael Rama wants these sites closed for a month, saying "prevention should never be stopped."
On Sunday, July 25, 2021, policemen had to disperse a crowd composed mostly of friends groups and families with children lounging outside Fort San Pedro. Photos captured by The Freeman showed several of those in the crowd were not observing health protocols such as proper wearing of mask and face shield.
It was Police Station 3 headed by Major Edgar Labe that first recommended the temporary closure of the sites.
"It is humbly recommended to LGU that Fort San Pedro and Plaza Independencia be temporarily closed to the public goers except for Ceres bus and other vehicles considering the spike of positive cases of COVID-19," reads the Station 3's recommendation.
Rama and Councilor Joel Garganera agreed.
Garganera is deputy chief implementer of the city's Emergency Operations Center (EOC).
"While we encourage outdoor spaces to be maximized, this should always be coupled with the observance of our health and safety protocols. What happened in Plaza Independencia last Sunday does not only show complacency by the public, and corresponding lack of manpower to enforce health and safety protocol. It also shows the lack of open spaces where the public can get rid of this COVID-19 fatigue," he said.
As of this writing on Monday, July 26, Rama has yet to know if he would continue serving as acting mayor so he could act on the recommendation.
Other Steps
Aside from closing the plaza and the Fort, the city is also bent on banning the sale of liquor again and starting curfew hours earlier at 10 p.m. instead of 11 p.m.
"I am waiting for the EO that I have to sign. Number one, Curfew, okay. Number two, prohibition of liquor, okay. If we do not do our act now, it's a matter of agreeing if we want to be under ECQ or we wish to maintain being in Modified General Community Quarantine," Rama said.
National Inter-Agency Task Force (IATF) Visayas chief implementer, ret. General Mel Feleciano, also suggested a uniform set of protocols for the three highly urbanized cities of Cebu, Mandaue, and Lapu-Lapu.
Feliciano is set to meet with the mayors of the three cities to discuss the matter further.
Based on DOH-7 data, Cebu City has 2,085 active COVID cases, Lapu-Lapu has 979, and Mandaue City has 688.
Cebu Province's number of active cases has also gone up to 1,888.
Delta Task Force
Meanwhile, the Cebu Disaster Risk Reduction and Management Office (CDRRMO) has formed a task force that will focus on educating residents further about the dreaded Delta variant.
Information dissemination will be city-wide but will give particular attention to areas in the city with the most number of COVID-19 cases like Barangays Guadalupe, Lahug, and Tisa.
CDRRMO personnel will distribute flyers containing information about the Delta variant and talk to residents with the use of a megaphone.
"Mutabang nato ani atong mga barangay-based responders, barangay officials ug atong barangay fire brigade, mutabang gyud og rekorida, tinabangay ni siya… We need to start diri sa atoang grassroots, sa community, kay kinahananglan gyud ni siya'g community response. Ang katawhan di gyud mukompyansa ba," said CDRRMO chief Ramil Ayuman.
"Ang akong nakita nga missing link, while naa ang Task Force KASALIGAN (Kaluwasan sa mga Amigo Cops ug Sugboanon ang Gusto sa Atong Liderato nga Ipatuman Gumikan sa hulga sa COVID-19 Alang Natong tanan), dapat naa gyuy mu-parallel ba, nga naa gyuy di mapul-an mutuyok, nga magpahibaw gyud ta nga atong mga hospital di na manawat kay puno-puno na," Ayuman added.
The task force kicked its drive off in Guadalupe in coordination with barangay captain Mike Gacasan and health committee chairperson Apol Enriquez.
On Sunday, DOH announced 55 additional cases of the Delta variant in the Philippines, bringing to 119 the number of cases with the variant in the country.
Of the 55 cases, 37 are local cases detected in the regions of CALABARZON with 14 cases, Northern Mindanao with eight cases, NCR and Central Luzon with six each, Davao Region with two cases, and Ilocos Region with 1.
Seventeen patients are returning Overseas Filipino Workers (OFW). — Decemay P. Padilla with Sly Anthonette E. Baseo and Dianah Rule R. Salinguhay, CNU Interns, JMO (FREEMAN)