13 cops, 15 detainees in Samboan test positive for COVID-19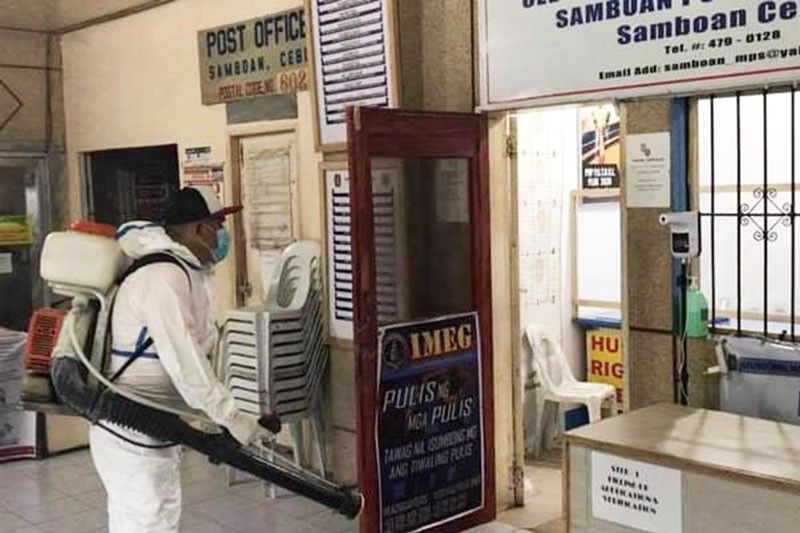 CEBU, Philippines — A total of 13 personnel and 15 detainees at Samboan Police Station have tested positive of COVID-19 as of July 24.
A police officer reportedly tested positive of the virus on June 29, and upon tracing his closed contacts, 12 police officers and a non-uniformed personnel were found to also be infected with COVID-19 on July 3.
On the other hand, all 15 detainees in the station were also found positive after one of them was rushed to the hospital on July 5 for experiencing shortness of breath, considered as a symptom of the virus.
According to Supply Police Non-commissioned Officer (PNCO), Police Corporal Jason John Hiramis, all of the officers were immediately isolated for 14 days and now are already advised for home quarantine.
"So far ang atoang mga police personnel nga katong na-isolate, nakagawas na sila. Pero wa pa padutyha kay ang advised ni Doc, home quarantine sila unya makabalik sila tentatively by July 28," he said.
He also added that the detainee was already released from the hospital and is now being monitored in their local government unit (LGU) isolation facility, where he will stay for five days before going back to the station's cell.
The other 14 inmates are still being monitored in the two cells of the police station. There are six inmates in the first cell while eight in the other.
Hiramis said that that the station has been on lockdown for about two weeks now, saying it was done before the release of the recent executive order of Mayor Emerito Calderon Jr.
Reinforcement
Meanwhile, the Cebu Police Provincial Office (CPPO) headed by Police Colonel Engelbert Soriano already deployed officers from the Provincial Mobile Force Company (PMFC) as reinforcement to secure the implementation of Mayor Calderon's Executive Order No. 25, released on July 21, 2021, which puts the entire municipality of Samboan on a hard lockdown for six days.
Hiramis said that six PMFC personnel together with five officers from the Philippine Army are reinforcing and monitoring the quarantine control points (QPC) following guidelines from the memo released by the local chief executive.
With aim to intensify strict border control during the lockdown, Hiramis said that the PNP is exerting great effort in implementing protocol especially for travelers from neighboring towns.
"Ang gihimo sa PNP, naa tay duha ka coupon, ug pananglitan, gikan sila sa Ginatilan, inig abot nila sa may Barangay Suba, pa fill-upon na sila og coupon. Ilista ang plate number sa sakyanan, unsay type niya ug kinsa ang mga passenger onboard. Tapos ang usa ka coupon, ilang dad-on, ihatag ngadto sa pikas border. Kana nagpamatuod na igo ra silang ni-pass by," Hiramis explained.
He said that if the traveler failed to give the other coupon to the personnel manning the QPC on the second border, it proves that the traveler has indeed stayed in the municipality and it will be easier for them to track those persons through the first coupon.
As of July 24, the COVID-19 cases in Samboan tallied up to 187. Out of this total number, 132 already recovered while there are still 53 active cases.
There are 42 people currently isolated and 11 are admitted to the hospital, while there are two recent deaths that are suspected to be due to COVID-19.
Local COVID-19 Task Force, Samboan Volunteer Emergency Responder (SAVER) and Municipal Assessor Irwin Gamallo informed that only those with symptoms are being put in the LGU isolation facility while those who are asymptomatic, upon inspection of their respective houses and approval of the Rural Health Unit (RHU), are advised for home quarantine.
"I hope nga this lockdown can lower our cases, of course with the cooperation of our people by honestly reporting COVID-19 symptoms of people and their direct contacts so that the RHU-DOH can effectively act on time. The surge today was brought also by delayed reporting of COVID-19 symptoms of people," Gamallo said. —/GMR (FREEMAN)