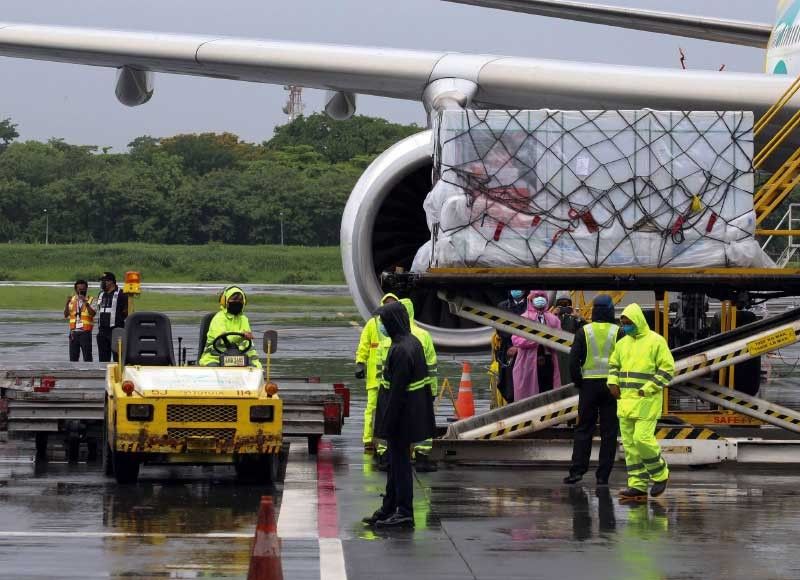 This is part of the 562,770 doses of government-procured Pfizer-BioNTech anti-COVID vaccines that arrived last Wednesday.
Central Visayas gets 51,480 more doses of vaccines
CEBU, Philippines — The Department of Health-7 received last night a new batch of 51,480 doses of Pfizer intended for Central Visayas.
This is part of the 562,770 doses of government-procured Pfizer-BioNTech anti-COVID vaccines that arrived last Wednesday.
Dr. Mary Jean Loreche, spokesperson of the Visayas Vaccination Operation Center, in her daily briefing said that the region has received a total of 1,359,060 doses wherein 610,000 doses are Sinovac; 347,600 doses are AstraZeneca, 241,020 doses are Gamaleya and 293,670 doses are Pfizer.
Data also showed that as of July 21, 2021, a total of 566,346 individuals were vaccinated in all public and private sector vaccination centers in Cebu.
The country got more supplies of COVID-19 vaccines with the arrival of around two million doses combined from Sinovac and Pfizer-BioNTech in the past two days and another one million doses of Sinovac are expected to arrive today.
Yesterday, an additional 1.5 million doses of government-procured CoronaVac COVID-19 vaccines developed by Sinovac Biotech Ltd. arrived at the NAIA Terminal 3.
The 1.5 million doses that arrive are part of the 26 million CoronaVac shots secured by the Philippine government for this year.
The latest shipment brings to 16 million in total Sinovac vaccine doses received by the country, including the one million donations from the Chinese government.
Aside from that, the Philippines also expects to receive one million doses of Sinovac vaccines today.
All in all, the country has already received a total of 29,985,130 doses of anti-COVID vaccine since February.
Stop Blaming
Meanwhile, Loreche, who is also the DOH-7 chief pathologist, has put an end to the various rumors that circulate in social media in regards to the reported mortalities caused after being vaccinated.
"Dapat ma-establish natin the direct causality. Talagang wala tayong makikitang ibang kadahilanan or pag-examine natin ng records sa medical histories mo, before and after vaccination at walang kaduda-duda na heto po ay dahil sa bakuna at walang ibang conditions of events or circumstances that would lead to your adverse events," Loreche said.
She added that because the vaccine is an Emergency-Use Authorization (EUA), there is no certificate of product registration, nor does it have an official FDA approval. The government will shoulder the indemnity. Indemnity means that the government will handle all the expenses a person has upon consultation of the experienced severe adverse events after the vaccination.
If a person experienced severe events, he or she should either go to a government facility, government hospital or a private hospital. For example, a DOH- retained hospital will cover all the balance billing through PhilHealth after the consultation while a private hospital has the PhilHealth package or any reimbursement scheme that will cater anything in excess or beyond that.
Of these, a vaccinee's temporal profile should include all the necessary medical details, vital signs, and histories before and after its immunization. The National Adverse Events Following Immunization under the Adverse Events Investigation are the responsible committees of experts that will handle and examine all the cases of people who experienced a symptom of the following: difficulty of breathing, severe allergic reactions, rashes all over your body, chest pains and tightness, or death.
In Central Visayas, the Regional 7 Adverse Events Following Immunization Committee (RAEFIC) are the leading experts in medicine focused on individual's serious adverse events that will happen in a span of four hours to twenty-eight days.
"Pinag-aaralan po natin yan, hindi po dahil ina-abswelto natin ang bakuna kundi para alamin natin for future needs also and for future research that will help us learn more from this. We need to establish a direct, consistent, and causal association. Minsan kasi hindi naman talaga directly involved ang bakuna parang meron talagang comorbidities," she said.
Loreche pleads the public to stop blaming the vaccines for a person's possible death, unless that they have established, and the experts proved the latter beyond reasonable doubt.
There is one examination that will truly give the public a definitive answer regarding a direct causal relationship, a health official will conduct an autopsy to a person's body to know the real circumstances surrounding the demise of that individual.
As of this month, one of the highly urbanized cities has registered 21 deaths but not a direct causality of the vaccination. The 21 recorded deaths showed that only one of them has been vaccinated but that person has a long list of comorbidity status.
However, Loreche clarified that no vaccines were administered to 20 out of these 21 mortalities.
"Mas nakakatakot ang hindi magpabakuna lalong-lalo na ngayong panahon na ito, because our vaccines will help us to be able to handle severe forms of symptoms or illness from COVID-19," she added. — Caecent No-ot Magsumbol and CNU Comm Intern Jomelou Q. Menorias, GMR (FREEMAN)