P20 million worth of marijuana uprooted in Toledo City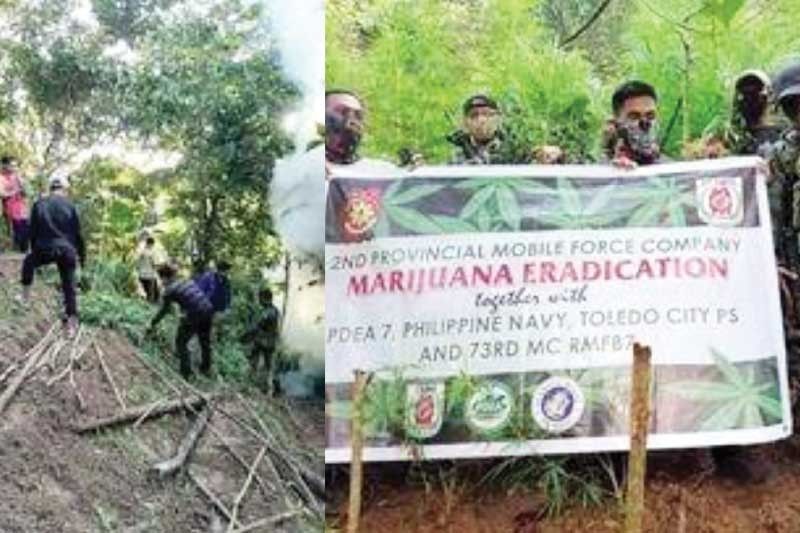 CEBU, Philippines — A total of 50,000 stalks of marijuana with an estimated value of P20 million were uprooted in a regional Simultaneous Anti Criminality Law Enforcement Operations (SACLEO) and Synchronized Enhanced Management of Police Operations (SEMPO) conducted in Sitio Guingcamote, Barangay Captain Claudio, Toledo City on Saturday noon.
The operation was jointly conducted by the 703rd Maneuver Company of Regional Mobile Force Battalion Central Visayas led by its chief, Police Colonel Robert Lingbawan, 2nd PMFC together with personnel of Toledo City Police Station, Philippine Drug Enforcement Agency (PDEA-7), and Naval Forces Central.
Authorities failed to arrest the suspected cultivator identified as Gerardo Allecer Ningue, 49-year-old, a resident of the said place, who managed to elude arrest during the operation.
Uprooted marijuana plants were burned in the area while one stalk was brought to the Regional Crime Laboratory Office-Central Visayas as evidence to support the filing of charges against Ningue.
Police Corporal Cirilo Centino of 2nd PMFC said an informant reported the marijuana plantation to the PMFC's team leader.
Centino described the place of Ningue where the marijuana plantation is located as very difficult to reach.
"Didto gud dapita, prone matamnan tungod sa kalayo, dili ma-monitor sa mga kapolisan," he said.
Centino also said that as of today, monitoring at the plantation is still being conducted in case the suspect returns to his place.
Drug shift
Limbanan for his part assessed that the massive campaign against shabu made illegal drug users shift to marijuana raising its demand than usual.
He said that with the series of eradication operations over the marijuana plantations that they have monitored and discovered, they do not discount the possibility that the demand of marijuana in the illegal market has increased.
"Actually sa assessment namin dyan, di ba istrikto ang campaign nato againts sa illegal drugs or shabu, so maybe nag-shift ang mga local distributor ng mga illegal drugs,siguro naiipit sila sa ating campaign against shabu nag-shift sila sa marijuana, that's another thing," said Limbawan.
Previous operations against marijuana plantation had been conducted in the secluded areas in Balamban and Asturias.
The arrested individuals during the previous operations reportedly refused to give out statements or they would deny ownership with the plantation even after having been caught cultivating the area.
"Actually during the interview ayaw man magsabi kasi kahit na ano ang pilit natin kung may mahuli tayo na ganyan, they don't reveal kung gaano sila katagal nagtatanim, everyone of them will deny," said Limbawan.
According to Limbawan, on their continuous surveillance of these plantations, they were also able to monitor these suspects.
With the large volume of uprooted marijuana, Limbawan said this slashed a huge potential market distribution among the illegal users.
"It really affects the market, specially marijuana, ganun kalaki, pagka ito ma-distribute at makarating sa mga users marami na namang masisirang kabataan dito, so napakalaki ang impact," said Limbawan. — Dominic I. Dilao, UV Intern and GMR (FREEMAN)