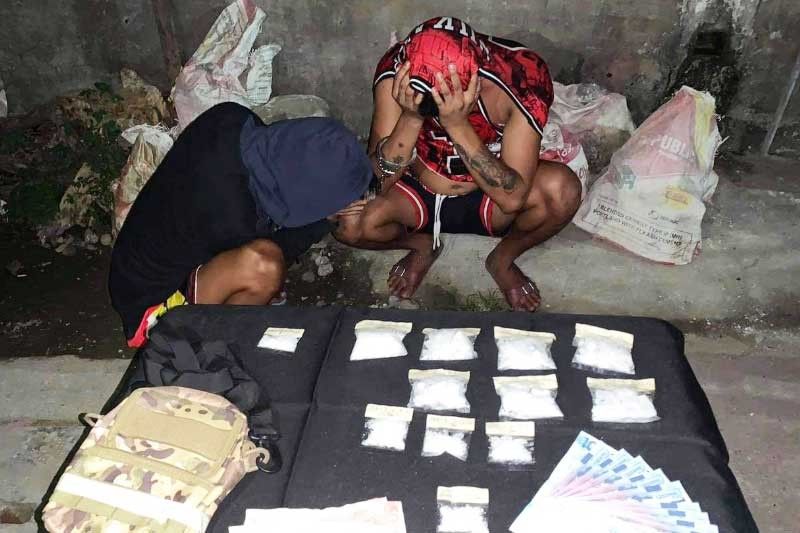 Authorities nabbed Luisito Salibingcogon Jugan, 56, an ex-convict, and a high-value individual in the illegal drug trading.
Ex-convict, 2 vendors fall in anti-drug stings
CEBU, Philippines — An ex-convict and two street vendors were arrested in two buy-bust operations in metro Cebu, resulting in the seizure of P1.4 million worth of shabu.
Authorities nabbed Luisito Salibingcogon Jugan, 56, an ex-convict, and a high-value individual in the illegal drug trading.
He was caught in a drug bust in Sitio Suba, Barangay Poblacion, Liloan town by the elements of the Cebu Provincial Intelligence Unit at 2 a.m. yesterday.
Seized from him were six sachets of shabu worth P81,600.
In a separate operation late Thursday night on Spolarium Street, Barangay Duljo Fatima, Cebu City, Junel Rabanez, 24, and Jefferson Robin Pabalate,22, were also arrested. Both are residents of Sitio General Genis, Barangay Suba.
They were caught in possession of drugs weighing 200 grams amounting to P1.3 million.
Randy Caballes, head of the Cebu City Police Office Intelligence Unit, said Rabanez, a tempura vendor, started engaging in illegal drug trade over two months ago and could dispose of 500 grams of shabu weekly.
"His drug supplier is currently detained at the Cebu City Jail," said Caballes.
Pabalate, on the other hand, was a new player in the illicit drug trading.
Caballes said both Rabanez and Pabalate were placed under surveillance for two weeks prior to the operation.
Their drug trade operations covered the villages of Duljo Fatima and the neighboring coastal barangays.
3 villages now drug-free
Meanwhile, three villages in Consolacion town were officially declared "drug-cleared" yesterday.
The barangays are Lanipga, Panas and Panoypoy.
Municipal Anti-Drug Abuse Council (MADAC) consultant Abelardo Banuag said the three villages had 93 drug users and all of them joined the community-based drug rehabilitation program.
The drug surrenderers finished the program in December last year.
Banuag said the barangays were declared cleared of illegal drugs after meeting the barangay drug clearing program (BDCP) requirements.
The requirements include non-availability of drug supply; absence of drug den, user and pusher; absence of clandestine drug laboratory; active involvement of barangay officials in anti-drug activities; existence of drug awareness, preventive education and information; and existence of voluntary and compulsory drug treatment and rehabilitation processing desk.
The certificates declaring the barangays as drug-free were issued and given by MADAC in a ceremony.
Also present during the ceremony were Mayor Joannes Alegado, Association of Barangay Captain (ABC) President Wesley Alimoren, Banuag, and representatives from the Philippine Drug Enforcement Agency-7 and Consolacion Police Station. — Dheif Daniel Yunting, USC Intern, KQD (FREEMAN)