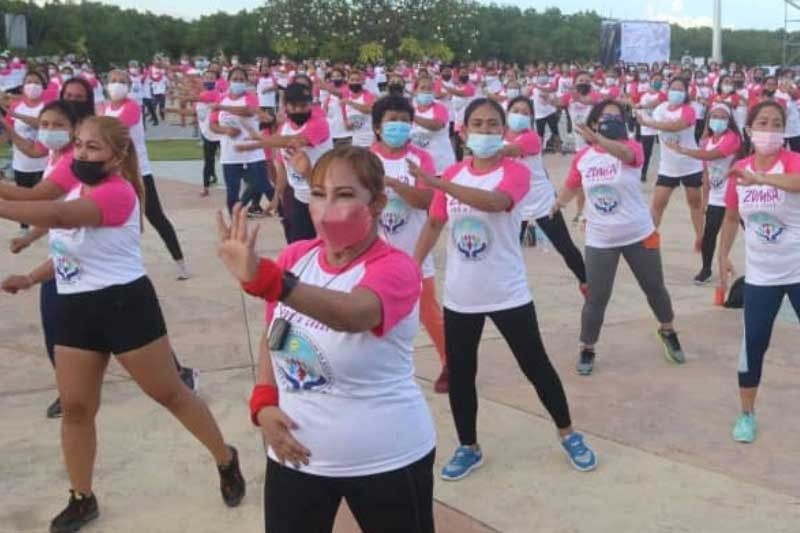 EOC chief, lawyer August Lizer Malate, issued Thursday the notices to all barangays officials in the city.
Mandaue City bars Zumba exercises, mass gatherings
CEBU, Philippines — Mandaue City Emergency Operations Center (EOC) Local Task Force has prohibited Zumba exercises in public places as well as other forms of mass gatherings.
EOC chief, lawyer August Lizer Malate, issued Thursday the notices to all barangays officials in the city.
Malate acknowledged that Zumba and other fitness programs promote good health and well-being for everyone.
"But we also must understand that we are presently not in the normal set-up as we are still facing one of the world's worst public health crises," said Malate.
Malate has requested barangay officials in the city to comply with the notice as soon as possible by monitoring activities and disallow non-essential mass gatherings, such as Zumba exercises within their respective barangays.
The Mandaue City Police Office is also directed to aid the barangays in monitoring and disallowing these non-essential gatherings within the city.
The notice was issued after the task force was informed that Zumba exercises are being held in different public places such as gyms and other recreational areas in the barangays within the city.
There are photos and videos showing the conduct of Zumba in public places especially in barangay gymnasiums.
The task force also reminded the barangay officials that all types of non-essential mass gatherings like birthday parties, general assemblies, fiestas, work-related conferences, trainings and other similar activities that entail gatherings of persons shall be temporarily suspended as stipulated under Executive Order No. 9 series of 2021 and Section 5 of the Omnibus Guidelines on the Implementation of Community Quarantine in the Philippines issued by the National Inter-Agency Task Force.
The notice also noted the statement made by Presidential Spokesperson Harry Roque in October 2020 that no group workout like Zumba is allowed and group fitness classes like Zumba and yoga in gyms may consider online workouts at home for the meantime to avoid COVID-19 transmission.
However, Zumba classes and events in some areas in Cebu Province and the cities of Cebu and Lapu-Lapu were allowed either in public settings or in malls.
Cebu City EOC chief and Councilor Joel Garganera earlier said that in Cebu City, Zumba is allowed and urged mall management and Zumba instructors to strictly adhere to the minimum health standards such as wearing of facemask, social distancing, among others.
Various Zumba classes were also observed in Lapu-Lapu City and Danao City as well as in the towns of Cordova, Compostela, among others.
Zumba fitness was first introduced in the Philippines in 2008 by Zumba instructress Emma Satchell.
Since she started her first Zumba class in Cebu 13 years ago, it has gained thousands of Zumba followers not just here but in the entire country.
Zumba classes and events were stopped last year amidst the lockdown sending hundreds of Zumba instructors losing their income. — GMR (FREEMAN)