Marshals to enforce health protocols among commuters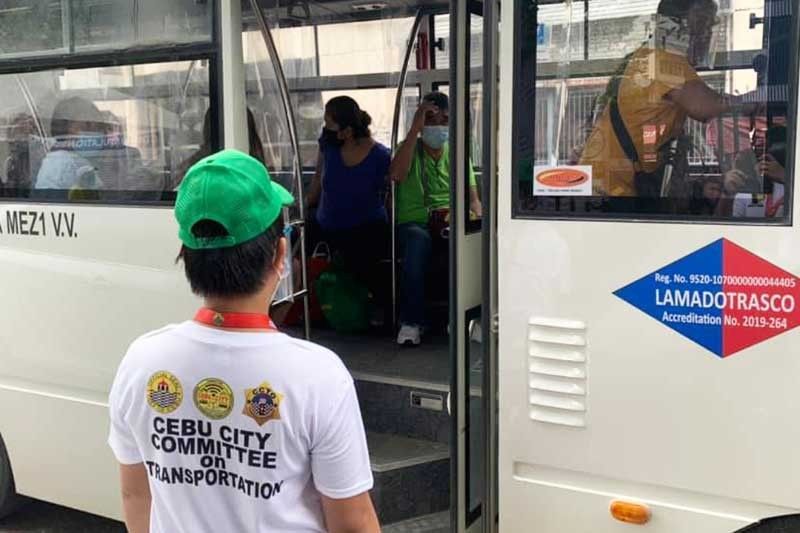 CEBU, Philippines — As it opens its economy further while continuing to battle the coronavirus, Cebu City wants to make sure commuters are moving around the city safely.
The city has deployed Protocol Marshals in its streets to monitor compliance of minimum health protocols in public utility vehicles (PUV). They patrol the streets and inspect vehicles randomly.
They are also tasked to lead the information drive on the importance of continuing to follow health standards to avoid further transmission of the virus.
The marshals are from Cebu City Transportation Committee and the Cebu City Jeepney Task Force.
"The #TranspoComMarshals are here to constantly remind us of the importance of the established Safety and Health Protocols in Public Vehicles," said Councilor James Cuenco, chairperson of the committee on transportation of the Cebu City Council.
Based on records of the city's Emergency Operations Center (EOC), the city has 367 active cases, the highest in the past nine days. The number of active cases went to as low as 263 last May 18 only to rise again in subsequent days.
During their deployment, the marshals observed that improper wearing of masks and face shield are the common protocol violations.
"I hope that in few days, through the efforts of our #TranspoComMarshals of the #OperationPUVProtocol, the public will practice these PUV protocols like it's the 'New Normal'," Cuenco said.
Mayor Edgardo Labella has said it is important to continue enforcing health protocols safely because the city is far from being safe from the coronavirus. EOC chief, Councilor Joel Garganera, has also said the war against COVID-19 in the city is far from being won.
Especially in the public, wearing of masks and shields, and physical distancing are still important.
Earlier, the Jeepney Task Force recommended the opening of all traditional public utility jeepney routes. No action has been taken on the recommendation just yet but Labella assured the city will reopen more jeepney routes soon. — JMO (FREEMAN)