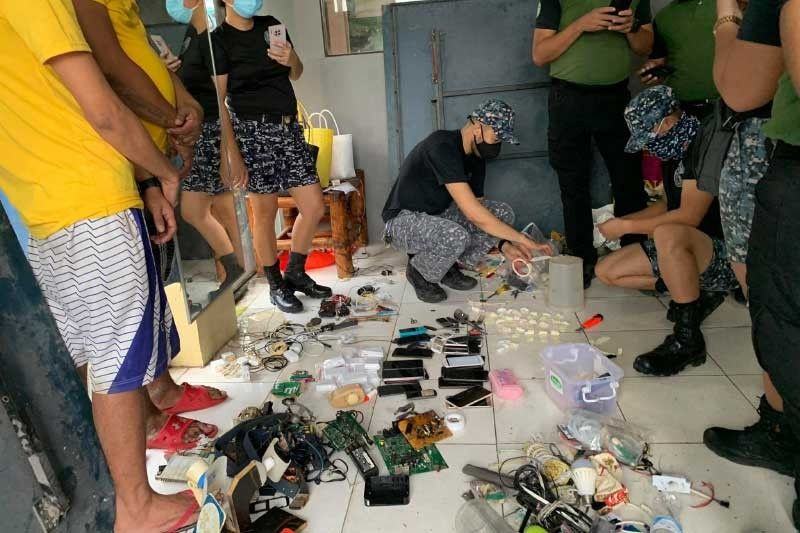 Personnel of the Bureau Jail Management and Penology-7 and the Philippine Drug Enforcement Unit-7 display various items, including illegal drugs, seized during the greyhound operation at the male dormitory of the Cebu City Jail yesterday.
Romeo Marantal
Gun, bladed weapons also seized: Jail raid yields P1 million in drugs
CEBU, Philippines — At least a million worth of illegal drugs, a pistol, and other contrabands were seized when operatives from the Bureau of Jail Management and Penology and Philippine Drug Enforcement Agency-7 raided the Cebu City Jail on Thursday dawn.
The contrabands were discovered in the male dormitory of the city jail located in Barangay Kalunasan, Cebu City.
Jail warden Superintendent Jose Abueva said that the operation yielded the following items: 32 packs of suspected shabu with estimated value of at least P1 million, a .45 caliber pistol, one firearm magazine, 20 rounds of .45 ACP live ammunition, assorted drug paraphernalia, various bladed weapons, and other contrabands.
The operation was hatched on the heels of intelligence information regarding the "movement" of illegal drugs inside the facility.
"Mao nang naningkamot gyud mi. Mao ganing ni-initiate ko og contact sa PDEA para makapangayo mig assistance kay naa pud mi mga info nga nakuha nga ginagmay nga naay mga kontrabando nga nakasulod," said Abueva.
The jail management is now verifying the names of inmates believed to be behind the illegal drug transactions in the jail.
To note, some suspects arrested in buy-bust operations have often traced their supply of drugs to persons from inside the jail.
"So ato ni silang i-subject for (investigation by the) disciplinary board, then ato na silang i-segregate," said Abueva.
PDEA-7 Director Levi Ortiz said the contrabands belonged to two inmates whose names were withheld as they have been placed under investigation.
"Ang BJMP ug PDEA karon nag-conduct na og investigation nganong nakalusot ni siya...mao nang ato sad file-lan og kaso aron dili mosunod ang uban," said Ortiz.
Ortiz said they will continue to coordinate with the BJMP to look into the methods employed in sneaking these contrabands into the jail.
Measures Implemented
Because of the pandemic, visitation privileges of the inmates have been suspended but authorities said that the inmates and their contacts outside have, nevertheless, come up with other ways to sneak in illegal items.
One such mode is the so-called "bombing," where the items are thrown into the facility from outside.
"Ang uban ipang-(sneak in) sa mga supply (food, etc.) o sa tawo ba (hidden in the person's body)…basta daghang modus unsaon pagpasulod," said Abueva.
The warden said he has introduced some measures to address these issues, such as the installation of nets over the fences.
"Pero dili pud ko kaingon nga ing-ana na siya ka effective siguro. Inig gawas ninyo dira, naa mo makita nga net (in the fences)," said Abueva.
Abueva also said that items being handed over by outside persons to the inmates through the "dunol" system are also thoroughly checked by jail personnel.
"Ang (actions) lang gyud nato dira kay maging watchful ta, conscious gyud atong personnel kay usahay man gud sa kataas sa panahon nga sila mag-duty, mura silag mo-relax and then, ang movement namo murag gi-monitor ra pud na sa PDLs (persons deprived of liberty)," said Abueva.
"Kay usually gud, ang kontrabando masulod kanang mag-changing of guards mi, mao na nga time kasagarang ipasulod kay magka-busy ang mga personnel, then maglisod ta (og monitor)," he added.
Thus, Abueva said he will not allow that the premises of the facility be left unattended even during the changing of guards. — JMD (FREEMAN)