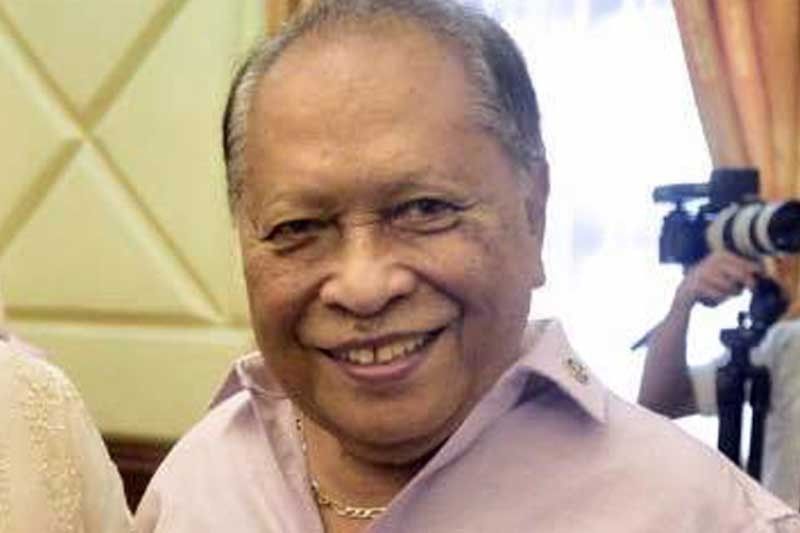 Adelino Sitoy passes away at 85
CEBU, Philippines — A pillar of public service, a walking encyclopedia of Philippine political history; a visionary leader; a champion of Cebuano culture, history, and heritage.
This is how friends and allies describe former Cordova, Cebu Mayor Secretary Adelino Sitoy of the Presidential Legislative Liaison Office.
Sitoy passed away at 85 evening on April 14, 2021 at the same time the Cebu-Cordova Link Expressway, a project he was advocating for, for many years, was being blessed. The CCLEX is the third bridge to connect mainland Cebu and Mactan Island.
Sitoy's daughter, Cordova Mayor Teche Sitoy-Cho, said her father was instrumental in making CCLEX a reality.
"He has been advocating that the CCLEX be named as Santo Niño Bridge in honor of Sto. Niño. Cebu is known to be the cradle of Christianity. It is it very symbolic to have that bridge in Cebu," Cho said in her speech.
She thanked Metro Pacific Tollways Corporation Chairman Manuel Pangilinan for making her father's dream come true.
It was during the tail end of her speech when Cho's executive secretary received news that Sitoy was fighting for his life in the hospital.
Sitoy was confined in a private hospital for angioplasty and reportedly suffered from a cardiac arrest.
The family has not released an official statement as of yesterday but Cho has posted an image of a candle against a black background on her Facebook page.
In a statement, the CCLEX management said:
"For more than 30 years, he dreamed about a bridge that will connect his beloved Cordova to mainland Cebu. On the day that we held a blessing for the Cebu-Cordova Link Expressway and lighted the eight crosses that honor Cebu's place as Cradle of Christianity in the region, Secretary Adelino "Addy" Sitoy breathed his last. We grieve the passing of a strong supporter of CCLEX, a champion of the project. Rest in peace, Secretary Sitoy."
Malacañang acknowledgment
No less than President Rodrigo Duterte, during his talk to the people in Malacañang Thursday night, called for a minute of silence for Sitoy.
"The Palace expresses its deep condolences to the family, loved ones and colleagues of Secretary Adelino Sitoy of the Presidential Legislative Liaison Office," Presidential Spokesperson Harry Roque said in a press statement.
Sitoy was instrumental in the passage of key legislative reform measures of the Duterte administration, including in making Mandaue City as a Lone Congressional District.
In a separate statement, presidential legal counsel Salvador Panelo described Sitoy as having lived of selflessness and humility. He said Sitoy was his personal friend and a brother in the profession.
"By silently but tirelessly coordinating with both chambers of Congress toward the passage of administration bills, we now enjoy landmark, laws which aim to uplift the lives of our countrymen," Panelo said.
Cebu colleagues
In Cebu, Sitoy's colleagues in government paid tribute to the "pillar of public service".
"With your great achievements, you will be remembered as a champion for all of us. Daghang salamat sa imong pagserbisyo kanamo," said Lapu-Lapu City Lone District Rep. Paz Radaza.
Cebu Sixth District Representative Emmarie Ouano-Dizon, meanwhile, said Sitoy brought pride to both Cebu and the national level of governance.
In Mandaue City, Mayor Jonas Cortes said residents of the city will remember Sitoy's contribution in making the city a lone congressional district.
"All Mandauehanons shall remember him for that, and so many other selfless acts he shared to all Cebuanos," Cortes said.
He described Sitoy as "a great mentor" and "humble political leader".
Like Cortes, Lapu-Lapu City Mayor Junard Chan said Sitoy was his mentor.
"Ang tanan nimong binuhatan magpabilin sa hunahuna ug sa kasingkasing sa tanan kinsang kinabuhi nga imong natandog," he said.
He recalled the time Sitoy shared on Facebook plans to improve the lives of Lapu-Lapu residents.
"Yesterday, I had a meeting with the Executive Secretary of the Philippines Salvador Medialdea to talk about our big plans for Lapu-Lapu City and how we can improve the lives of every Oponganon for the years to come. Dako kaayo nga ikatabang nga anaa kita sa Malacañang karon kay ato gayud mahatag ang tanan natong pwede matabang sa syudad. Uswag, Oponganon!," the March 10, 2021 post reads.
In Cebu City, Mayor Edgardo Labella considers Sitoy a longtime friend, a colleague in public service, and a champion of Cebuano culture, history, and heritage.
"Gipasigarbo ni Addy ang pagka Bisaya. Si Addy usab garbo natong mga Bisaya. Maayong pagpanaw Addy. Daghang salamat sa imong dugay nga panerbisyo alang namong mga Sugbuanon," Labella said.
Atty. Aristotle Batuhan, a former congressional aspirant, described Sitoy as the old guard of Cebu politics, a walking encyclopedia of Philippine political history, and a real visionary of a leader.
"As only Noy Addy can, he timed his departure on the night that the 8 crosses atop the pillars of the Cebu Cordova Link Expressway, his long-time dream of a project, were lit in a ceremony also marking the 500 years of Christianity in the country. What a way to go," Batuhan said.
Batuhan is a legal consultant of Cebu-Cordova Link Expressway Corporation.
Leadership background
Prior to becoming mayor of Cordova from 2007 to 2016, Sitoy was a member of the town's Council in 1975 and the Provincial Board in 1984.
He was also elected as an assemblyman representing Cebu Province in 1984.
He was prosecutor in Cebu City and Toledo City, as well as a commissioner and director of the Cebu Port Authority and Metropolitan Cebu Water District, respectively.
He was also the former dean of the University of Cebu College of Law and president of Lubas sa Dagang Bisaya or Ludabi. — JMO (FREEMAN)