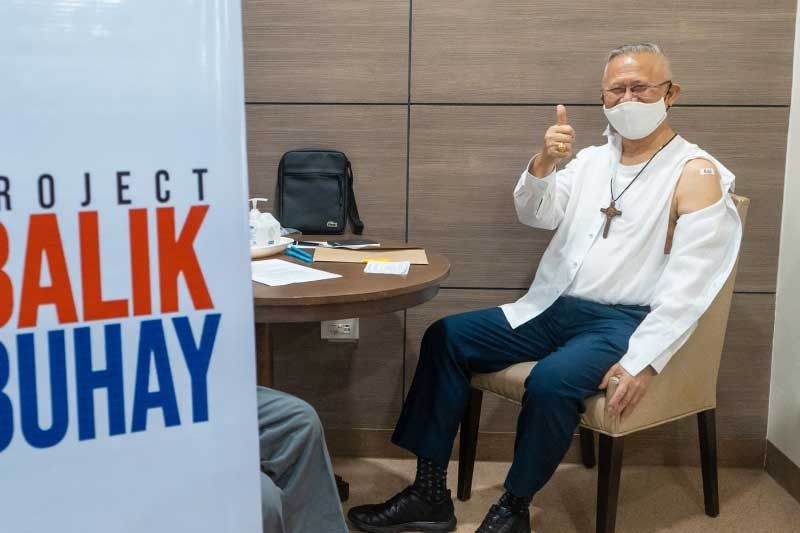 Palma said he got vaccinated last week and will be receiving his second dose of Sinovac vaccine on May 6, 2021.
Palma among 567,229 seniors vaccinated
CEBU, Philippines — Cebu Archbishop Jose Palma and other members of the Catholic Church have been inoculated with the vaccine against coronavirus disease 2019 (COVID-19).
They received their first dose of Sinovac vaccine.
Palma said he got vaccinated last week and will be receiving his second dose of Sinovac vaccine on May 6, 2021.
Palma belongs to the A2 priority list or the senior citizens group.
Health care personnel (A1), and persons with comorbidities or health risks (A3) are also among the government's priorities for vaccination.
Palma said the archdiocese will submit a list of clergies, especially the seniors and those with comorbidities, to the organizer.
The free vaccination was in coordination with the Office of the Presidential Assistant for the Visayas (OPAV)-led Project Balik Buhay (PBB).
PBB is a public-private partnership working upon the request of OPAV, Inter Agency Task Force (IATF)-Visayas and Department of Health-7 to assist the government's National Vaccination Program with the common goal to help and support the government in achieving a safe, fast and successful deployment of the National Vaccination Program in Cebu and the Visayas.
"Even amidst his hectic schedule as Cebu celebrates 500 Years of Christianity in the Philippines, Cebu Archbishop Jose Palma made sure to accompany his fellow elderly bishops and priests to get vaccinated through the Project Balik Buhay (PBB) initiative in support of the rollout of the National Vaccination Program in Cebu," read the Facebook post of PBB yesterday.
Palma was among those infected with the virus. He tested positive for COVID-19 on February 18 and was admitted to the Perpetual Succor Hospital in Cebu City after showing symptoms of coronavirus, including mild cough and fatigue.
He recovered from COVID-19 and was discharged from the hospital on February 28.
In the middle of January, the archbishop was also hospitalized after showing COVID-19 symptoms.
Palma, a native of Dingle, Iloilo, was appointed by Pope Benedict XVI to lead the Archdiocese of Cebu in January 2011.
The prelate replaced Ricardo Cardinal Vidal, who retired after serving the archdiocese for 29 years.
A2 Vaccination
DOH-7 spokesperson Dr. Mary Jean Loreche said vaccination for senior citizens can proceed.
"Kun wala na kita'y bakunahan or kaya naman naa'y extra vaccines kay wala nagpabakuna ang atoang mga healthcare frontliners then it is safe already to start the vaccination for our senior citizens," she said.
As of yesterday, a total of 567,229 senior citizens in Central Visayas got inoculated.
Of the said figure, 157, 705 are from Bohol, 168,832 from Cebu, 128, 025 from Negros Oriental, and 11,322 from Siquijor.
The rest are from Cebu City (88,000), Lapu-Lapu City (3,504) and Mandaue City (9,845).
Meanwhile, 56 mayors in Cebu are expected to join in today's distribution of the community vaccination handbook.
Authored by IATF-Visayas Chief Implementer Mequiades Feliciano, the handbook was attributed to the successful implementation of the government's vaccination rollout as proven by Mandaue City.
Mandaue City piloted the first-ever community vaccination in the Visayas. The pilot testing involved the vaccination of medical frontliners and senior citizens. — Rowena Capistrano, KQD (FREEMAN)