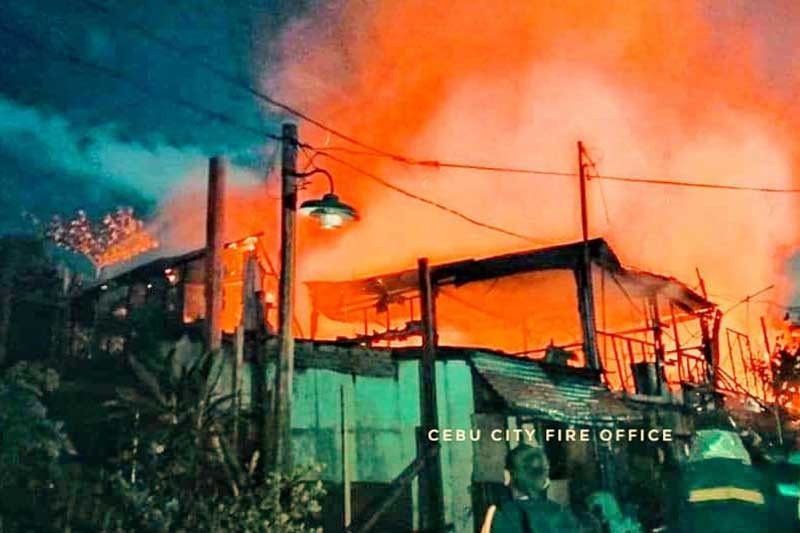 Fifteen houses were destroyed in a fire that hit an area on A. Lopez Street in Sitio Mahayahay, Barangay Calamba. The damage to properties was pegged at P300,000.
Fire-stricken barangay to CH: Set aside politics
CEBU, Philippines — Calamba barangay captain has called on the Cebu City government to set aside politics and to help those displaced by the fire yesterday dawn.
Fifteen houses were destroyed in a fire that hit an area on A. Lopez Street in Sitio Mahayahay, Barangay Calamba. The damage to properties was pegged at P300,000.
The absence of a fire truck in the barangay saw more houses gutted down and families displaced.
Victor Quijano said though the city government turned over a fire truck to its Mayor's Information and Liaison Office (MILO) in Calamba.
He said the city's move surprised the barangay officials, considering that the village was required to form a crew and was asked for a certificate of competency (CoC) for its fire volunteers.
Both requirements were complied with, he added.
The city government-issued fire truck still cannot be used as the barangay's MILO does not have its own crew and CoC for the volunteers.
Quijano, in an interview, said he already sent a letter to Labella with regard to the fire truck, but has not yet received a response as of this posting.
"Let's set aside politics. Basta maghisgot ta'g kalamidad, dili lang man among tawo among serbisyuhan, hasta ilaha man. Dili lang unta iapil ning mga fire truck ug ambulance," he said.
Quijano said more houses would have been burned down if the fire area was not re-blocked.
He, however, said there are other areas in the barangays that would really be hard to contain should fire happens again, no fire truck is readily available, and fire crew members not familiar with the place.
He said the barangay-hired crew had already mapped out crucial areas in the village for a faster and efficient response.
He said they can also help other barangays when the need arises.
"Nganong huna-hunaon paman na nga MILO o barangay? Klarong pagkastorya, kun disaster man gani wala man gyuy pilion ana either unsay color nimo o sa maigo sa sunog," he said.
Faulty Wiring
A faulty electrical wiring was suspected to be the cause of the fire that destroyed 15 houses in Sitio Mahayahay.
Based on initial investigation, the fire started from the house of Angel Benuya.
According to the Cebu City Fire Office (CCFO), it received the fire alarm at 2:40 a.m. Ten minutes after, it was raised to second alarm.
The fire was declared under control at 3:26 a.m. and was declared fire out at 3:32 a.m.
Fire Officer 3 Emerson Arceo said the fire displaced at least 25 families.
No injuries or deaths were reported.
The Calamba fire was the fourth incident just this month.
The first fire incident was on April 2, affecting an area in Banawa, Barangay Guadalupe. It was followed by a fire that hit a dormitory on RR Landon Street on Easter Sunday, April 5.
Last Thursday, April 8, a fire also hit a portion of Barangay Tisa. A one-year-old baby was injured in the incident.
Based on the latest CCFO data, there were 67 structural fires, 12 grass fires, and nine vehicular fires.
The same data also showed that nine people were injured and four others were killed in the fire incidents.
On the other hand, a total of 88 fire incidents were reported in Central Visayas in March, the national fire prevention month.
Senior Fire Officer (SFO1) Walter Tello, chief of the intelligence and investigation section of the Bureau of Fire Protection in Central Visayas, said the damages reached to P12.21 million. — Iris Hazel M. Mascardo with Dicemay Padilla, KQD (FREEMAN)