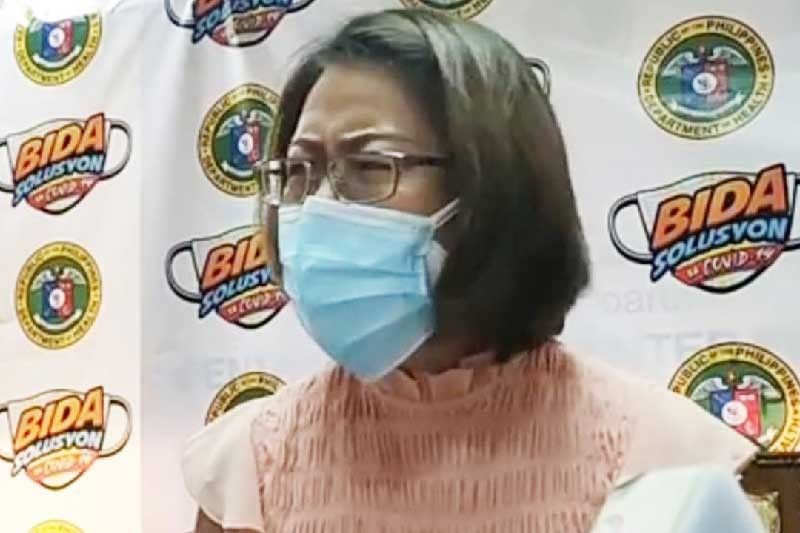 The Department of Health (DOH) in Region 7 will log a protest with the Philippine Genome Center (PGC) after the latter named a variant of concern spotted in COVID-19 in the Philippines as "Central Visayas Variant."
DOH-7 to protest 'Central Visayas Variant' name
CEBU, Philippines — Central Visayas has cried foul over the naming of a COVID-19 variant of concern after the region.
The Department of Health (DOH) in Region 7 will log a protest with the Philippine Genome Center (PGC) after the latter named a variant of concern spotted in COVID-19 in the Philippines as "Central Visayas Variant."
Other variants found in at least 500 cases subjected to genome sequencing are the UK Variant, South Africa Variant, and Brazil Variant.
DOH-7 said to name a variant after Central Visayas is discriminatory.
"Who gave them that authority to name that lineage specifically a Central Visayas variant? Kasi hindi naman tayo iba, hiwalay to Philippines," said DOH-7 chief pathologist and spokesperson, Dr. Mary Jean Loreche.
An infographic from PGC, which was sent out by the Philippine Communications Office to the media on April 6, Tuesday, says over variants of the COVID-19 virus have been found in over 500 cases in the Philippines, including the UK Variant (237 cases), South African Variant (163 cases), Brazilian Variant (one case), and Central Visayas Variant (104) cases.
But Loreche said it is not proper to name the variant after the region just because among the 104 cases are from Central Visayas.
"The most amazing thing here is this - they made it Central Visayas variant when, in fact, if you look at this variants of concern worldwide, when the UK variant came out in the open because they notice this rising cases in Kent, London, they never named it as a Kent or London variant, it bore the name of UK. The same for South African variant. Same for the Brazilian lineage. So why would they specifically target us just because 68 of this P.3 are coming from Central Visayas?" Loreche said on Wednesday.
Cebu City Mayor Edgardo Labella himself called the naming unfair and inaccurate.
"It's unfair. I don't think it's quite accurate. After all, Central Visayas is also a victim of this," he said.
Negative Impact
DOH-7 will send out official communication to ask PGC why they decided the variant as such. Loreche said naming the variant after the region will have negative impact on Central Visayas, perception-wise.
Travelers from the region may even be banned from entering other countries, especially that PGC sends its data to the Global Surveillance Initiative for Influenza-like Diseases (GSAID).
"There are things that can happen. Una, hindi makatarungan na ma-label tayo na hindi safe yung place natin na, kumbaga, ang mga tao, matatakot pumunta dito sa Central Visayas. We can even be banned from entering another country because of point origin," she said.
"Lahat ng data, pinadala nila yan sa GSAID. Doon dapat yung naming. So yun ba ang binigay na pangalan nung database na pinadala nila ang sequences ng mga ito? That's the big question there," she added.
She said the move is "unfair and unjust," especially that Central Visayas has been aggressive in biosurveillance to stem COVID-19 infections.
No prior notice
Loreche said the least that PGC could have done is inform DOH-7 of its decision to name the variant after Central Visayas.
"I cannot imagine that such an agency will make this variant of concern a Central Visayas variant. They do not even have the decency to inform us ahead before releasing to media," she said
PGC has also not given DOH-7 the line list of the 104 cases with the "Central Visayas Variant".
Loreche said it was only on March 19 when they were given a list of the tagged samples from Central Visayas wherein 68 of 339 samples was found to have the P.3 variant.
"Ngayon, kung ganyan lang naman din sana, binigay sana sa amin yung confirmation kung sino itong mga samples na ito, saan sila nanggaling. Then we will be able to inform their respective LGUs where these individuals came from," Loreche said.
So far, there have been 4,751 sequences done nationwide of which 4,050 have variant lineage.
No mention from central DOH
Interestingly, in DOH's daily presser in Manila on Wednesday, April 7, Undersecretary Maria Rosario Vergeire said there was no new update on genomic sequencing due to contaminations of machines at the PGC. There was also no mention of a CV variant.
"Wala pa tayong latest genome sequencing... nagkaron nga ng problema sa contaminations ng mga machine dito sa PGC. There is no new update of any other variants… Yun pa rin ang ating mga variants of concern. Yun pa rin ang meron tayo -- B.1.1.7, yung South African variant, P.3 which is still a variant under investigation," Vergeire said.
Based on PGC's Sars-CoV-2 bulletin No.7 released on March 13, P.3 is an emergent variant PHL-B.1.1.28.
"Most of the samples detected to have the signature mutations of PHL-B.1.1.28 (P.3) were from the Central Visayas region", the report said.
Region 7 situation
Even after experiencing a resurgence of cases in the first two months of 2021, Loreche said Central Visayas has had efficient case management that it is now down to 4,338 active cases. Of this number, 1,194 are from Cebu City; 768 are from Lapu-Lapu City; 824 are from Mandaue City; 1,042 are from Cebu Province; 324 are from Bohol; 160 are from Negros Oriental; and 26 are from Siquijor.
In fact, critical care utilization in the region is only 28.2 percent, way below the 60 percent threshold provided by the World Health Organization (WHO), such that it has sent medical frontliners to Luzon to help in the National Capital Region and neighboring areas, which are now experiencing a massive case resurgence. — JMO (FREEMAN)