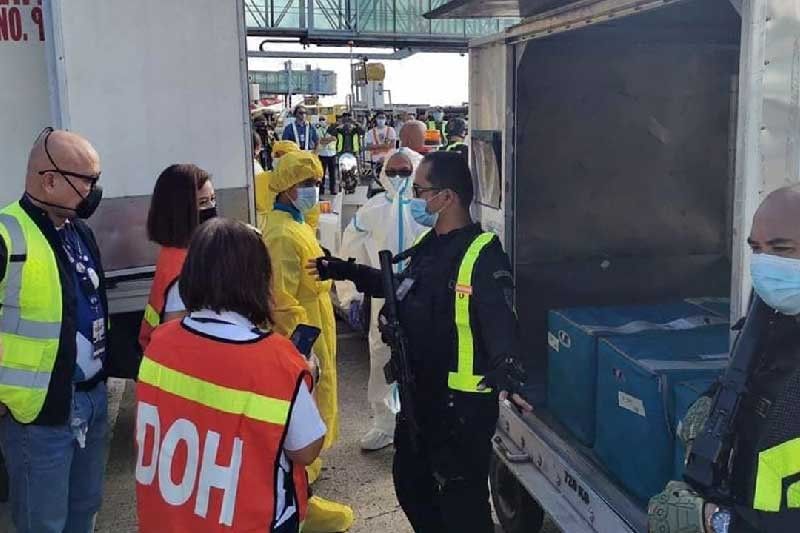 "Hindi pa siguradong makarating ang mga secretaries dahil darating bukas yung Sinovac pa din didto sa Manila. They have to be there with the President so if that happens, kami na lang ang matutuloy dun sa Sotto," said IATF Visayas implementer Melquiades Feliciano yesterday.
Vaccination starts in Cebu; OCTA research says Sinovac is effective
CEBU, Philippines — The ceremonial rollout of the national government's COVID-19 vaccination program in Cebu will push through today even in the absence of some of the country's top officials.
Health Secretary Francisco Duque; Inter-Agency Task Force chief implementer and vaccine czar, Sec. Carlito Galvez; and IATF deputy chief implementer, Sec. Vince Dizon, may not be able to join the ceremony in Cebu because of the arrival of another batch of Sinovac vaccines in Manila also today.
"Hindi pa siguradong makarating ang mga secretaries dahil darating bukas yung Sinovac pa din didto sa Manila. They have to be there with the President so if that happens, kami na lang ang matutuloy dun sa Sotto," said IATF Visayas implementer Melquiades Feliciano yesterday.
The ceremonial roll out will take place at the Vicente Sotto Memorial Medical Center (VSMMC) where at least 600 health care workers have listed themselves for vaccination. The vaccines are also stored there.
Feliciano said he will be among the first to be vaccinated.
"Magpapabakuna ako, kami nila Dr. Aquino at may isa pa… tatlo kaming mauna then susunod na yung iba," said Feliciano.Feliciano have volunteered to be vaccinated first to show that Sinovac is safe and effective.
Aquino is the chief of hospital of VSMMC.
Cebu City Councilor Joel Garganera, deputy chief implementer of the city's Emergency Operations Center, also said yesterday that he and some EOC personnel will get the vaccine today.
Aside from VSMMC health care workers, medical frontliners from other hospitals in Cebu like the St. Anthony Mother and Child Hospital, Cebu South Medical Center (Talisay District Hospital), and Eversley Childs Sanitarium and General Hospital will also get some of the vaccines.
At least 7,200 doses of Sinovac that China donated to the Philippines arrived in Cebu on Tuesday, March 2. Another batch of 7000 doses is expected to arrive in the next four days.
"Itong unang dumating, intended ito for the government hospitals. Yung iba namang darating, e shi-share yun sa mga private hospitals," Feliciano said.
Cebu City Health Department officer-in-charge Jeffrey Ibones said yesterday that the list of qualified medical workers for the COVID-19 vaccination program was already sent to DOH.
These healthcare workers, both from the private and public hospitals, are on top of the priority list for vaccination.
"Karon, gipangayuan man ta sa DOH sa atong mga tawo sa Cebu City sa mga frontliners labi na sa atong mga private hospital ug sa other public hospital like sa atoang CCMC, ato na nang gihatag nila," Ibones said.
"I think, after ani, kung inkaso man gani og moabot ang vaccine, priority gyud ta. Pero as of now, kung moingon mo og masugdan na ang Cebu City Health or other mga frontliner, so far, murag wala pay abiso. Una pa sa ang Vicente Sotto," he added.
"Ang Sinovac vaccine, mag-agad ra gyud ta sa Department of Health kay limited ra man gud ang atoang vaccine nga niabot," he said further.
Ibones said the number of health care workers, both public and private hospitals, in the list provided to DOH is between reached up to 7,000, excluding VSMMC and St. Anthony Mother & Child medical workers.
He said those included in the list are qualified health care workers.
"Wa man miingon ang taga-DOH nga ang willing ra magpa-vaccine maoy ihatag. Ang ilahang giingon nato is mga qualified health workers maoy ihatag kay atong allocate'an," Ibones said.
"Kung moingon ang atoang DOH nga mag inject na, ready na sad sila kay ang atoang mga hospital nihatag naman og list nato sa CHD ug sa DOH pud... Mao pa ang gihatag nato, ang katong hospitals," he said.
OCTA research on Sinovac
Meanwhile, amidst doubts of the efficacy of the Sinovac vaccine, two OCTA Research fellows, Dr. Benjamin Co and Fr. Nicanor Austriaco, a professor of Biology and Theology in Providence College in the United States, said that the vaccine, which is an inactivated virus, is effective even to the newly-detected South African variant (B.1.351), cases of which have been detected in Pasay City in Manila.
"There are data that showed that the deactivated vaccines work better against the variant straints. Theoretically, the inactivated vaccines should work better than the viral vector vaccines and the mRNA version vaccines. We have the inactivated vaccines currently," Co said.
Austriaco said there is evidence from Brazil that has not been published just yet that says that the Sinovac vaccine is indeed effective against the B.1.351 variant from South Africa.
"I know there has been a lot of debate in the Philippines about the lower efficacy of Sinovac, which is an inactivated vaccine. Inactivated vaccines historically have lower efficacy rates but they are perfection is broader because as Dr. Co pointed out, you are injecting the entire virus to the patient. The other vaccines, you are only injecting the spike protein or little part of the spike protein," Austriaco said.
Co and Austriaco said all vaccine brands work.
In Cebu City, Garganera told Cebuanos the vaccine that's available is the best vaccine anyone can get.
"Sa pagkakaron, ang pinakamaayo na vaccine ang kanang naa nato na vaccine. This will at least prevent severe symptoms and death. Nonetheless, I'm sure that the vaccine board headed by Mayor Labella and Vice Mayor Rama to procure the best vaccine available for Cebu City," Garganera said.
Vaccination at malls
Meanwhile, three malls in Cebu City have offered their spaces as COVID-19 vaccination sites once the city government will roll out its own vaccination program, said City Administrator Floro Casas, Jr.
Casas, vice-chairman of the city's Vaccine Board, said they are communicating with the malls' management to finalize the arrangement.
City Health Department officer-in-charge Jeffrey Ibones said malls are strategic areas for the vaccination considering their big spaces, which would be ideal to the different processes that residents would need to undergo inoculation, including orientation, registration, screening, and monitoring.
Casas said the Vaccination Operations Center, which is already operational, is also considering churches, gyms, and schools as vaccination sites.
"Para convenient pud sa mga magpa-vaccinate kay after man gud sa vaccination, mo-stay man gud ka for a while para obserbahan ka sa effect sa vaccine sa imong lawas," Casas said. — Mary Ruth R. Malinao, JMO (FREEMAN)