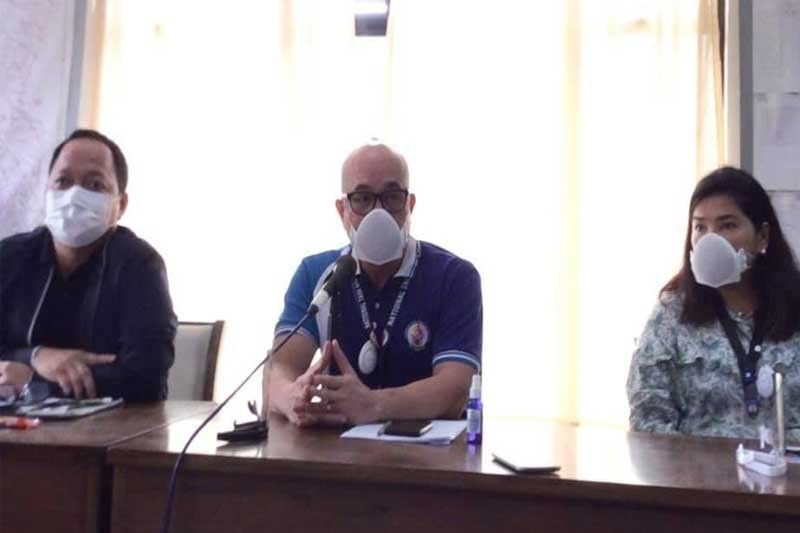 Cebu City Councilor Joel Garganera, Retired Major General Melquiades Feliciano, and Feliciano's wife, Mia, during a presscon in Cebu City.
Decemay Padilla
No lockdown in Cebu City despite rise in COVID-19 cases
CEBU, Philippines — Cebu City will not be imposing a city-wide lockdown anytime soon despite the rise of COVID-19 cases in the first half of January, the Emergency Operations Center (EOC) said yesterday.
"There is no lockdown. If the households (with infection) are continuous, it can warrant for a granular lockdown, but in spite of that, wala man gani because everything is being contained. The barangays are very active, the EOC, etc. The cases are being contained," said Councilor Joel Garganera, the ECO's deputy implementer.
He made the clarification after information circulated that the city will be put on lockdown because of the rising number of cases in the first half of January.
From single digits in the fourth quarter of 2020, new cases in Cebu City spiked to double digits after the holidays.
As of January 17, data from the Department of Health (DOH)-7 showed that Cebu City recorded 44 new cases, which brought to 613 its number of active cases.
Cebu City also recorded one more death, the tenth this month, based on DOH records.
In EOC's own data, however, the city only has 580 active cases with nine deaths, so far. Most of those who died were high-risks patients but delayed their medical check-ups, something that EOC officials discourage.
The new cases are spread in 54 barangays, which means only 26 barangays have zeroed in transmission.
Confident
But Ret. Major General Melquides Feliciano, the chief implementer in the Visayas of the national Inter-Agency Task Force (IATF) for COVID-19, also said that he has confidence in the city's ability to contain the surge.
"The EOC is in place. In this kind of situation, I am confident that they can mitigate or contain the increase in the number of cases… if I may say… probably in two weeks' time, the EOC can lower the cases… I am really confident na kaya nilang i-lower yan in two weeks' time," he said during a press conference.
Feliciano agreed that the rise in cases can be attributed to the holiday activities like what is happening in the capital.
"The EOC is facing another challenge, but I'm very optimistic they can hold on to this situation," he said.
He noted that Cebu City has stabilized its COVID situation in the third and fourth quarters of 2020 – with EOC even reducing personnel – until December came along and movement of people became more pronounced because of holiday gatherings.
The last time Cebu City recorded double digits in new cases was in November when it logged 59 new cases, something that authorities attributed to the movement of people during Halloween.
Feliciano said the EOC may have to make adjustments this time.
Awareness
Feliciano also noted that awareness level in Cebu City on the dangers of COVID-19 has gone down and people have become complacent.
"Yung awareness level bumaba, medyo nagkaroon ng environment of complacency, especially sa communities not supervised by EOC and uniformed men," he said.
Because of this, the city may have to strengthen its education campaign anew and Feliciano said barangays need to step up.
"Of course, it's a shared responsibility with the community… and leadership of the barangay captains… and uniformed men. Ang transmission is when you start to take out your mask when partying, drinking, and forgetting distancing too," Feliciano said.
Garganera admitted that the EOC is exhausted and people's cooperation is needed badly.
"Kami sa EOC, gikapoy na sad mi... so we need people's cooperation. We can only do so much. They also have to be mindful that the cause of this spread of this transmission is the movement, is the behavior. Please comply. It's only when we act together that we can defeat this," he appealed to Cebuanos.
The EOC is Cebu City was the first that was established after health care workers cried for help at the height of the surge in cases middle of 2020.
Meanwhile, Cebu City Health Department's assistant head, Dr. Michelle Linsalata, said that the Cebu Medical Society will conduct its own investigation on the 12 medical doctors who were among 166 people rounded up Friday night during the city police's Oplan Bulabog for violating curfew.
The doctors were arrested in a resto bar in Barangay Banilad.
Linsalata reminded those classified as APOR or Authorized Persons Outside Residence that they are not exempt from quarantine rules. — with Decemay Padilla, JMO (FREEMAN)