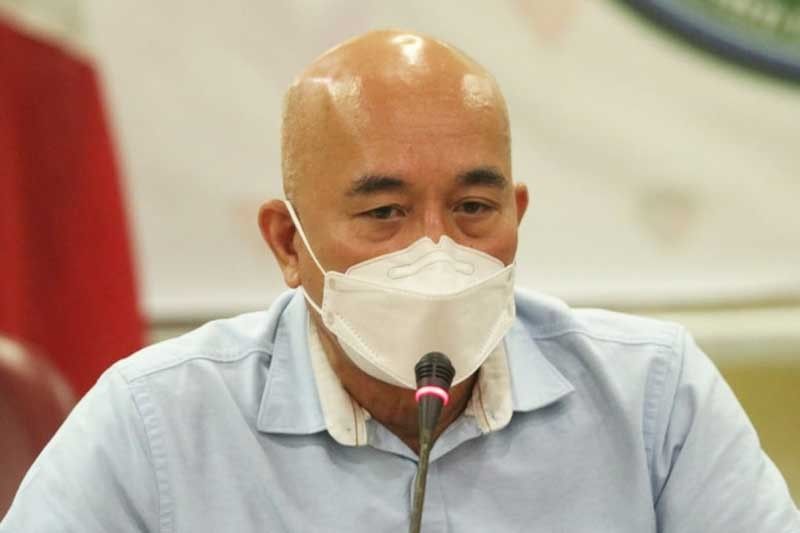 Feliciano said he will pay the city's Emergency Operations Center (EOC) a visit. The EOC the city's command center for COVID-19.
File
After vice mayor Mike Rama asks for help: IATF official returns today
CEBU, Philippines — Retired Major General Melquiades Feliciano, the chief implementer in the Visayas of the national Inter-Agency Task Force (IATF) for COVID-19, will be in Cebu today, Monday, he confirmed to The Freeman yesterday.
Feliciano said he will pay the city's Emergency Operations Center (EOC) a visit. The EOC the city's command center for COVID-19.
He did not expound on the purpose of the visit but it is happening days after Cebu City registered consecutive double figures in new COVID-19 cases daily – as high as 61 cases on January 15 alone. In just the first half of January, nine have died from the virus.
Incidentally, Feliciano confirmed his visit after Vice Mayor Michael Rama said he would want Feliciano and Secretary Roy Cimatu, the IATF overseer, to check the situation in Cebu City.
As can be remembered, President Rodrigo Duterte sent Cimatu to Cebu in June 2020 to lead the enforcement of quarantine protocols when the city had to be reverted to enhanced community quarantine because of the surge in COVID-19 cases. At that point, the city was tagged as the new epicenter of the pandemic in the Philippines.
"I was calling Secretary Roy Cimatu… he should come down because the data is not good. He has to come down and General Feliciano has to come down with him," Rama told The Freeman yesterday.
"He (Cimatu) was aghast. He didn't know about it. I was bringing him the statistics," Rama said.
Government has since warned of the possible surge of COVID-19 cases by New Year if people would insist on gathering during the holidays.
As of January 16, data from the Department of Health (DOH)-7 showed that Cebu City has 570 active cases, the highest recorded number since September 4 of last year. It recorded 56 new cases that day. The piece of good news is that the city also recorded 36 recoveries on the same day.
Lapu-Lapu also recorded new cases and now has 81 active cases. Mandaue now has 100 active cases while Cebu Province has 326.
Central Visayas as a whole has 1,727 active cases as of this writing with Bohol having 11 cases, Negros Oriental with 636, and Siquijor with three.
But the EOC led by Councilor Joel Garganera and DOH led by Director Jaime Bernadas said earlier that the city and the region are still in the safe zone if one looks at critical health care units and the number of health care workers in the hospital.
In EOC's own data, Cebu City has 665 active cases with the recovery of five more patients.
Right now, 53 of the 80 barangays in Cebu City have active infection, which means only 27 barangays have zeroed in transmission in the last 14 days.
"The point is, there is a concern and that concern has to be addressed, because the way we are thinking nga okay ra, that's not correct. It should never be okay," Rama said.
Rama also contended that his barometer is the NOAH Complex, which is now full with 301 asymptomatic patients in isolation. The IC3, which accommodates mild cases, has 21 patients.
"That is why, I was looking at the whole thing, how can it be okay? My barometer has always been the NOAH," Rama said.
Samboan
Meanwhile, due to the rise in COVID-19 cases, the Municipality of Samboan in southern Cebu is putting back strict guidelines in returning individuals and visitors for the rest of January beginning today, January 18.
The town officials, in coordination with the rural health unit (RHU), made the announcement following the discovery of new cases in the municipality.
Home quarantine is temporarily suspended, which means that locally stranded individuals (LSIs) and visitors will undergo a 14-day quarantine in the town's quarantine facility upon their arrival.
"LGU Acceptance is now strictly conditioned upon any returning individual to agree for a quarantine facility, otherwise, it may not yet be given for travel purposes. Those who were given already with home quarantine conditions are deemed changed and now subject to this new rule," the town's statement reads.
However, authorized personnel outside of residence (APORs) are allowed to return home provided that they will stay at home until they go back to work. But returning home on a weekly basis is discouraged for now.
Non-residents may also be refused visit for any purpose such as for parties.
To ensure that these guidelines are enforced strictly, border checkpoints will be in place again.
In addition, there will be no fiesta celebration in Barangays San Sebastian, Tangbo, Bonbon, and Cambigong.
Gatherings are also limited to only 20 persons per household in order to observe social distancing.
Existing minimum health protocols such as wearing of mask and face shield in public places and gatherings, as well as the observance of the no loitering and curfew policies will be implemented strictly.
Town officials said more rules might be added and 'extended' if needed.
As of January 14, the town logged two new cases from Barangay San Sebastian, one of whom went to a tertiary hospital in Cebu City last January 10 for medical consultation due to fever and cough. The other was a close contact of the patient.
This was added on January 15, as they logged three new cases of COVID-19, one of whom was an LSI from Tacloban, Leyte while two others are close contacts of a patient who tested positive earlier. — Mae Fhel K. Gom-os , JMO (FREEMAN)