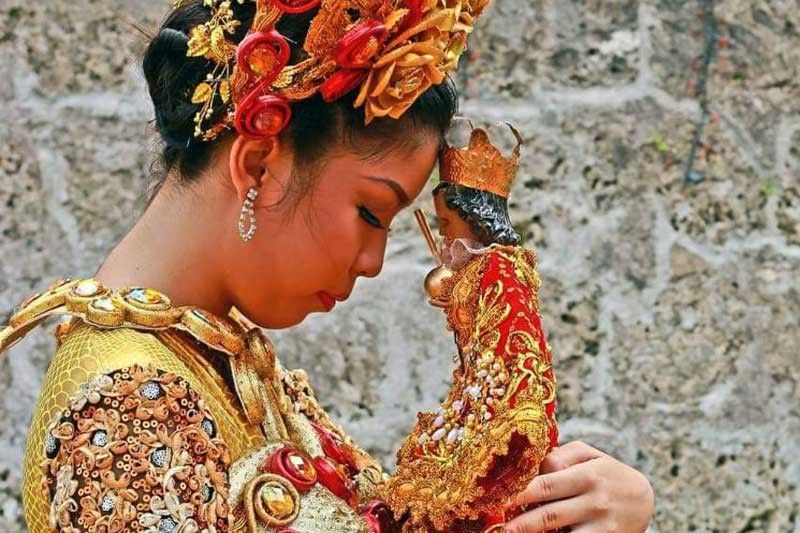 A Sinulog Festival Queen holds close an image of the Santo Niño.
File
Different Sinulog, same faith
CEBU, Philippines — For the last 41 years or so, the beating drums would rouse Cebuanos from their sleep every third Sunday of January. There would be one destination – the streets.
Out there, large props, flamboyant costumes and towering higantes would fascinate the young and old alike. Celebrities from the capital would dazzle the crowds on board floats of various designs, shapes, and sizes.
At the Basilica Minore del Sto. Niño, devotees would overflow the Pilgrim Center, eager to chant "Pit Senyor" in thanksgiving and prayer.
Today, January 17, 2021, the action, sounds, and colors traditionally associated with Cebu's prized Sinulog Festival and Fiesta Señor are missing. Cebu City sits still, silent, and, perhaps, weeping.
The festival and the fiesta this year have evidently become among the many casualties of the COVID-19 pandemic in the country.
But although doused by fears owing to the coronavirus, the Sinulog fever – or at least a tinge of it – remains alive somehow, somewhere in the city.
Buntings are up, at least over Osmeña Boulevard. Sinulog decorations have also been put up and the Sinulog beat is being played in some establishments.
Devotees have resorted to online streaming in the remaining five days of the Novena Masses as all physical Masses at the basilica were cancelled for health and safety reasons.
It is an experience many Cebuanos welcome but still struggle to accept.
A different season
Agnes Saraga, a food stall owner on P. Gullas Street near Tabo sa Banay, said they barely have customers this season unlike the previous years when people would flock in the area to eat.
"Sus, pwerting laaya. Mingaw kay wala naman manganimba. Ang exit (sa basilica) layo kaayo," said Saraga.
"Sauna, inig human sa fluvial, ang mga tawo pwerte nang daghana. Malipay na gyud mi'ng vendors. Karon, ambot lang. Og di ba ngil-ad mohilak, maayo mana ihilak," she added.
Saraga said the customers they have this Sinulog season are only their "suki," or the usual people who eat in their food stall on regular days.
She said in the past years, they would earn at least P15,000 on Sinulog day, but now it would be different because the average daily income they had this Sinulog week did not even surpass P3,000.
"Grabe, as in. Karon wala gyud. (Sa una) mangompra nami'g Carbon, tag 10 kilos among karne, manok, isda. Karon, tag duha ra gyud ka kilo," she said.
Being a vendor in the area for 38 years, Saraga said this is the first time they experienced that their seats are vacant during Sinulog.
"Karon pa jud mi nakasugat og ing'ani nga, di man sad ta moingon og pait kay ang uban naa pa ma'y mas pait pa namo, pero lahi jud. Sauna, karon, alegre na kaayo sa tanan," she said.
For Brad Johndel Dalimocon, as someone who used to party on the streets, drink with friends, and attend events at the city's sports center during the Sinulog, it will be a different celebration this year.
Dalimocon said he will just attend the online Mass and have a "small food and drink celebration" at home.
"(I feel) mixed emotions as the things we used to do were cancelled, but we need to consider and understand because it's all for our safety," said Dalimocon.
Peter John Toreta, a Señor Santo Niño devotee for five years now, said the atmosphere of excitement and festivity is what he normally looks forward to during Sinulog.
But now, it is different.
Just like Dalimocon, Toreta said he will just stay at home and watch the Sinulog activities that will be showcased through the different platforms.
"It's not about the street parties or the celebrities or the grand parades cause it's just part of the celebration. The most important thing to be emphasized is the faith and devotion of all Cebuanos to Sen~or Santo Nin~o because it is the true meaning and essence of the festival and celebration," said Toreta.
"We are still in the middle of a crisis and a pandemic. It's very difficult and dangerous to risk the Cebuanos' health and safety just to celebrate the Sinulog. Our utmost priority and concern as of now is to be safe and healthy as much as possible," he added.
'God's will'
On Sinulog eve yesterday, traffic was not a problem.
Vice Mayor Michael Rama, who was supposed to take charge of this year's Sinulog, together with the Sinulog Foundation Inc., said everything that happened "is God's will."
Rama spent yesterday joining a clean-up dive off the South Road Properties.
Today, he said, his traditional walk along the carousel route at Fuente Osmena, together with Dr. Peter Mancao, among others, will continue. He said this is an offering in lieu of the traditional procession for Sto. Niño.
There will also be a Mass at Fort San Pedro sponsored by the SFI and the City government officials, although Mayor Edgardo Labella has not yet confirmed his attendance.
After the Mass, the "Sinulog Rewind" will air virtually via SFI's Facebook page.
A screen will also be set up at Fort San Pedro for the virtual presentation, but there will be no live performances and audience will be limited.
Dancesport Team Cebu City, which has present in the grand finale of the Sinulog for the last two decades, is among the performers for the virtual presentation prior to the rewind proper.
"Sinulog used to be our kick-off activities as an offering to the Sto. Niño. This year is different, but we have to make do with whatever we can. We are still happy to be part of the virtual presentation, it's pre-taped though," said dancesport coach Loloi Rendon.
Former SFI executive director Ricky Ballesteros, who at the helm from 2000 to 2018, said this is the time to reflect and be grateful.
"There is a reason for everything. In these times of pandemic, we are fragile and so is the world that we live in. It's time to reflect and still be thankful despite of. Afterall, Sinulog is a celebration of life," he said.
Ballesteros invited Cebuanos and others to check out the grand rewind and look at the transformation of the Sinulog to be inspired by it.
San Nicolas barangay captain Clifford Jude Niñal, a devotee of Sto. Niño, said he is setting up an LED screen at the barangay hall so residents can head the Novena today.
Niñal said the barangay will be playing Sinulog music to "keep everyone's spirits up."
The solemn and concelebrated Mass today will take place at 6 a.m. to be streamed online. It will then be followed by a Mass at 8 a.m., 9:30 a.m., 11 a.m. 12:30 p.m., 2 p.m., 3:30 p.m., 5 p.m. and 6:30 p.m. — Caecent No-ot Magsumbol, JMD