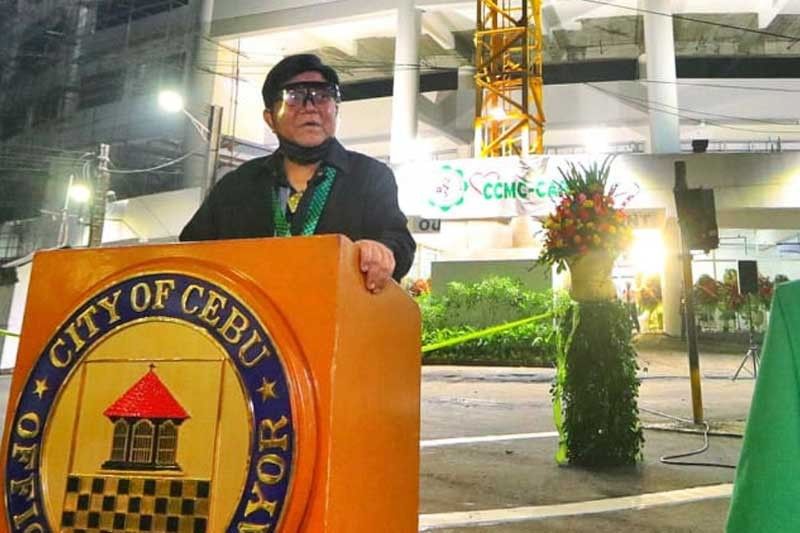 This is the assurance of Mayor Edgardo Labella, saying he does not agree to statements Filipinos cannot choose the vaccine the government will buy.
Cebu City residents will have a say on COVID-19 vaccine
CEBU, Philippines — Cebu City residents will have a say on what vaccine for COVID-19 the city government will acquire.
This is the assurance of Mayor Edgardo Labella, saying he does not agree to statements Filipinos cannot choose the vaccine the government will buy.
"We'll give them the opportunity to choose kay, after all, this is the people's money, these are taxpayer's money," Labella said in a press conference Wednesday.
"Mao nang di ko uyon anang muingon nga kanang di ta ka-pili. If there's a way nga makapili ka asa ka kumportable, then so be it. You should be given a chance," he said.
Dr. Mary Jean Loreche, chief pathologist and spokesperson of the Department of Health (DOH)-7, herself underscored the importance of getting the pulse of the people.
Back at City Hall, Labella cautioned that Cebu City residents may have to be extra patient if the vaccine they will choose will not be available right away, for example, the vaccine from Pfizer.
Labella said vaccine czar Carlito Galvez, Jr. has said in an online meeting with the League of Cities of the Philippines (LCP) that the vaccine from Chinese firm Sinovac is what is immediately available. Galvez also reportedly mentioned Novavax and Sputnik, among others.
"That's according to him nga mao nay ma-available because this Sinovac requires a temperature like that of a refrigerator, two degrees lang, so pwede sa mga kabalayan... Ang akong position ani, for as long as it is approved by the FDA (Food and Drug Administration), I think there is no problem," Labella said.
Whatever his personal preference is, Labella said the city's position on the vaccine will be clear.
"We will make our position strong sa Cebu City. We have to bring to their attention nga daghang taga dakbayan nga dili kumportable sa Sinovac," he said.
The vaccine by Sinovac has been found to be only 50.4 percent effective in clinical trials in Brazil, one of the countries hit worst by the pandemic. The vaccine from Pfizer, meanwhile, is said to provide up to 95 percent protection against COVID-19.
Labella said Cebu City has the capability to store the Pfizer vaccine, which requires a -70 degrees Celsius cooling system, but it may take a while before the vaccine can be available.
"We have a facility that is capable of depositing or holding Pfizer and Moderna products but Pfizer vaccine can be made available only in either June or July," Labella said.
One of the tasks of the committee the city created for the vaccination program is to determine who are willing to be vaccinated right away with the brand that is most accessible.
Labella said the vaccine board will recommend to him the brand the city should purchase using the P500 million budget allocated for COVID-19 vaccine.
The board is composed of experts in the field of health and epidemiology, headed by City Health Department officer-in-charge Jeffrey Ibones.
Admitting that the challenge is convincing residents to be vaccinated, Labella said it is important that residents know the vaccine will be approved by the Food and Drug Administration.
LGU planning
DOH-7 said that aside from procurement, local government units should also plan for logistics so as not to waste government resources and the vaccine itself.
DOH-7 Director Jaime Bernadas said LGUs must remember that vaccine procurement will be under Emergency Use Authorization.
Under the Food and Drugs Administration(FDA) definition, Emergency Use Authorization (EUA) is a mechanism to facilitate the availability and use of medical countermeasures, including vaccines, during public health emergencies, such as the current COVID-19 pandemic.
Worst City?
Meanwhile, in a rare public statement since he stepped down as mayor in 2019, Tomas Osmeña described Cebu City as the worst city in the Philippines in handling the COVID-19 crisis, considering the number of people who have died from the virus.
Based on DOH-7's January 12, 2020 data, 697 have died from the 11,194 residents who contracted the coronavirus. The city has 414 active cases based on the same data. — Caecent Noot-Magsumbol and Mae Fhel K. Gom-os, JMO (FREEMAN)