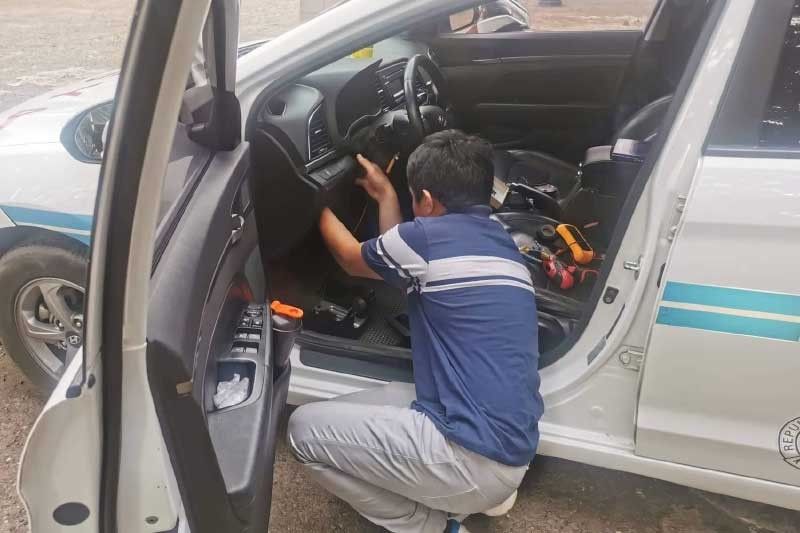 A technician installs GPS in a patrol car of the Cebu City Police Office.
Romeo Marantal
GPS trackers installed in mobile patrol cars
CEBU, Philippines — To monitor and immediately dispatch mobile patrollers in times of incidents in the city, the Cebu City Police Office (CCPO) has installed global positioning system (GPS) trackers to at least 20 mobile patrol cars.
In a press conference yesterday, CCPO director Col. Josefino Ligan said this is in line with the 'five-minute response' program of Police Regional Office (PRO)-7 for an immediate response in times of incidents.
Ligan said that through the GPS trackers, they could easily track and immediately dispatch mobile patrollers whose location is nearest to the incident.
"If naay mahitabo nga insidente nga duol sa ilahang lugar nga giposisyonan, ang atong operations center mao na dayon motawag nila nga respondehi ninyo didto kay kamo ang pinakaduol sa insidente. Mao na ang primary purpose aning GPS tracker," said Ligan.
He explained that the five-minute response is computed from the time a mobile patroller is dispatched to respond to the incident.
Since they can track their location, Ligan said they could also monitor if the mobile patrollers follow the deployment plan.
He clarified that mobile patrollers who wish to leave their patrol area for some reasons should ask first a clearance from the operations center through their radio. Failure to ask for permission will be subject for disciplinary action.
"If dili sufficient ilang explanation, then definitely, administrative investigation atong buhaton sa ilaha," he added.
Of the 20 GPS trackers installed, 11 police stations have one mobile patrol each while seven and two are installed to the Mobile Patrol Unit (MPU) and Special Weapons And Tactics (SWAT), respectively.
Considering the traffic situation in the city, Ligan said they are also planning to install GPS trackers to beat patrollers who have motorcycles.
"Atoa pod giplanohan nga mabutangan og GPS ang beat patrollers kay dali mani sila maka-responde kay naa silay mga motor labi na ang siyudad sa Sugbo traffic kaayo. Masabtan nato usahay nga ang mobile dili dayon kaadto," he added. — FPL (FREEMAN)