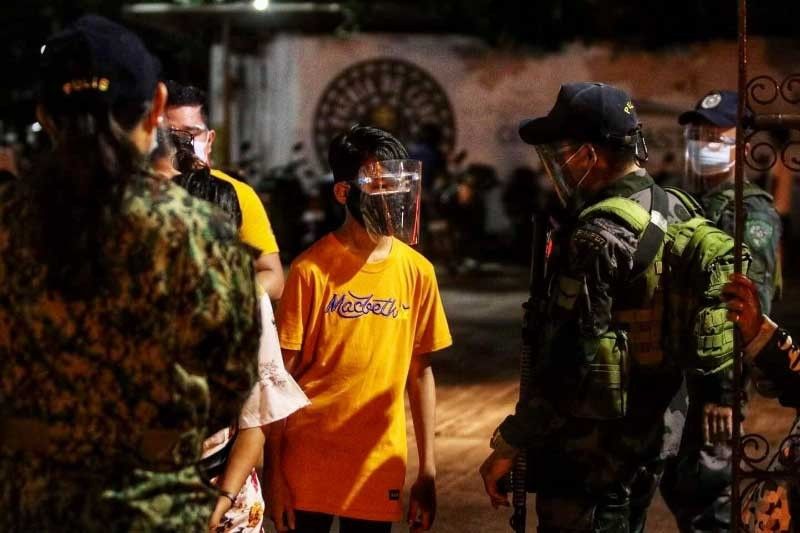 Policemen stops a minor from entering a church in Cebu City for Misa de Gallo.
File
In Cebu City: Curfew to resume after dawn Masses
CEBU, Philippines — Strict implementation of curfew will resume in Cebu City after concluding the Misa de Gallo on Christmas eve, says Emergency Operations Center (EOC) deputy chief implementer and City Councilor Joel Garganera.
"Curfew will be strictly observed after the Misa de Gallo, that's 11 pm to 5 am," Garganera said.
After six days into the nine-day dawn Masses, Garganera said the situation is getting better. He said there were already fewer people attending compared to the previous days.
No minors and other health protocol violators have been apprehended yet, although Kaohsiung buses will be deployed to serve as holding areas for quarantine violators.
Garganera said that all quarantine violators will be held at the Labangon Gym for south district while Tejero Gym in the north. Senior citizens and minors will be transported back directly to their respective barangays.
"Only protocol violators will be transported to temporary holding area, the minors and elderly will be transported to their barangays," Garganera said.
Meanwhile, Councilor David Tumulak has urged the police to help guide the churchgoers occupy the markings installed outside the churches to ensure that social and physical distancing is strictly observed.
"Ang ako lang hangyo nila is i-guide ba, ilang dad-on ang kadtong mga churchgoers didto sa tungod gyud mismo sa mga markings. Mura ba sila'g mo-usher sila. Mo-guide sa atong mga katawhan rather nga ang ilang gibuhat karon, naa lang sila magbarog-barog. It's useless," Tumulak said.
Tumulak said the police are not just there to preserve peace and order in the churches, but also to help the city government enforce the social distancing and other minimum health protocols.
"Kay makita man gud nato, ang role diha sa mga police, magbantay ra diha sa mga entrance and exits," he said.
Tumulak advised the police to also encourage other churchgoers to follow physical and social distancing.
Markers were placed in the spaces outside of the churches so that those who cannot be accommodated inside can still hear the dawn Masses while observing social distancing.
Although Tumulak said the situation has already improved.
"Karon nakita nato ang taas kaayo'ng improvement. Nagpasabot na na ang atong mga katawhan nga motambong sa Misa de Gallo, nakasabot nasad sila unsa kamahinungdanon ang health protocols," said Tumulak. — Mary Ruth R. Malinao, FPL (FREEMAN)