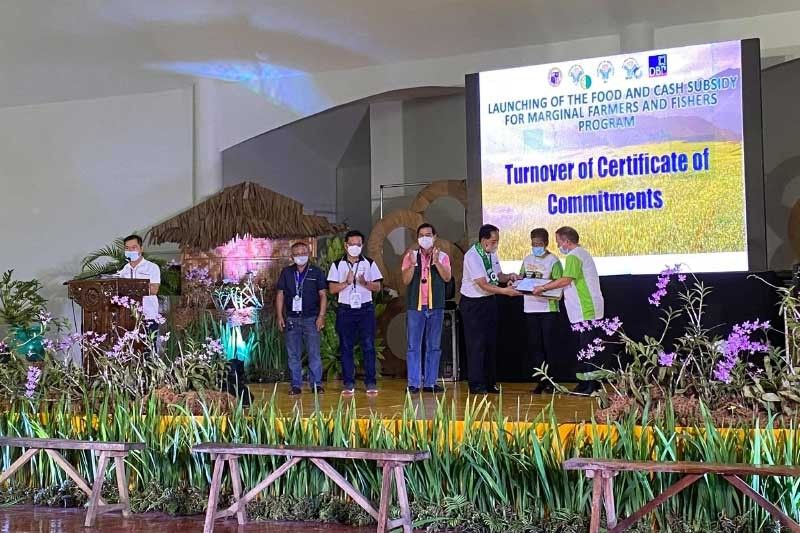 Launch of the cash and food subsidy program at the Lamac Multipurpose Cooperative (LMPC) in Pinamungajan, Cebu.
Mitchelle Palaubsanon
Subsidy program for marginal farmers, fishermen launched
CEBU, Philippines — Department of Agriculture Secretary William Dar launched the Cash and Food Subsidy program for marginal farmers and fisheries in Cebu during his visit at Lamac Multipurpose Cooperative (LMPC) in Pinamungajan town yesterday.
The agriculture secretary turned over some agri-fishery projects and certificates of commitment to the identified beneficiaries. Dar also visited some agri-projects and interventions provided to the LMPC as one of DA's identified Farmers and Fishers Consolidated Clusters (F2C2) of the region.
Dar also released indemnity checks to farmers covered by the Philippine Crop Insurance Corp (PCIC). Several memorandums of agreement on agri interventions were also signed between DA and Virginia Farms, LMPC, Philippine Coconut Authority (PCA) and Philippine Fiber Industry Development Authority (PhilFIDA).
The milk feeding program of Department of Education, National Dairy Authority and LMPC was also launched yesterday.
DA-7 executive director Atty. Salvador Diputado said that the visit of Dar in Cebu was part of the latter's regional engagements in the entire country to provide full support to farmers and fishermen and to encourage them to produce more especially in this time of health crisis.
"Of all the economic sectors, only the agriculture sector has posted a positive growth during the second quarter despite all the challenges such as natural calamities and the pandemic," Diputado said.
Diputado added that farmer and fishermen who are registered in the Registry System for Basic Sectors in Agriculture (RSBSA) under the Farmer and Fishers Registry System (FFRS) will be given cash and food subsidy which can be claimed from accredited money transfer outlets and cooperatives for food supplies.
Some of the projects that Dar turned over include biogas digester and farm animals from DA7 and cocohub of PCA for LMPC; 90 units of fiberboats and sisal processing center of PhilFIDA for the FARMS-Mantalongon, Barili.
Dar also handed over the certificates of commitment for the SugBUSOG Program of Cebu Province, establishment of urban agriculture-community garden for Cebu City, and monolithic dome for Dalaguete, Cebu.
These projects, Diputado said, show the agencies' agricultural and fisheries interventions to help the farmers improve their productivity and income.
Governor Gwendolyn Garcia, who also graced the event, praised LMPC as an embodiment of what agri-tourism is all about.
She considered LMPC as the most and the best agri-based cooperative in the country. Garcia turned over P6 million worth of checks to Pinamungajan Mayor Glenn Baricuatro as assistance from the provincial government. — FPL (FREEMAN)