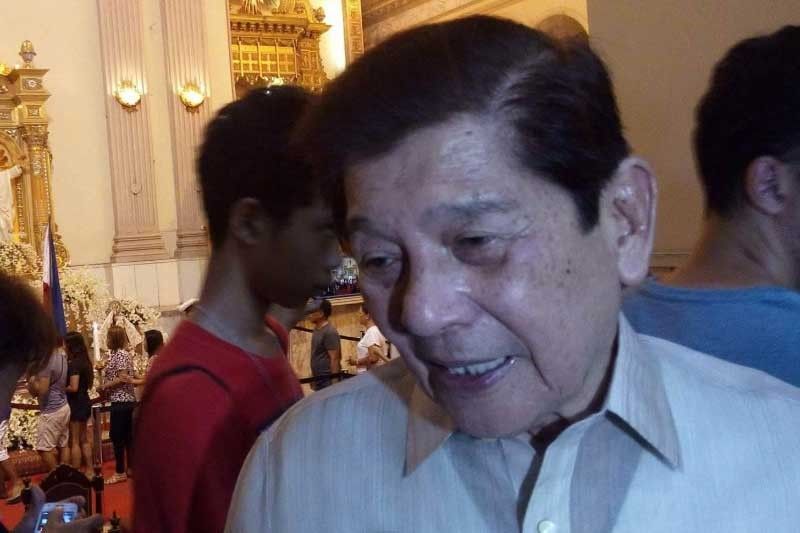 The late Cebuano congressman Raul del Mar was responsible for pushing a legislation that created the Mactan Cebu International Airport Authority.
Osmeña wants airport named after Del Mar
CEBU, Philippines — Former Cebu City mayor Tomas Osmeña wants the Mactan Cebu International Airport named after the late Cebu congressman Raul del Mar.
Osmeña expressed his wish personally to House Speaker Lord Allan Velasco who visited Cebu to pay his last respects to Del Mar.
Del Mar authored Republic Act 6958 in Congress, which paved the way for the creation of the Mactan Cebu International Airport Authority (MCIAA).
"He is responsible of the creation of the Mactan airport authority some 20 years ago. All other airports are under the national government except Mactan under the special law. Without that, we will not have that airport as what we have today," Osmeña said.
Osmeña said earlier that the establishment of MCIAA, as well as the creation of the Cebu Port Authority (CPA), which Del Mar also authored in Congress, allowed Cebu "to manage her own affairs instead of being remotely micromanaged by the national government. These are the first and only models of their kind."
He said Del Mar's first job in government was as general manager of the Mactan airport back in the '80s before he ran for Congress for the first time.
When Del Mar was elected to Congress, he did not forget about the Mactan airport and pushed for the creation of MCIAA.
During MCIAA's 30th anniversary, Del Mar said the law he authored to create MCIAA is one of the best he has penned principally in the 27 years he was a legislator. He said he was proud of the achievements of MCIAA.
Interestingly, Del Mar actually authored a bill to rename the Mactan airport into Lapu-Lapu Cebu International Airport and the MCIAA to Lapu-Lapu Cebu International Airport Authority. The bill has been pending at the House Committee on Transportation since middle of last year.
Del Mar also passed a bill naming the first Mandue-Mactan bridge to Serging Osmeña bridge. Serging is the father of former mayor Tomas Osmeña.
"To have a landmark case is really special that is why he deserves something special. Something great for Cebu," Osmeña said.
Del Mar's only daughter, former Cebu representative Rachel "Cutie" Del Mar, thanked those who recognize her father's service and dedication.
"When my dad loved, he loved with all his heart. And that's how he loved Cebu. He gave it his all," Rachel said before resting her father's ashes at the columbarium at the Our Lady of the Sacred Heart-Capitol Parish.
Aside from being the longest-serving congressman – having served in the 8th, 9th, 10th, 12th, 13th,14th, 17th, and 18th congress – Del Mar was never absent in any of the session at the House of Representatives.
Osmeña has shared how he witnessed Del Mar attending a session after surgery.
"I witnessed his personal resolve when he insisted on attending a session even after an operation. I had to help him carry his intravenous bottle as he dragged himself to the Session Hall. This conviction is the hallmark of what makes Raul Del Mar who he is," he said.
Del Mar passed away in Manila on November 16. He was 79. His remains were brought home to Cebu on December 2.
Del Mar was representing Cebu City's North District in Congress during his passing. He and Osmeña were together in Bando Osmeña Pundok Kauswagan, a political group in Cebu City.- JMO (FREEMAN)