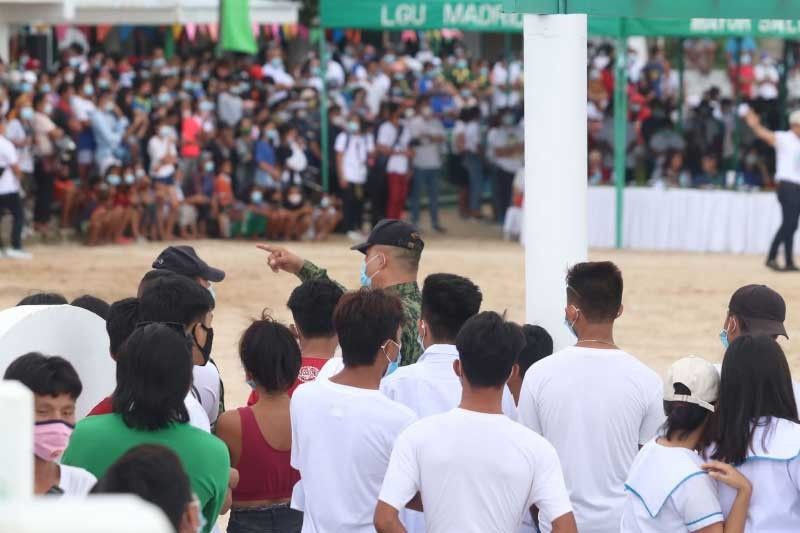 Crowds flocked to the Kota Park in Madridejos town during the Suroy-Suroy Sugbo Santa Fe/Madridejos/Bantayan Escapade.
Aldo Banaynal
Madridejos now COVID-free
CEBU, Philippines — Madridejos town in northern Cebu is now free of the coronavirus disease 2019 (COVID-19) after its remaining patient has recovered.
The municipal government, in its official Facebook page, confirmed that its lone COVID-19 patient already tested negative for the virus.
"Madrijejos has zero case of COVID-19 as of today, December 4, 2020," the post read.
The town has reported 104 total COVID-19 cases.
Recently, the town residents who witnessed one of the Suroy-Suroy Sugbo escapade events were urged to report to authorities if they start showing coronavirus symptoms.
Dela Fuente said though the town has not recorded or monitored any suspected COVID-19 patients.
"So far, wala may nagka-symptoms sa mga niadto didto," he said.
Government officials, including presidential spokesperson Harry Roque, drew flak after a mass gathering on Camotes Island, Cebu on November 27.
Roque went to Kota Park in the town of Madridejos, Bantayan where he was pictured speaking to the crowd that had gathered in the vicinity.
Pictures of the event gained traction on social media as netizens pointed out the lack of physical distancing, which is required by the health department to mitigate the COVID-19 transmission.
Roque participated in the joint tourism program of the Cebu provincial government, the Mactan Cebu International Airport, and the Department of Tourism.
The event, which aimed at boosting Bantayan's tourism destinations, was also attended by Governor Gwendolyn Garcia, and former pageant candidates of the Miss Universe 2020, among others.
Online Platforms
Meanwhile, the Department of Health (DOH) Secretary Francisco Duque III has advised the public to utilize online platforms in attending Masses, family gatherings, and even in buying Christmas gifts.
He said it is better to just stay home and use social media instead of engaging in traditional Simbang Gabi or pre-dawn masses and other activities this holiday season.
"COVID-19 cases in some parts of the country may now be lower compared to previous months but this should not be a reason for complacency," he said.
Senior citizens, especially those with weak immune systems and underlying medical conditions are more prone to contracting COVID-19 virus. Children are also not exempted from the virus.
The health chief also reminded everyone to strictly adhere to minimum public health standards to prevent COVID-19 transmission.
As the holidays are nearing, Duque said people must be conscious of the six risk factors during holiday activities.
These risks are the number of people; density of people in an area, which would make the observance of physical distancing difficult; duration of the activity; ventilation of the venue; nature of the activity, and the ability to use personal protective equipment such as face masks and face shields. — Le Phyllis F. Antojado, KQD (FREEMAN)