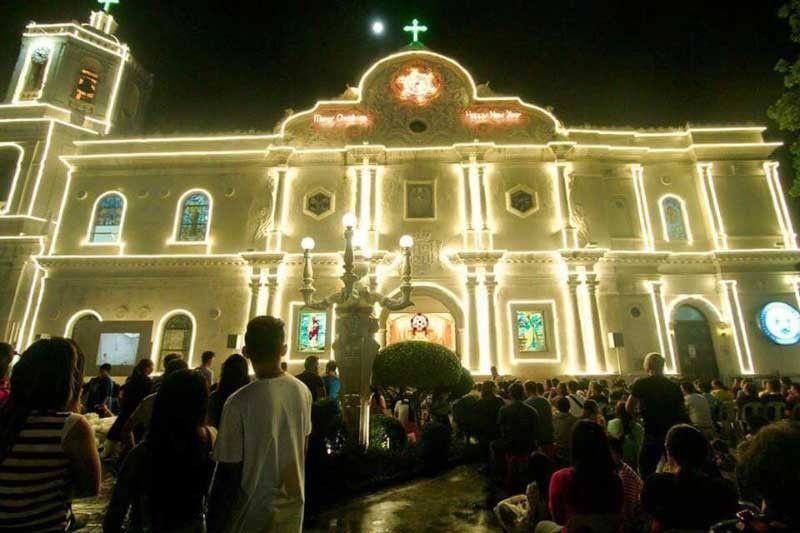 The Cebu Metropolitan Cathedral during dawn Mass in 2019
File
CBCP adjusts Christmas masses due to pandemic
CEBU, Philippines — In line with the public health protocols being implemented to stem the spread of the virus, the Catholic Bishops Conference of the Philippines has issued adjustments to the traditional celebration of Misa de Gallo and Simbang Gabi.
In an interview with One News' The Chiefs, CBCP spokesperson Fr. Jerome Secillano said that churches will be holding multiple masses to accommodate more people for Simbang Gabi without exceeding the mandated 30% capacity.
With the curfew imposed by the different local government units across the country, Misa de Gallo could start at 6 a.m. while the Simbang Gabi at 6 pm as an anticipated mass.
"We want to have as many Simbang Gabi's as possible because they only allow parishioners to enter the church to 30%. It might not be enough to accommodate the influx of people," said Fr. Secillano.
The CBCP has also appealed to the Inter-Agency Task Force on Emerging Infectious Diseases to help them enforce quarantine protocols as people flock to churches during the Christmas season, noting that the Catholic Church does not want to push away people.
Health protocols such as social distancing and wearing of face masks will be strictly observed.
The CBCP also encouraged the live streaming of the liturgical celebrations for those who would not be able to attend the Masses physically. Families are encouraged to bring their own image of the infant Jesus during the Christmas Masses since kissing or touching of images is still prohibited during this time of pandemic.
The Archdiocese of Cebu said they will incorporate the CBCP guidelines with that of the guidelines from the local government units. Fr. Japeth Geonzon, vice chairman of the Cebu Committee on Worship, said they have yet to come up with the guidelines because they are still waiting for the executive order of Mayor Edgardo Labella on the matter.
Labella has allowed Misa de Gallo in the city but only at churches and not at chapels.
"Sa ako nang giingon, kay gihatag man sa mga heads of local governments ang authority sa whether or not dunay Misa de Gallo, unya ako nitugot man gyud sa Misa de Gallo, pero ato lang gyud i-limit sa mga simbahan," Labella said earlier.
(As I have said, the heads of local government units are given the authority to decide on whether or not to allow Misa de Gallo and I am allowing it, but we have to limit it to churches.) —Ruth Malinao, FPL (FREEMAN)